After Beyoncé's attempt to pull another Beyoncé went awry, Beyoncé's label simply confirmed that a new album is on the way.
Rumors of a new Beyoncé album started circulating over the weekend after a photo of a tracklist for a special edition of her self-titled album spread around Twitter. The list claimed that she was releasing the album exclusively to iTunes on Nov. 14 before releasing a physical copy on Nov. 25, similar to the move she pulled last December.
BEYONCÉ platinum edition track list. pic.twitter.com/KmlDjWDllg

— Beysus † Godga (@GagaLovesBey) November 1, 2014
The person behind the Twitter account later admitted that the tracklist was fake, but after some digging, people started discovering that listings of a four-disc platinum edition of Beyoncé, which has been rumored since early October, were up on European retailers such as Amazon U.K. and bol.com.
A major music distributor in Europe has confirmed that 'BEYONCÉ: Platinum Edition' is on track for release November 25th

— Beyoncé Australia (@BeyonceAUS) October 31, 2014
Three new songs—"Cherry," "Donk," and "Partition (Remix)"—were registered under Beyoncé's name with ASCAP, which deals with musical copyright, which fueled rumors and speculation even further.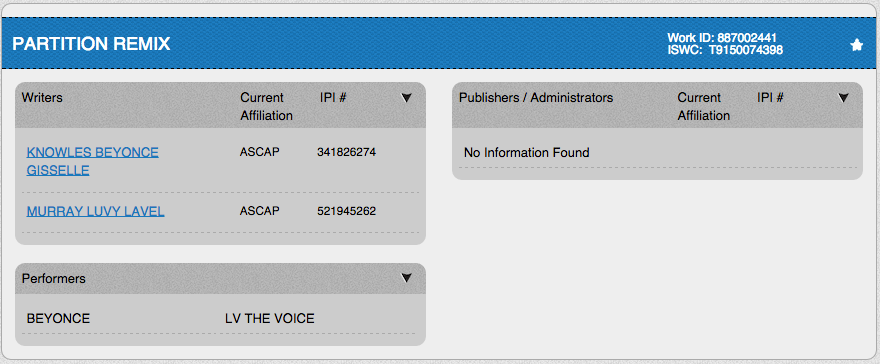 Screengrab via ASCAP
Her label eventually confirmed the existence of BEYONCE Platinum Edition Box Set, a two-CD/two-DVD release that will include the new songs "7/11" and "Ring Off" along with four new remixes. You'll also get the original visual album of songs and music videos, a live DVD of the "Mrs. Carter Show World Tour," photo booklets, and a 2015 Beyoncé calendar.
The album is set for a Nov. 24 release, which is consistent with Beyoncé collaborator Nicki Minaj pushing her new album, which was originally set to be released Nov. 24, back to December—which she did with the release of "Anaconda" for the "Flawless (Remix)."
Now that Beyoncé's new album is no longer a surprise, we can all schedule our collective listening sessions accordingly instead of scrambling around frantically, like we all did last year.
Photo via nonu | photography/Flickr (CC BY-SA 2.0)