There's a whole world outside the Apple Podcasts app when it comes to podcast players. It may be one of the most widely used podcast apps—since it's automatically downloaded on iPhones—but it's limited compared to some of the best podcast apps in the game. The best podcast apps offer more advanced features such as voice boost to normalize audio levels and smart speeds to skip silences and speed up audio naturally.
These are the eight best podcast apps for 2019. 
The 8 best podcast apps for 2019
System: iOS and Android
Stitcher is one of the more popular podcast apps. It's great for both exploring new podcasts and keeping track of your favorites. You can create playlists, find new podcasts, and listen to the news. For long drives and commutes, create your own personal radio station–type playlists. You can even search for individual episodes, rather than entire podcasts. Amazon Alexa devices, CarPlay, Android Auto, and smart audio systems all play Stitcher. Plus, if you subscribe to Stitcher, you get access to exclusive content not available on other podcast apps.
System: iOS and Android
Spreaker is a great podcast app, especially if you're looking for help with exploring new shows. You can find niche categories in lists that its editorial team curates. Spreaker's news feed keeps you updated on your favorite podcasts and users you follow. You can also like, share, and comment on episodes. For another social aspect, if a host opts to go live, you can interact directly with them and fellow listeners tuning in.

System: iOS (Android coming soon)
Breaker works well for brand-new podcast listeners and experts who love to share what they're listening to. On the podcast app, you can follow your friends and like and comment on their shows. Then, you can share your latest obsession. Additionally, Breaker can speed up your podcast and skip silences to save time. You can also use dark mode and offline mode and download new episodes automatically.
READ MORE:
System: iOS 
Overcast is an award-winning podcast app that's perfect for minimalists. While its interface is clean and simple, the app offers powerful features, including voice boost to enhance and normalize speech volume. It also offers a "smart speed" feature, which shrinks silences and picks up extra speed without distortion. Users can also share clips from the podcasts on social media.
System: iOS and Android
With over 50 million episodes of podcasts on the app, Podbean prioritizes curation. Users can browse new or trending podcasts by category or receive customized recommendations based on their play history. Podbean also uses volume boost and intelligent speed features to optimize your listening. It's supported by CarSupport and integrates with Amazon Alexa. Budding podcasters can even upload their own episodes to the app using its professional audio recorder—complete with background music and sound effects—and post-production editing capabilities.
READ MORE:
System: iOS and Android
Himalaya features a personalized homepage full of good stuff. It lists the newest episodes for your podcasts and includes high-quality audio with no banner ads. Himalaya also allows you to import shows from other apps including Google podcast, Castbox, iHeartRadio, Stitcher, and more. The podcast app suggests playlists for different times of day and suggests what to listen to during your morning routine or when you're winding down at night. Additionally, Himalaya has a sleep timer, so you can listen while you fall asleep. Also importantly, users can create playlists to share on Facebook, Instagram, Twitter, and Messenger.
System: iOS and Android
Castbox is an intuitive podcast app that also offers radio, FM, and audiobooks. It touts a balance of clean design, easy usability, and general features with no ads. Its features include volume boost, trim silence, and a sleep timer. The app recently added a "zen" mode, which features guided sleep meditations as well as Sleep and Relax ASMR. Castbox is compatible with Amazon Alexa, Apple Watch, CarPlay, Google Home, and Android Auto.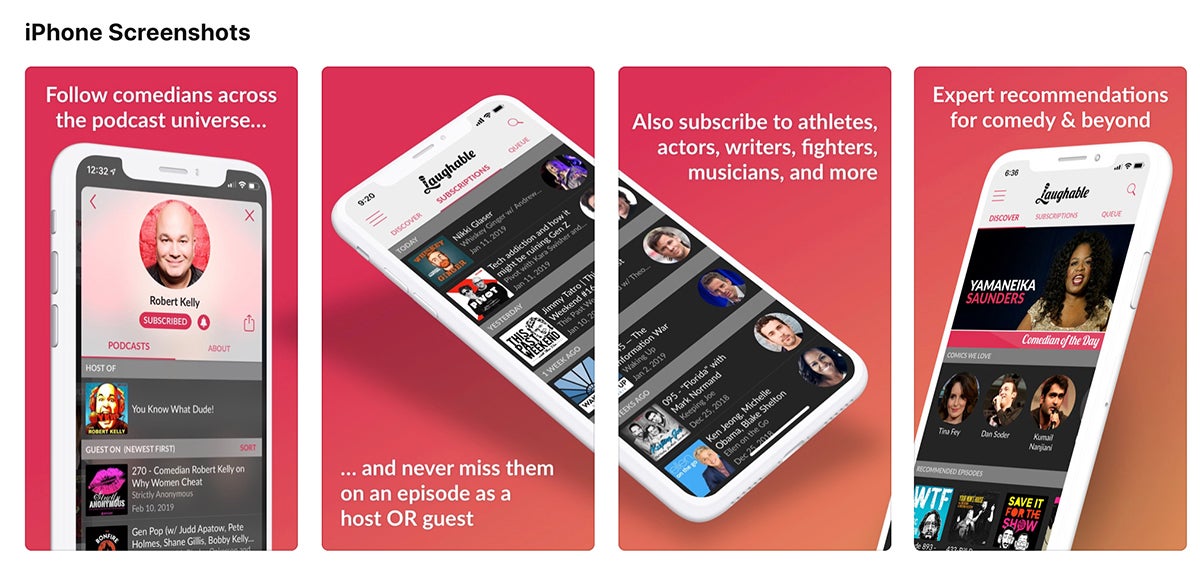 System: iOS and Android
Laughable focuses on comedy. The podcast app differentiates itself by letting you subscribe to podcasts and directly to podcast artists, such as comedians, journalists, actors, athletes, and politicians. Each profile includes the artist's appearances on different shows, tour dates, and social media pages.
If you're looking for something to listen to, here are the best Spotify playlists, true-crime podcasts for your inner sleuth, and the best political podcasts to keep you informed.