Oops… She did it again. 24 times to be precise.
Last week the internet lost it after Britney Spears revealed that her newest fragrance, Prerogative, would be gender neutral.
"The fragrance is really good, but the name is very cool because it's empowering," Spears told People magazine. "It's [about saying], 'I'm going to do what I want to do and be happy in that moment and not worry what people think."
Lost in the fanfare of the milestone release, however, is the fact that Prerogative will mark Spears' 24th fragrance (including several re-releases and special editions), making her an official perfume magnate.
Spears has been building her perfume business since 2004. Her first fragrance, Curious, with its tagline, "Do you dare?," and bonus CD single "Someday (I Will Understand)," stomped the competition to become the No. 1 fragrance of the year.
From there, an empire was born. Nowadays, you'd be hard-pressed to go to any Spears concert without seeing a pile of perfumes for sale and a flock of eager concertgoers stocking up on their favorite scents.
If, like me, you are a newcomer to the world of Spears fragrances, you may be wondering which of these scents is truly the GOAT. Wonder no more. We've sifted through years of Amazon reviews to see which of these fragrances will make you say "gimme more" and which of them are a bit "toxic."
The best Britney Spears perfumes
Rating: 4.4 Stars / 1,115 Reviews
Tagline: "Everybody has one."
With an astonishing 81 percent of reviewers giving the product five stars, Fantasy is easily the most beloved Spears fragrance among online shoppers. This scent is so iconic that Spears dropped an anniversary edition in 2013, and sales are still roaring today. We'll leave it to the historians to decide if Spears' greatest legacy is her indomitable music, her career longevity, the horniness levels inspired by her infamous Rolling Stone cover, or the staying power of this perfume.
Nadia (5 Stars): I get compliments on this all the the time, people want to take a bite :-) It's a fun, sweet smell that lasts all day, try it!
Joseph E. Cercone (5 Stars): Not a fan of the singer herself but the fragrance is AWESOME!! My girl smells great!!
SurfinVeggie (5 Stars): This is one of my favorite perfumes; I have been purchasing it for years. I constantly get comments about it when I wear it. I also love when people ask me what it is so I can say, "It's Britney, b*tch". Ahh- it's the little things :) FWIW, you can sometimes find this at Ross for cheaper than anywhere else I have seen. Also, CVS carries a tiny one that is perfect for travel. I purchase on here when I can't find a cheap one at Ross.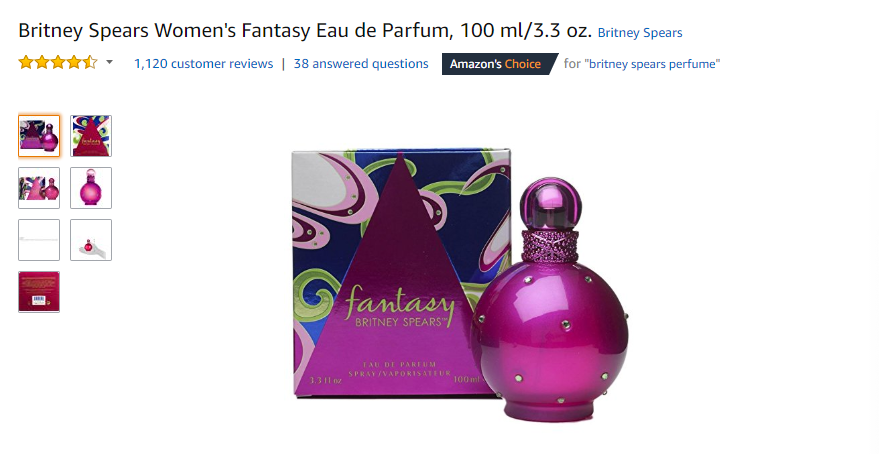 Rating: 4.5 Stars / 179 Reviews
Tagline: "Choose your own destiny."
This well-reviewed fragrance performed well enough to receive an additional scent in its line a year later. Though it doesn't match up to Fantasy's numbers, this scent has become somewhat of a cult classic among her more dedicated (and slightly odd) fans.
Kathryn Stewart Macdonald (5 Stars): Silly little scent , berries and iris, musk you won't be noticed for wearing this cologne, you will become part of a meadow, but you and those near you will be aware of it. This is a perfume which does not share itself with many , it's just for you. I spray my coat, drawers and closet with this, it keeps me happy.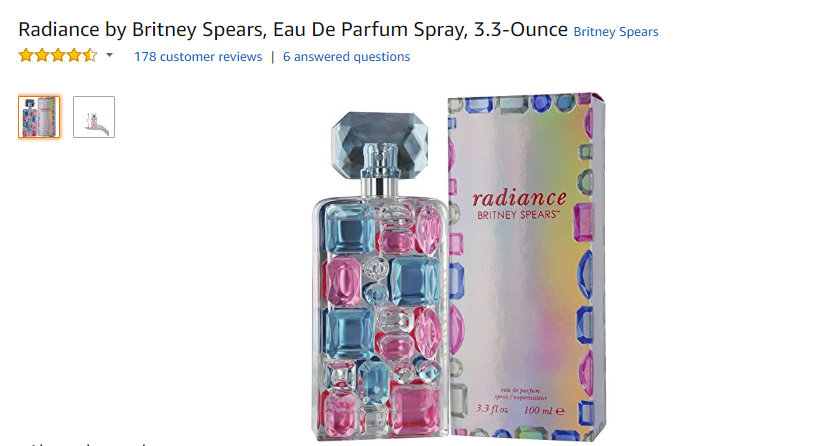 Rating: 4.4 Stars / 405 Reviews
Tagline: "Magic begins at midnight."
Building on the success of Fantasy, this mysterious scent has its own strong fanbase. If midnight berry-picking is a fantasy of yours, this is the perfume for you. Those who aren't a fan of sweeter scents, however, may find the fragrance excessive.
Katie Baby (5 Stars): I wanna eat the bottle. seriously, like a gum drop in my mouth. Scent is better than the original I believe. Can't deny it's taunting powers. Recommend!
Madison (4 Stars): I like the smell of this perfume; it's very fruity and playful. However, I personally find it a little juvenile…but that may just be because I like more sophisticated scents. A good scent for a teenage girl, for sure…I'm not sure about a twenty-something like myself, though.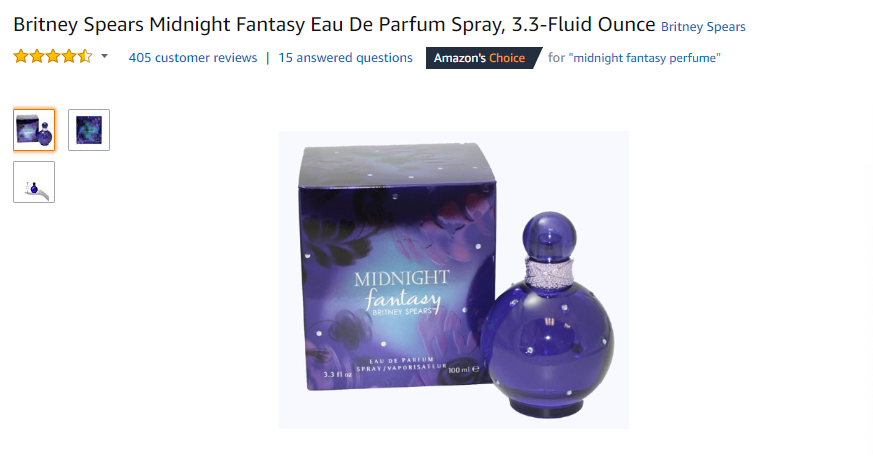 Rating: 4.3 Stars / 122 Reviews
Tagline: "Where nothing is what it seems."
One of the more successful Fantasy spinoffs, likely bolstered by sharing a name with her 2008 platinum album, this scent is well-liked. The idea of a circus fantasy strikes us as creepy, but clearly, it works for people who can get past the initial images of naked clowns that pop into their head.
Justin (5 Stars): Personally, I hate the smell, but my sister and daughter love this smelly crap. At least it's not overpowering. Great for a gift item.
Yikers (1 Star): Smells like an old lady going to bingo. nasty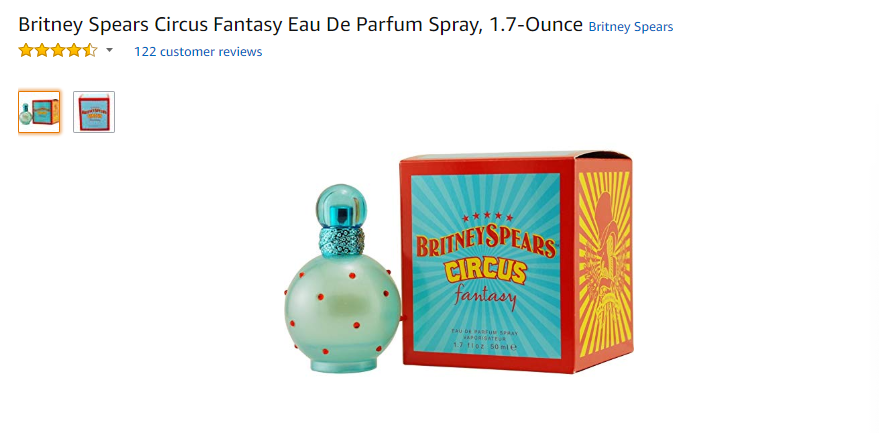 Rating: 4.4. Stars / 96 Reviews
Tagline: "Everybody has an intimate fantasy."
A well-regarded, if indistinct, entrant into the Fantasy line, some found this scent so intimate, they couldn't really smell it.
TheFirstLadyBossReviews (3 Stars): Watery. The scent is a bit underwhelming and little-girl innocent for my taste. Smell isn't bad, just much too light and sweet for my preference. I recall it smelling differently in the store.
Amazon Customer (5 Stars): I can't stop smelling my wife.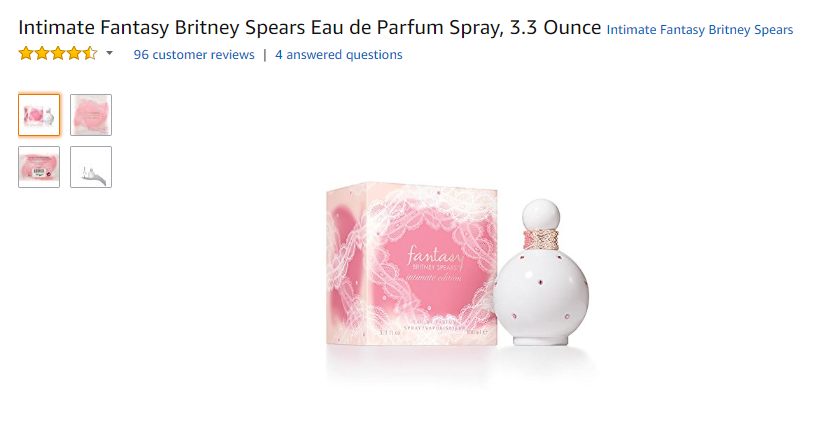 Rating: 4.3 Stars / 17 Reviews
Tagline: "Live yours to the fullest"
Though it only received a limited run, Curious Heart burned quickly but brightly, with 82 percent of reviewers giving the scent five stars. But as someone with seven platinum records, Spears knows that longevity matters, and this early career fave is back for good at Jeff Bezos' market—long may it reign.
Mohammed A Jabir (5 stars): My grand babe loved it!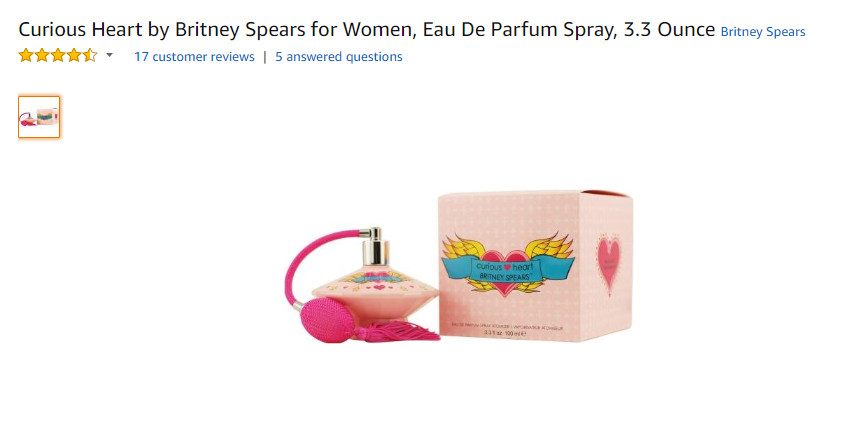 Rating: 4.3 Stars / 15 Reviews
Tagline: "Aloha From Hawaii – xoxo Britney"
A more successful foray into a tropical scent than her Island Fantasy fragrance (which you'll find further down the list), Maui Fantasy was a dream vacation for Spears' brand.
Amazon Customer (5 Stars): Another one of my fave Britney scents!!! Smells tropical and beachy in a very classy, beautiful way. I don't really get any coconut smell from it like some people say, but what I get are the Hawaiian florals and the pink grapefruit. It really smells like sitting on the beach in Maui with a tropical drink melting in your hand. It is amazing!! Wish it lasted a little longer on me, but with a scent this good, I will reapply if I need to.
Rating: 4.2 Stars / 11 Reviews
Tagline: "It's your private show."
Amazon reviewers did not go crazy for a perfume that evoked a night at the strip club. However, the people who went with it were pretty into its sweet scent. In 2017, this was re-released as VIP Private Show, but the prospect of smelling like a higher-end stripper failed to inspire consumers as well.
Pooja (5 Stars): Bought it for my mom, she loved it.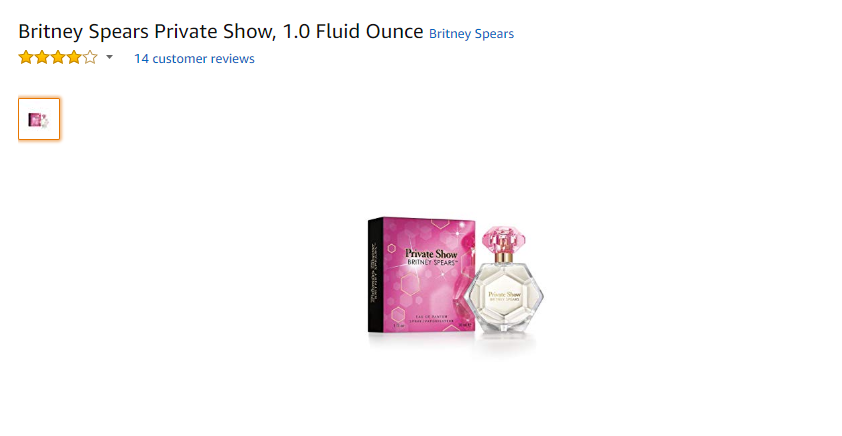 Rating: 4.2 Stars / 10 Reviews
Tagline: None
A scent aiming to evoke cherry blossoms and florals, this one smells like a garden. But even those who liked it felt it was a weak, uncomplicated offering. And it didn't even have a tagline!
Regina Taft (3 Stars): Very weak fragrance. Good for teens!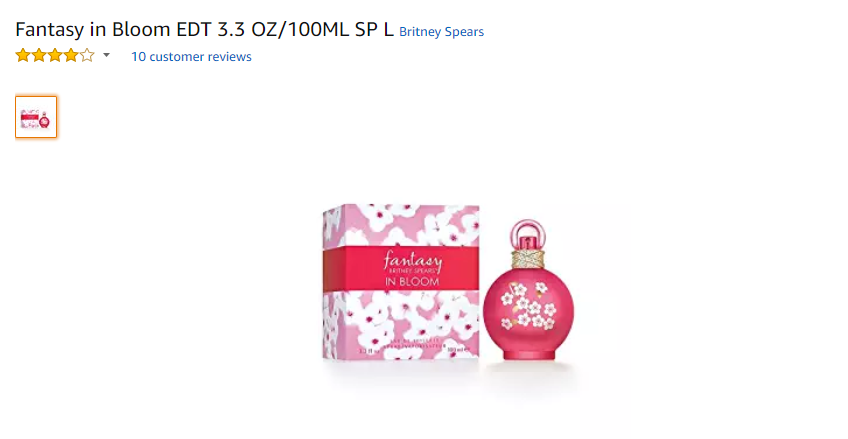 Rating: 4.1 Stars / 205 Reviews
Tagline: "The greatest freedom is to believe in yourself."
While it has decent reviews, Believe is Spears' only fragrance not to get a spinoff. Though the reviews are mostly positive, the one-star reviews tell us that this scent is not for everyone. The weird green color may not have helped either, as it gives off definite laboratory vibes.
Molly P (5 Stars): My favorite 2000s perfume. So woodsy and intense.
Ashley (1 Star): This scent is repulsive. I use it for air freshener in my bathroom because having the scent on my clothing makes me nausea. Scent is long lasting but smells horrible.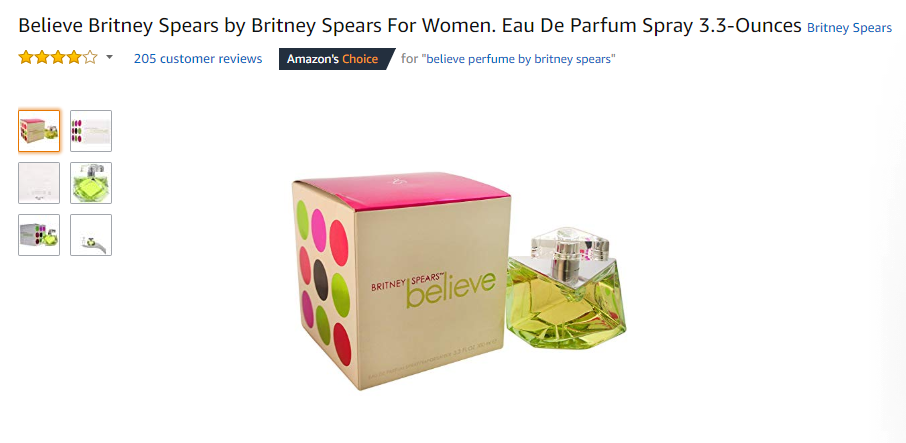 Rating: 4.1 Stars / 72 Reviews
Rating: 4.1 Stars / 72 Reviews
Tagline: "Everybody Has One. Naughty or nice."
In a nod to the duality of (wo)man, Spears released "naughty" and "nice" remixes of her trademark Fantasy scent in 2014. As if there were a divine hand balancing the forces of the universe, these scents met roughly the same level of popularity and customer satisfaction. (Or it might just be that Amazon aggregates the reviews together. We may never know.)
Dino (Naughty – 5 Stars): It reminds me of something from childhood, a first love, innocence, warmth, sensuality. This is highly addicting, an amazing weapon. From a man's perspective this is delicious, this fragrance will make you feel delicious 😉 the Honest truth
LogicGirl (Nice – 1 Star): both remixes suck. stick with the original fantasy. the naughty remix is all talcum powder while the nice is all jasmine and synthetic cupcake without the creamy chocolate.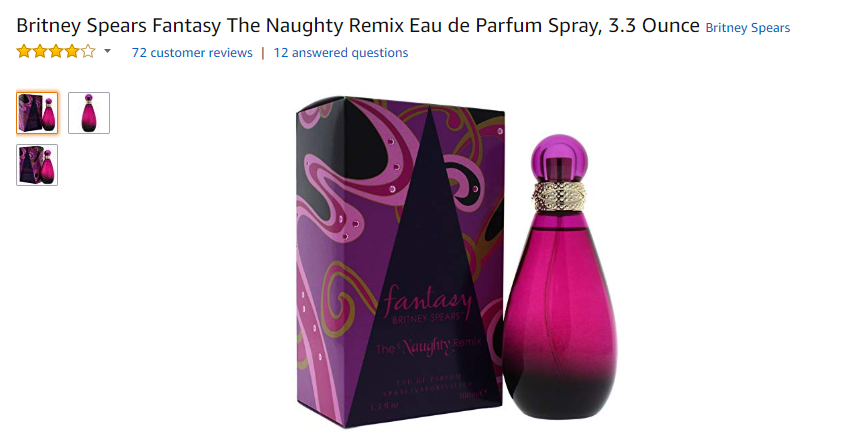 Rating: 4.0 Stars / 20 Reviews
Tagline: "Unlock your rock 'n roll side."
Smelling like a "rocker femme" clearly isn't high on people's list of priorities, as evidenced by the meager number of reviews under this scent's belt. But those who opted to "unlock their rock 'n roll side"—whatever that means—weren't disappointed.
Poston (5 Stars): As a fanatic fan of the original BS fantasy perfume (especially the pre-reformulated formula of it) i can say that i LOVE this rocker femme even more than the original! I love the soft creme-brulee', burnt sugar and creamy coconut-whipped cream notes that this has. It's so much more grown and SUPER SEXY then the fun childish notes the original fantasy has.
Rating: 3.9 Stars / 15 Reviews
Tagline: "Your faint fantasy fragrance + limited edition bottle xoxo, Britney"
Though deep down, all of us dream of a moment in the spotlight, we apparently don't want to smell like it. Fantasy Stage Edition is one of the least-popular Spears scents.
Karyn Pape (5 Stars): Reminds me of cotton candy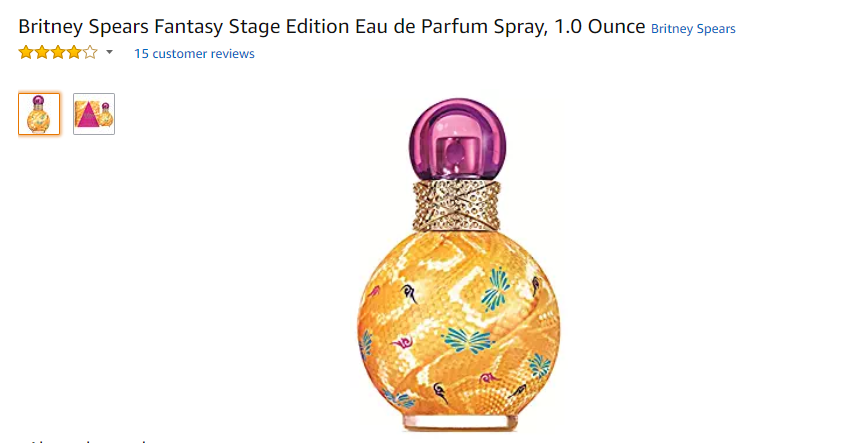 Rating: 3.9 Stars / 435 Reviews
Tagline: "Do you dare?"
The OG Spears scent has its fans. While some complain that the floral notes make the perfume feel a little immature, most buyers report that Curious gives them buoyant, sexy "Oops…I Did It Again"-era vibes.
Ella Bradford (4 Stars): "This smells sweet and delicious. I'm not a fan of the spaceship-like bottle tho."
Melanie (5 Stars): "This is my favorite of the Britney perfumes. I used to wear it a lot when I was in my late teens/early twenties. The scent reminds me of Barbie's hair, as strange as it may sound. Very light, floral, and feminine. Little girls always commented to me that they liked my perfume."
Antonette Hart (1 Star):  "I wouldn't recommend buying unless you enjoy smelling like cheap hairspray."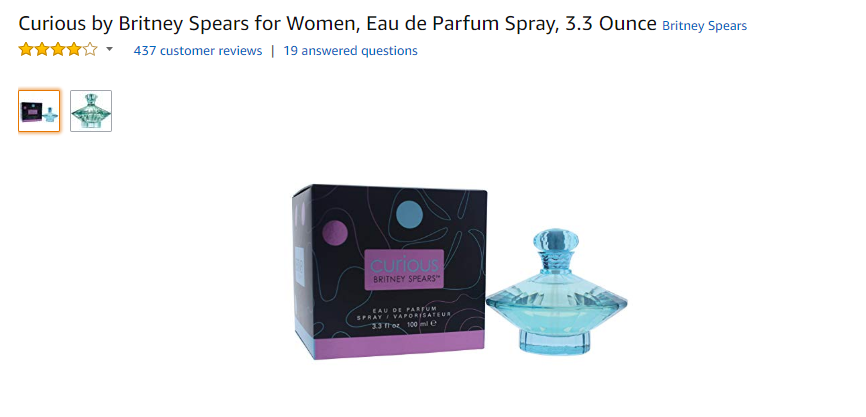 Rating: 3.9 Stars / 129 Reviews
Tagline: "What do you have to hide?"
Apparently, the fantasy was hidden in an orange grove, as many customers reported being overwhelmed by the citrus notes in this fragrance.
Shiloh (5 stars): I love all of Brit's perfumes. This one smells like what Barbie would smell like if she were on a date with Leonardo DiCaprio 😍
J.M. Rosekrans (1 Star): This is too citrus.I thought that I would like this as I read the notes and it has orange and clove in it.It has no staying power and smells like weak flowers and citrus. Will not buy again.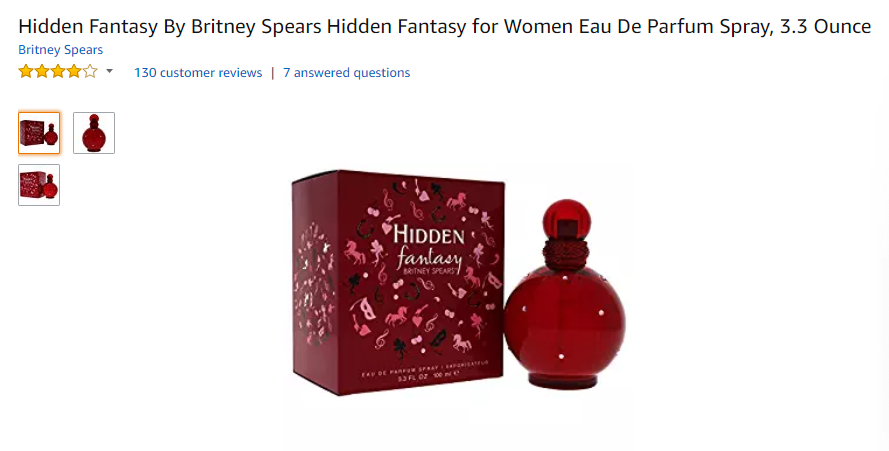 Rating: 4.0 Stars / 75 Reviews
Tagline: "Are you?"
Perhaps it was the fact that the scent didn't come with a bonus CD. Perhaps it was the Disney villainess-esque black bottle. Whatever the reason, this scent was a bust. But, like the songstress who created it, Curious: In Control has its stans.
soulful (4 Stars): This perfume is somewhat difficult to find, particularly because it is not high in demand. I love this perfume b/c it is very light & guys would always ask, "Hmmmm, what are you wearing"…. ;-) Overall it's a more sophisticated scent to Britney's "Fantasy"… but somewhat similar.
Dallasma (2 Stars): Curious in control Smells like cheap deodorant spray. I would suggest the original "Curious" which has a soft pleasant scent, but this one is far from it. It's like a mix of fruit punch, and plastic……just not appealing.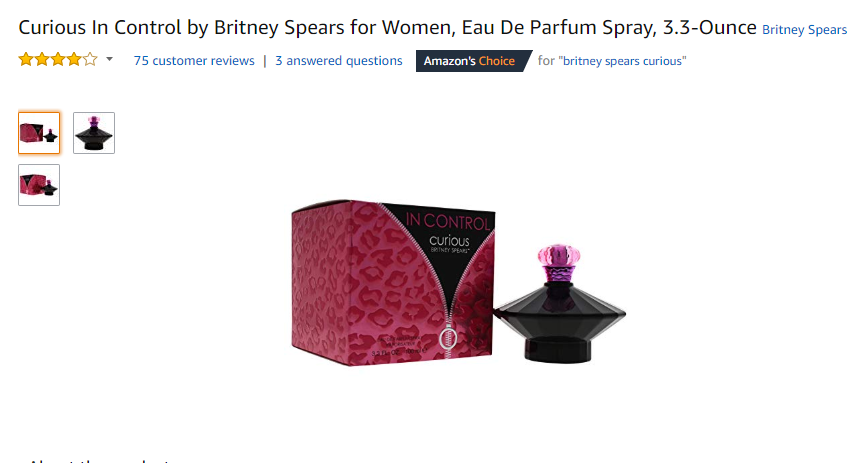 Rating: 3.6 Stars / 117 Reviews
Tagline: "What's your island fantasy?"
People were not feeling the island fantasy when this scent dropped in 2013.
Marilyn080 (3 Stars): This is ok. Not very strong or lasting at all. Smells like a weak pineapple juice.
Amazon Customer (1 Star): Wow what a disappointment. I usually love her perfumes but this was a total flop. I expected a pretty floral scent but it just smelled like dish soap.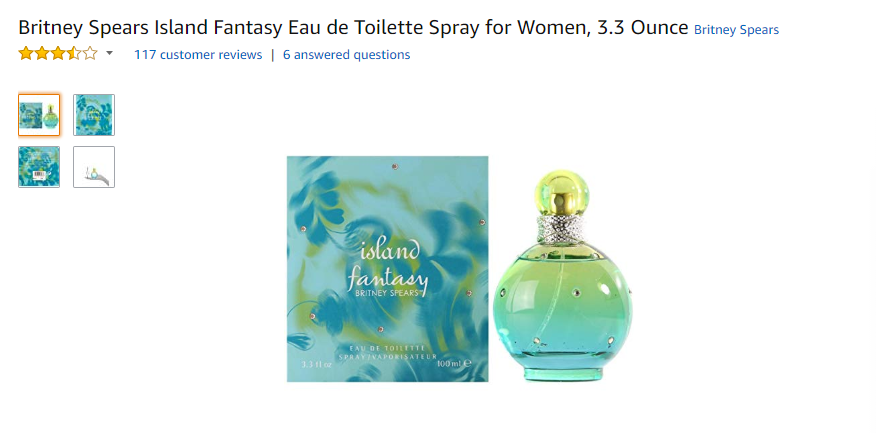 Rating: 3.6 Stars / 57 Reviews
Tagline: "Be the Brightest Star in the Universe"
One of the worst-reviewed of Spears' perfumes, this scent single-handedly brought an end to the Radiance line. Judging by the reviews, the funky bottle might have hurt sales more than the scent itself.
Nancy Shinaberry (4 Stars): Collector BS bottles so this just adds to the collection. Fragrance is OK. Not sure there is a love factor.
Jessica (3 Stars): It's okay. Compared to all of her other perfumes, it's not my favorite. Regular Radiance, in my opinion, is better than this one. Also, I think this bottle is really, really ugly. I don't know what they were thinking.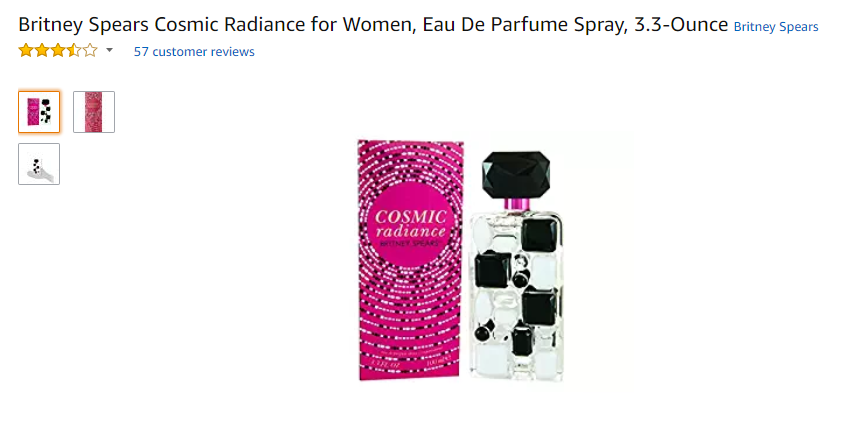 Rating: 3.4 Stars / 3 Reviews
Tagline: "Experience summer in a bottle."
The lack of interest in this dusk-inspired scent shows why it might be time for a splashy rebranding with a scent like Prerogative.
Amazon Customer (1 Star): This item did not smell like perfume – it was watered down. Waste of money – would like to return it.