Let's recap Benedict Cumberbatch's Sherlock-level press rampage over the past week.
First, he informed the Telegraph that he "can't just get anyone pregnant, it has got to be the right person," thus sending Sherlock fans the world over into a collective swoon.
Next, the Harrow-educated Cumberbatch complained to the Radio Times that he's tired of 'posh-bashing' from the British viewing public, joking that he's tempted to move to America. Naturally, this prompted even more posh-bashing, and a Guardian poll.
Then, just a day after TV Line reported his claim that pejorative statements he made about Downton Abbey from April were just tongue-in-cheek, Reader's Digest released an interview in which he called the Upstairs Downstairs-esque melodrama "fucking atrocious," alienating the same devoted Sunday night BBC viewership that's turned Sherlock into an international hit.
And finally, speaking to the British Press Association, Cumberbatch took a potshot at some of his most dedicated fans, a group of UK fans known as @cumberbitches. "There is some obsessive behaviour, which is quite worrying," he told the PA. "I worry for them, not for me."
The sudden flurry of controversial opinions from the usually soft-spoken Cumberbatch has made waves across the Internet, with fans rushing to defend Cumberbatch, and the press writing impassioned essays (and tweets) about whether or not they still like him. (Telegraph: Yes. Independent: No. Guardian? Can't make up its mind.)
As for the Downton Abbey cast and crew, they've responded with good humor. Creator Julian Fellowes told the Telegraph he "couldn't be fonder" of Cumberbatch. Meanwhile, cast members Hugh Bonneville, Brendan Coyle, Allen Leech, and Dan Stevens all changed their twitter icons to the cover of Cumberbatch's Readers Digest interview.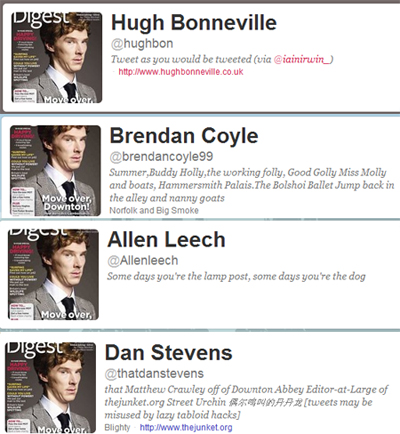 Reactions around the fandom ranged from defensive to tongue-in-cheek. Sherlock fan Kiersten Alaina told the Daily Dot that "it was a strange week because we don't often hear from Ben a lot. Most of the fans …know that he's very often misquoted and misunderstood."
Kiersten Alaina insists that "fans have stuck with" Cumberbatch despite his expressed anxiety over his fanbase. "No offense to [the Cumberbitches,] but they do say things like, 'let me have your babies, I want to fuck him'—very graphic stuff sometimes. And it can be a little frightening."
She added, "A lot of other people have posted hate against him though, which he doesn't deserve AT ALL. He really is a nice guy, just misunderstood. His fans know he doesn't mean what he says, the way he says it."
That's a comforting thought for fans, particularly since Cumberbatch's new series, the hugely anticipated Parade's End, premieres Friday. Though Cumberbatch's promotional interviews for the series are what landed him in the hotspot to begin with, fans are hoping the actor's undeniable talent will be what finally pulls him out of it.
Photo via galianafuck/Tumblr