In 2017, the anime studio Orange made waves with its adaptation of Land of the Lustrous. Previously, the studio had worked mostly on CG elements in otherwise two-dimensional works, and Land of the Lustrous was their first full production. The gorgeous series about sentient, humanoid gemstones showed the yet-untapped potential of 3D CG in anime, capable of creating bright, breathtaking worlds unlike the earthy, concrete-colored looks of most CG anime so far.
Beastars

RELEASE DATE:
March 3, 2020
DIRECTOR:
Shinichi Matsumi
STREAMING:
Netflix
It's more than just a grown-up 'Zootopia'——Beastars uses its anthropomorphic cast to tell a complex, nuanced fable about the powerful and powerless in society.
Orange's second major effort, Beastars, is the first series since then to capture the same kind of innovation and imagination. It takes place in Cherryton Academy, a boarding school attended by anthropomorphic animals. Carnivores and herbivores must set aside their instincts and coexist in peace, in preparation for living in a similarly integrated society. The suppressed tensions between the two groups comes to light when an alpaca is devoured on campus. In the midst of this, the gloomy gray wolf Legoshi has a fateful encounter with the dwarf rabbit Haru.
It's worth addressing the metaphorical elephant in the room right off the bat: yes, it bears a lot of similarity to Disney's 2016 animated film Zootopia, which also stars a rabbit and a canid. The manga even made its debut in Japan not long after the movie was released, which may or may not be a coincidence. The two stories bear a lot of thematic similarity as well, in that they both address the difficulties and power struggles inherent in building a society between such oppositional groups, and the systemic inequalities that stem from them.
---
WATCH: The 10 Best Anime Series on Netflix:
---
However, while Zootopia addresses such complicated topics in child-friendly, simplified terms, Beastars takes a decidedly darker and more direct approach. The inciting incident is a devouring, after all. Not just a murder, not just an attack, but the act of succumbing to one's instincts in a society where such an act is strictly verboten.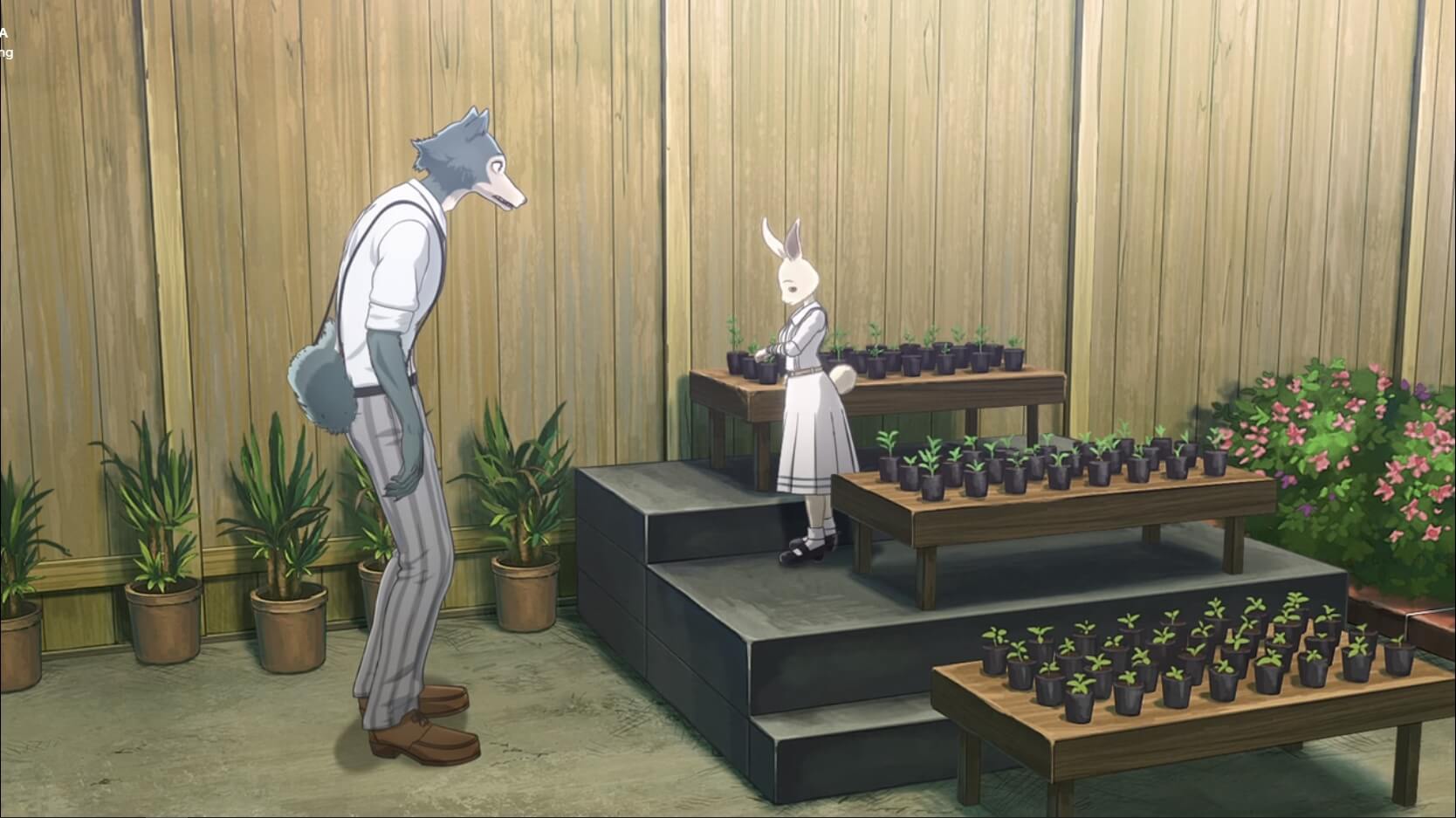 Legoshi, despite being an apex predator, is quite meek, although the question remains whether it comes to him naturally or results from him sublimating his instincts constantly. Louis (or Rouis, if you're watching it subtitled), a buck with imposing antlers, is the dominant figure on campus and poised to become the newest Beastar, one of a group of influential community leaders. Haru (or Hal, in Netflix's episode summaries) enjoys sex as a form of power, but is bullied by the other girls for her promiscuity. These three personalities, combined with the tensions of sublimating their natural instincts both as predator and prey, come crashing together.
It's a challenging story, to say the least. The easiest interpretation of the uneasy tension between carnivores and predators would be a metaphor for sexual politics, but then the story starts to incorporate actual sexual politics, in a very intelligent and well-written way. As the episodes roll by and the plot unfolds, it's clear that there's more to it than just that. Legoshi learns horrifying truths about the world of adults, nearly succumbs to his instincts, and struggles with his complex feelings toward Haru. Could it be a metaphor for privilege and power in society, and the complicated ways they intersect?
Either way, Beastars doesn't offer easy answers, or really any answers at all. That's not what it's meant to do. It's supposed to make its viewers think and consider the characters' situations, and how that maps onto their own cultures.
It's not all dreary didacticism, though. Even if it doesn't offer answers, it does offer an engaging story, snappy writing, and technical excellence. Legoshi, Haru, and Louis are all fantastic characters with rich inner lives suited to the complicated world they live in, and it's a lot of fun seeing the ways they interact.
But if none of that sounds appealing, Beastars is worth a look just for its technical marvels. As I mentioned earlier, this is the Orange's second major production. Like its predecessor Land of the Lustrous and its translucent, shimmering gem people, the nature of Beastars' characters and setting presented a number of unique animation challenges. The animators researched the musculature and skeletal structures of the animals the cast was based on, no small feat with the number of species represented even in background shots. The animation rigs balance that research and accuracy with the audience's need for anthropomorphized facial expressions and body language in order to connect with the characters. Legoshi's muzzle and expressions may be wolfish, but the way he slumps to hide his gawky figure is deeply human.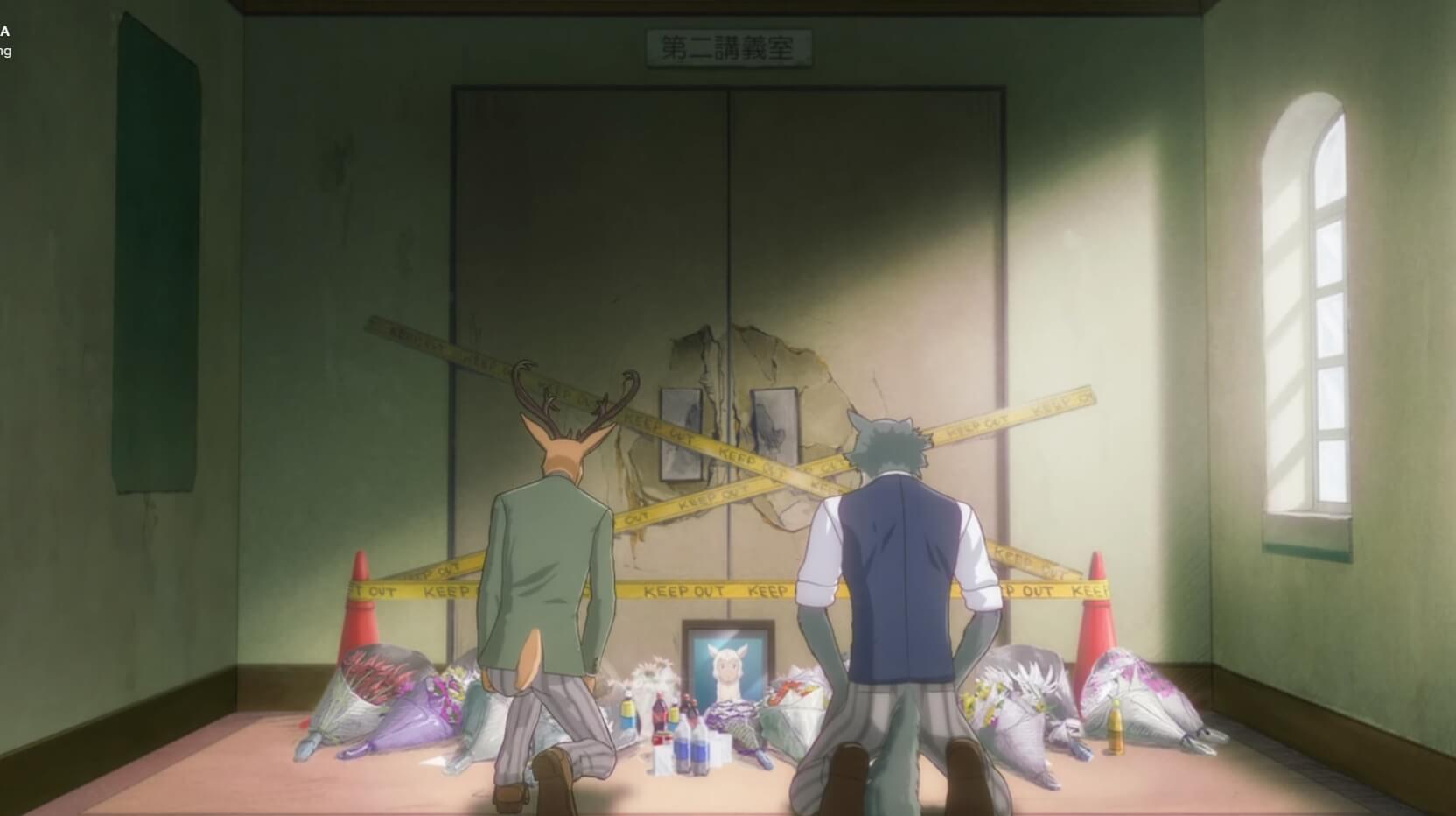 Every frame and camera angle is carefully considered, every moment perfectly scored. The use of lighting to set the mood is of particular note; there's a well-developed visual language in the shadows and quality of light in every scene.
While Netflix defaults to skipping title intros for the sake of smoother binge-watching, this one is worth watching every time. It's an excellent swingy number, accompanied by breathtaking stop motion animation that ties perfectly into the show's story and themes. Haru and Legoshi, cute enough in cell-shaded CG, are positively adorable with their fuzzy little models.
The one criticism I have for Beastars at this time is that it feels a little incomplete by the end of the final episode. It's a stopping point, yes, but it feels like the story has something to say that hasn't been said yet. I've seen members of its production staff hint toward the possibility of a second season; let's hope they're right.
Still not sure what to watch tonight? Here are our guides for the absolute best movies on Netflix, must-see Netflix original series, documentaries, docuseries, and movies.
Looking for something more specific? Here are our Netflix guides for the best war movies, documentaries, anime, indie flicks, true crime, food shows, rom-coms, LGBT movies, alien movies, gangster movies, Westerns, film noir, and movies based on true stories streaming right now. There are also sad movies guaranteed to make you cry, weird movies to melt your brain, old movies when you need something classic, and standup specials when you really need to laugh. Or check out Flixable, a search engine for Netflix.