While fans remain uncertain whether the heavily rumored *NSYNC reunion will take place at the MTV Video Music Awards this weekend, Backstreet Boy Nick Carter is moving forward with an altogether new ambition: to become a film producer. Thanks to a successful Indiegogo campaign, he'll have ample funds to bankroll his first indie effort, Evil Blessings.
"Most of you already know that I'm passionate about music," Carter said in his pitch, "but what you don't know, is that I'm a HUGE horror fan as well." Evil Blessings, which he co-wrote and will star in, "is about three friends who go up to the the mountains to hunt, but soon discover they are the one's [sic] being hunted by an ancient family of evil."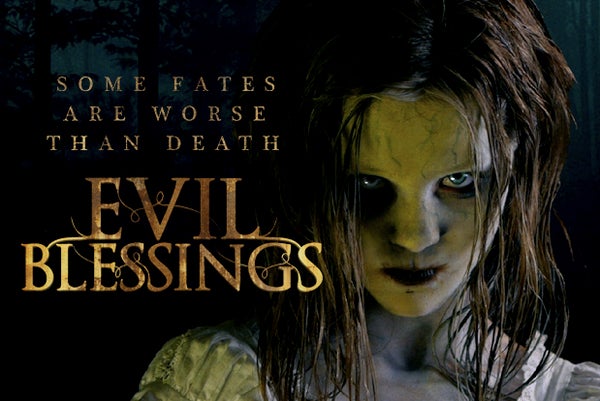 From the title, that description, and a few teaser images of a creepy, jaundiced-looking demon girl, it's not a stretch to say that Carter's film is genetically linked to Sam Raimi's beloved Evil Dead franchise. By working outside the traditional safety net of a movie studio, he said, he hopes to retain creative control of his passion project and deliver "a scary, sexy, and gory movie—with heart—without holding back on pushing into R-rated territory."
Sounds like a true auteur, doesn't he. But he's also brought film vets on board, from director Sxv'leithan Essex to photographer Shian Storm and producer Rob Carliner—lest you think the product in danger of turning out cheesy. "We'd want this to play in a theater near you," Carter said. Given that he hit his $85,000 goal in a few days and now has more than $117,000 in the bank, that's looking like a distinct possibility.
You can still donate to the cause, though the $6,000 package, which gets you a "day player role in the film," is sold out. You can still drop $1,000 to get either tickets to the Hollywood premiere or a "Backstreet Pack" of fan goodies, though you may as well reach for the stars and throw Carter $10,000 to become an actual executive producer for the film. Hey, once you've got your foot in the door, Hollywood could be yours.
Here's hoping that Carter's next movie features his entire band. They could be a roving gang of the undead, stalking nubile teenagers after their tour bus crashes into a haunted insane asylum built on an Indian burial ground or something. Just so long as when they rise from the grave we hear the familiar refrain: "Backstreet's back, alright!"
Photo by pantea naghavi/Flickr