Three days after he criticized people paying tribute to Stan Lee by posting photos with the revered comic creator, Armie Hammer has apologized for making "unnecessary social commentary about the current selfie culture."
November 15, 2018
On Monday, when news came that Lee had passed away at age 95, fans and celebrities started posting remembrances, both in picture and written form.
This is part of the cycle of grieving online nowadays, but Hammer was apparently irked by it. In a now-deleted tweet, the Call Me By Your Name actor wrote: "So touched by all of the celebrities posting pictures of themselves with Stan Lee… no better way to commemorate an absolute legend than putting up a picture of yourself."
People quickly called him out, but he held fast to his belief that posting tribute selfies is some sort of cultural faux pas. (However, there are plenty of "regular" selfies on Hammer's Instagram.)
armie hammer's in a real bad mood huh pic.twitter.com/dufF85JpD7

— nad ☃️ (@neondemcns) November 13, 2018
If Stan impacted your life (ie. All of our lives) with his work, post his work that touched you the most. Posting a selfie makes his death about you and how cool you felt taking a picture with him.

— Armie Hammer (@armiehammer) November 12, 2018
People also pointed out the irony that he was actually making Lee's death about himself, including The Walking Dead's Jeffrey Dean Morgan, who called Hammer an "asshat" in a now-deleted tweet.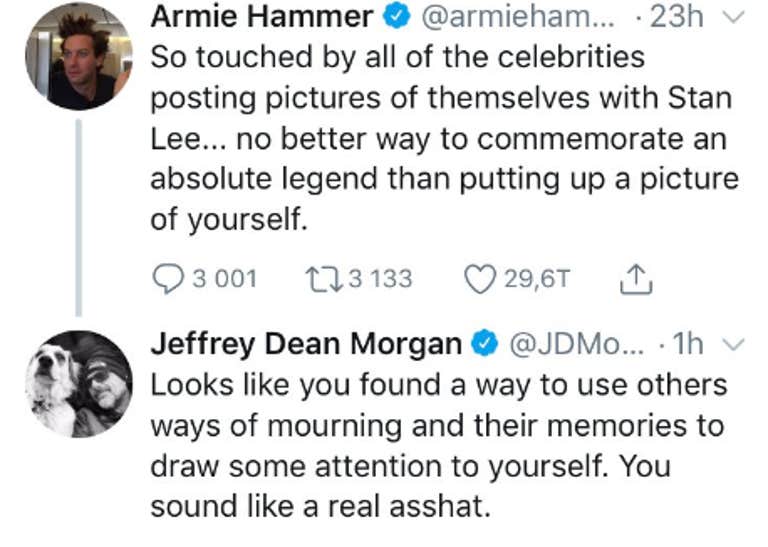 This isn't the first time Hammer's been hammered on Twitter.
Last year he took issue with a BuzzFeed profile that pointed out his privilege as an actor in Hollywood, and the studio systems that often give handsome white men chance after chance, and was criticized (and applauded) for his response.
But, as he says in his apology, he's "working on my Twitter impulse control."