You've heard of the "seven degrees of Kevin Bacon," the concept that we're all only somehow seven people removed from the Hollywood actor. Well it applies to videos, too.
Andrei Kashcha, a 27- year-old software developer who recently emigrated from the Ukraine, has developed a "visual recommendation service" called Yasiv that visualizes these connections for you.
Originally created earlier this year to view how books on Amazon were related, Kashcha then decided to apply it to YouTube videos by using the related videos API already in YouTube. He explained in a phone interview—his voice bashful over his broken English—that Google already internally does this but doesn't visualize it.
Kashcha's program does.
There's something mesmerizing about the simplicity of the floating videos, as well as the way certain clips relate to each other. (You'd be surprised how few connections it takes to get from a parody video to soft porn or the viral video phenom known as Boxxy, for example.)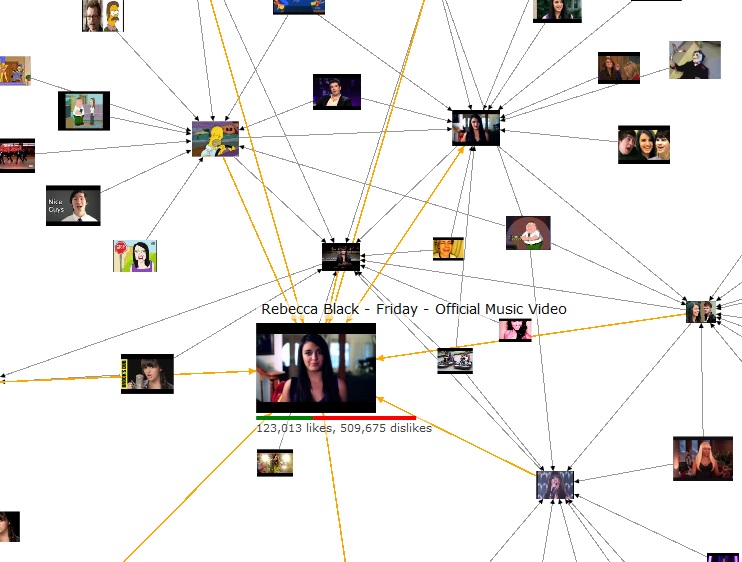 "Visualizations are just my hobby," said Kascha. The version for YouTube, Kascha added, is "great for finding new relationships and related information."
Kashcha said he was inspired to apply the program to YouTube, because after he'd watch one video, he'd click on a related or recommended video. But instead of seeing fresh, new content, he "kept watching the same video over and over." He thought, "if I showed it as a network I would avoid watching the same video again."
Within a short time, he had the program up and running, and like he hypothesized, the "visualizations removed copies."
A post on Reddit's programming section, where a user falsely claimed the program as his own, helped Kashcha get some much needed and "fantastic" feedback on the software.  
"I fixed several bugs and I'm going to add what most of the people suggested, like more information on the videos," he said. "I hope to improve it in the future."  
As for the suggestion to visual the entire Internet?
"It's a good idea," laughed Kascha, but "it's too huge."