The team from Fox's Kitchen Nightmares returned to Amy's Baking Co. for a second helping of verbal abuse Friday nearly a year after the Arizona eatery became the most-despised restaurant on the Internet.
In the season 7 premiere of chef Gordon Ramsey's hit reality series, Kitchen Nightmares aired never-before-seen footage from May's infamous episode. The clips punctuated what was already featured during their first meeting: owner Samy Bouzaglo refusing to confront his wife Amy about terrible food, former waitresses complaining about not receiving tips, and Amy's refusal to hire men in the kitchen because of its small quarters. The episode also touched on the hundreds of parody videos and Facebook comment wars between Amy and alleged customers.
But by far the most interesting part of Friday night's episode came near the very end, when a Kitchen Nightmares staffer returned to Arizona to interview the infamous duo.
"This time from Kitchen Nightmares's I want money," Samy told Fox's staff. "You guys made so much because of us, and Gordon Ramsey tried to bury me alive. … You set me up. You tried to bury us alive.
"Gordon Ramsey can go f**k himself."
The season premiere was a boom in ratings for Fox, with a 22 percent rise over last season's opener, according to Deadline.
As is the case with any sort of press Amy's Baking Co. receives, haters have filled up posts on the restaurant's Facebook page with negative comments.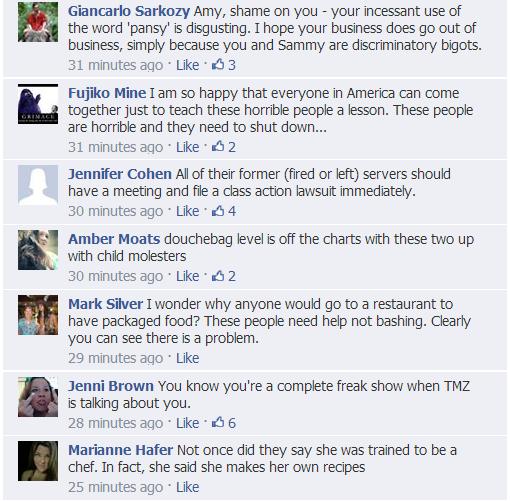 You can watch Kitchen Nightmares return to Amy's Baking Co. here.
Photo via Amy's Baking Co./Facebook