Amber Rose this week unveiled her new line of luxury sex toys. They've been curated and endorsed by the sex-positive social media star herself and developed by Swedish industry luminaries Lelo.
The partnership is a $10 million endorsement deal between Rose and Lelo. If it seems excessive, consider that last year's Rose offering, a clitoral stimulator called the Sona, became 2017's fastest-selling sex toy, according to Lelo. The two also partnered during one of Rose's annual "Slutwalks," a series of marches that protest rape culture.
"Before I found Lelo, sex toys weren't a big part of my life. But that's all changed—I waited a long time to find the perfect toys for me," Rose said in a statement. "I'm a real Lelo convert. I'm passionate about empowering everyone to embrace their bodies and their pleasure."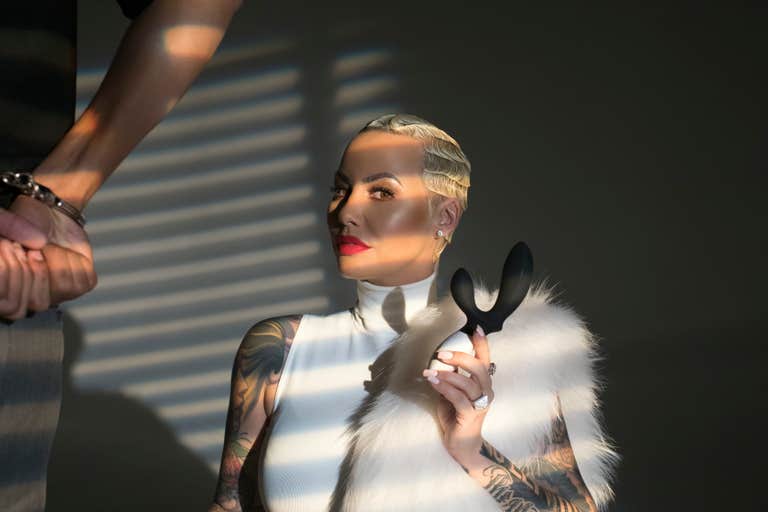 Lelo says that only 25 percent of adults in their research admit to owning sex toys, and hopes this collection helps break down their stigma. Lelo adds that Rose is a philosophical fit and that the company needed "a partner on board that truly has her ear to the ground and literally knows what women want in today's society when it comes to sex."
The "Amber Rose Toybox" includes a G-spot massager, prostate massager, remote control couples massager, a silicone vibrating ring for men, and an oral sex simulator—all sold separately, of course.
Last year, Lelo made headlines when 30,000 of its condoms were stolen from a Las Vegas warehouse. But the Stockholm company is thriving by turning to social media and attacking stigmas.