On a cold foggy night, a terrified woman stumbles, disoriented, towards the police station. Before she reaches its steps, she dies on the cobblestone, hair falling out of her head. In her shoe is a list of names, among them Mark Easterbrook, a womanizing antique dealer, and his mistress Thomasina. When Thomasina turns up dead as well, hair falling from her head, Mark is horrified. But after discovering a connection between the current deaths, his deceased first wife, and a coven of witches, Mark is drug into a mystery darker than he could ever imagine.
The Pale Horse

RELEASE DATE:
March 13, 2020
CREATOR:
Sarah Phelps
STREAMING:
Amazon Prime
Sarah Phelps once again delivers a clever, modern, twist on a beloved Agatha Christie classic while staying true to the author's spirit.
In the blood-drenched pantheon of Agatha Christie, 1961's The Pale Horse is an oddity. It's a rare exploration into the occult by the author, using the framework of a traditional whodunit. It's only fitting that Sarah Phelps would helm its adaptation for the BBC and Amazon Prime. Her previous Christie adaptations were thoughtful manipulations of beloved works, like Ordeal by Innocence and The ABC Murders. No one plays with the works of Christie like Phelps, much to the annoyance of purists, and her dark take on The Pale Horse is a horrific treat. 
As with Ordeal or The ABC Murders, if you're beholden to the original texts, The Pale Horse will annoy you. From the first victim to the main characters to the final shot, The Pale Horse is a reimagining of Christie's book more than an adaptation. But it's the rare reimagining that improves the original, taking scattered pieces of a whole and reframing them into something better. Christie's book is a murder mystery that uses elements of horror to spook you, while Phelps' adaptation is a horror movie hiding inside an Agatha Christie mystery.
Phelps' The Pale Horse takes a flawed yet interesting Christie mystery and creates its own game with the pieces. Mark, played with grim annoyance by Rufus Sewell, is a man haunted by the horrific death of his first wife Delphine (Georgina Campbell). But not so haunted he hasn't had time to remarry to a woman named Hermina (Kaya Scodelario) or have a mistress on the side (Poppy Gilbert). After being questioned by the police, Mark begins his own investigation. When he finds a connection to a coven of witches who work out of a fortune-telling parlor called The Pale Horse, Mark's journey begins to take on a dark occult twist.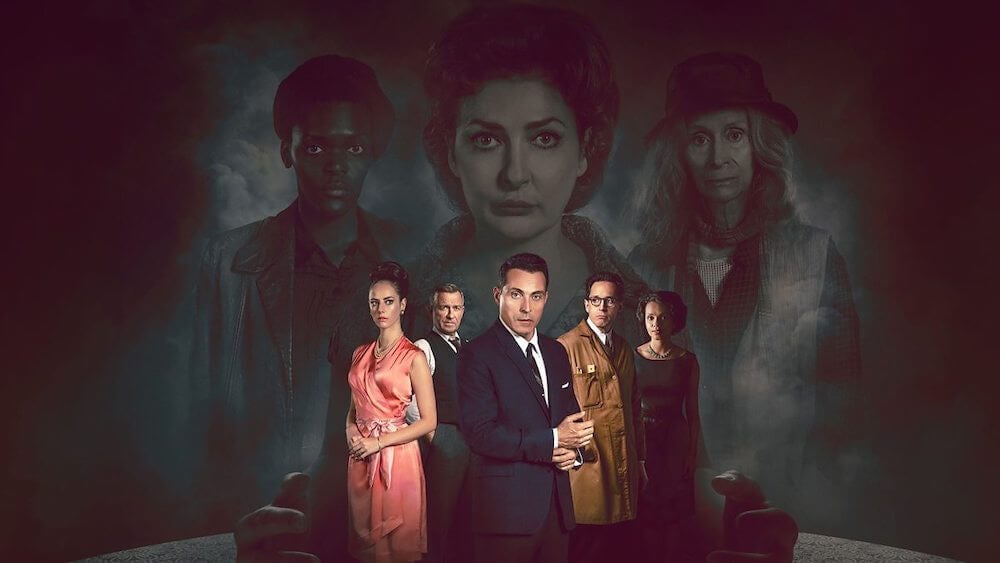 While he's buried in the mystery, his home life is unraveling. Mark's new wife Hermina, is in the middle of a nervous breakdown, torn between the expectations of her social circle and her obviously cheating husband. Scodelario is a revelation in this role, adding human dread to a story full of magic. Who cares if people are casting evil magic, a woman who daydreams of murdering her rude socialite friends is the real terror.
Do the witches have anything to do with the deaths surrounding Mark or are they simply part of a darker world of mysteries? The answer isn't revealed until the final moments of the show, but thankfully Amazon will be releasing both hour-long episodes at once. Which is good, because The Pale Horse works better as a two-hour movie than a two-night event.
Phelps has injected a deep root of mysticism and pagan horror into the story, augmented by a handful of special effects sequences that amplify the dread. The witches of The Pale Horse move with a symbiotic grace that brings unease with their every glance. A small village's pagan holiday festival is full of red herrings and symbolism that suddenly become important later on, but terrify in the daylight. Part of what makes the black magic subplot of The Pale Horse work is how the story makes you believe this is a world where people still fear magic. Whether you're a smiling rosy-cheeked child dancing down the street in a celebration or a man haunted by visions in the dark, these old gods still feel like a presence in the world. Even as modern society banishes them from small towns far from the city. 
As Mark searches for answers, he only discovers more bodies and, worst of all, that his own hair is starting to fall out. Will Mark discover who or what is behind the deaths before he joins them in the grave? The answer isn't as simple or yes or no. The Pale Horse is a delightful horror mystery, one that allows you to feel the satisfaction of figuring out who the killer is before delivering on final devastating surprise. This is a true crowd-pleaser for fans of dark murder fiction. That is unless you're a Christie purist.
From the offset, the changes from the original text are massive. In the book, the first victim is priest, Thomasina isn't Mark's mistress, the ending is wildly different, Mark doesn't remarry after becoming a widower, there is no pagan festival or corn dolls. Christie's books tended to end on as happy a note as possible. Yet this adaptation of The Pale Horse is a much different beast, soaked in darkness and ending on a hilariously bleak note that feels fitting for an episode of Tales from the Crypt. 
This isn't traditional Christie, but it's still very much in the spirit of traditional Christie. Part of what's made Phelps' adaptations of Christie's novels so successful is how much she's been willing to play with the original text. When asked by the Telegraph about if she changed anything in The Pale Horse, her response was telling. "Have I changed loads of stuff? Yeah, of course, I have," she said, but she was quick to explain why. "I always go for the beating heart of what she's getting at and she always throws you little clues, little quantum details," she said. As a fan of the book, The Pale Horse is the rare adaptation that fixes the problems of the original. 
Phelps takes an oddball murder mystery and turns it into something genuinely unjarring; a tale of adultery, murder, anger, greed, and pagan rituals intersecting in one unfortunate moment. Rather than deliver a comfortable mystery, Phelps uses the story as an opportunity to explore misogyny and the lies men tell themselves. Every change here makes sense in the context of the original book, though not the era it was published.
The Pale Horse is reportedly Sarah Phelps' last Agatha Christie adaptation for the BBC, which is a little sad. Phelps has proven herself to be one of the best stewards of Christie's legacy, an obvious fan who is willing to piss off the purists by making changes when needed for modern audiences. On the other hand, The Pale Horse is a beautiful send-off, familiar enough to delight BBC mystery fans while weird enough to intrigue anyone with a Wicker Man poster.
Still not sure what to watch on Amazon? Here are the best Amazon originals, the best documentaries on Amazon Prime, what's new on Amazon, the best 4K movies, Amazon original movies, alien movies, and the sexiest movies you can stream right now.
Looking for something more specific? Here are the best comedies on Amazon Prime when you need a laugh, sad movies to make you cry, kids movies for the whole family, the best thrillers to get your heart racing, and the classic movies on Amazon Prime everyone should see. If that's not enough, here are the best Amazon Prime channels.