Alinity Divine accidentally displayed a dick pic on a recent Twitch livestream. Her channel is still live and she doesn't seem to have suffered any kind of punishment for the inadvertent nudity.
On a recent stream, she was scrolling through her Discord channel and was about to play some online party games with her viewers. That's when she was met with the photo of somebody's erect penis. She screamed in shock, put her hand to her mouth, and immediately hid the Discord chat window.
She put her head in her hand in apparent shock at the invasive and gross act of sexual harassment.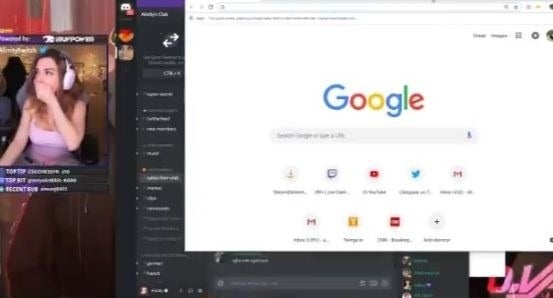 The next day, though, she saw the humor in her chat surprise.
https://twitter.com/AlinityTwitch/status/1084495457177554944
In the tweet that showed the 28-second clip of her seeing the phallus photo, she responded by writing, "O shit dat me" with an eggplant and an eyes emoji.
Although this wasn't an issue of her own making, Alinity has been involved in plenty of controversy in the past several months. She feuded with YouTube star PewDiePie after he called women he saw in a YouTube compilation video "Twitch thots" and she angrily threatened to file a copyright strike against his reaction vlog. Even eight months later, she's still receiving criticism for that threat, because the copyright claim issue is still such a hot-button topic in the YouTube community.
In November, she admitted that she sold a bra to a fan several years ago after she streamed her email inbox, where people could see a message from that apparent fan who was offering more money for her undergarments.
Earlier that month, she said Twitch streamer TrainwrecksTV threatened to rape her, telling the Daily Dot that, in person, he was "aggressively demanding to know why I rejected him, being physically imposing over me as if I owe him some chance with me. It's just constant. People have had to pull him away from tables I've sat at, and groups of people I've been around."
As of this writing, Alinity has more than 760,000 Twitch subscribers.
H/T Dexerto