Before taping 2016's Baby Cobra, Ali Wong couldn't sell out the San Francisco venues she was playing to warm up for her debut Netflix special, so she had to put tickets on Groupon. She recounts this modern indignity in new special Hard Knock Wife, which finds Wong, pregnant with her second child, now rich and famous. Though, as she says later in the special, she didn't want to be famous, she just wanted "more money for less effort."

Hard Knock Wife is a lot of things: an exploration of fame; an indictment of American healthcare and its lack of maternity leave; an illustration of the body horror of motherhood. But this is Wong's take, so she'll tell you up front that sometimes, when you're breastfeeding, a duct will become clogged, resulting in "a kidney stone in your titty."
It's a line that might make you involuntarily grab your own, and a good portion of Hard Knock Wife explores the intricacies and indignities of motherhood. She unravels the fantasy versus the reality; being a stay-at-home mom is not ideal when you're in "solitary confinement" with a "human Tamagotchi." She likens joining a new moms' group to linking up for survival in The Walking Dead. Breastfeeding is "chronic, physical torture," and her daughter is the bear in The Revenant. She deftly plays the two sides of being told she'll need diapers after giving birth—for herself.
Wong isn't ragging on motherhood for laughs; these are things she and so many other women learned on their own, through trial and error, and Wong subtly plays up the loneliness, confusion, and despair of being a new mom. She admits she romanticized motherhood, and calls out the need for formal federal maternity leave in the U.S.—so women can "hide and heal their demolished-ass bodies."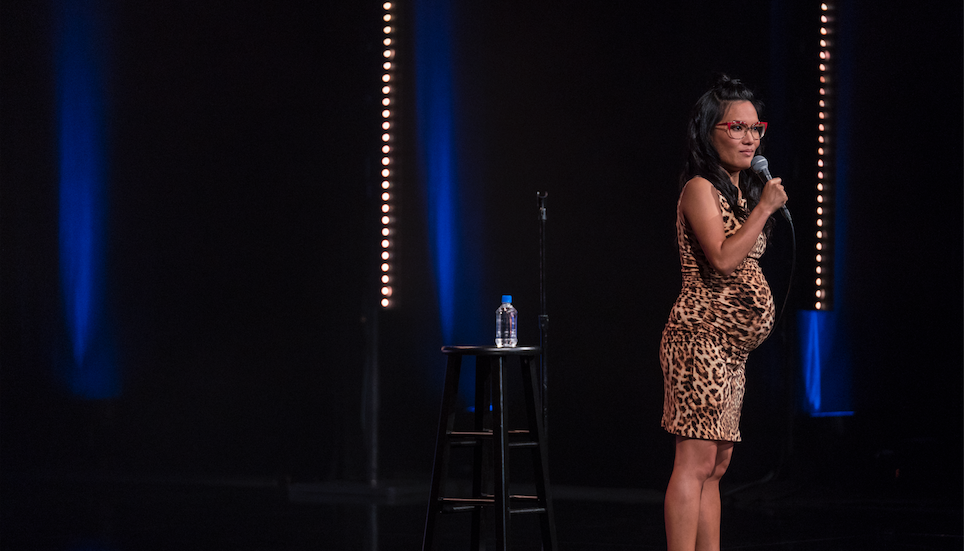 It's a well-paced special, and the energy rarely lags. Wong has a strategic joke structure but it's subtle, and often tied up in her physicality. Her eyes go wide in horror then quickly narrow; her voice goes from barely contained scream to creaky whisper in the time it takes to shoot a rubber band across a room. She patrols the stage, her pregnant body hugged by an animal-print dress, both showing and telling. Her physical presence only adds to a bit about nannies that includes the phrase "butthole buffet." Her comedy is about the body and she leaves no part unexplored.
Netflix has spring-loaded Wong, in a way; Baby Cobra gave her a bigger fanbase, and she'll be appearing in the Netflix animated series Tuca & Bertie with Tiffany Haddish as well as a romantic comedy with Randall Park, directed by Fresh Off the Boat's Nahnatchka Khan. She addresses the shift that's happened over the last two years in a bit about now making more money than her husband. Wong offers up some of the unsolicited opinions she's received about it, but isn't vexed by her status. "My husband's the real breadwinner because he won a bread machine," she says, and the snap of pride lingers long after.
Still not sure what to watch on Netflix? Here are our guides for the absolute best movies on Netflix, must-see Netflix original series and movies, and the comedy specials guaranteed to make you laugh.