Every day, the Daily Dot finds something that people on Facebook are sharing and, in turn, shares it with you—with a little explanation. Here's today's share.
Aisha Tyler, the voice of femme fatale Lana Kane on the animated series Archer, has a message for gamers who apparently claim she lacks cred: "go fuck yourself."
Actually, she used the acronym "GFY." Still, it was the perfect coda to a long and passionate diatribe she wrote late Tuesday evening, in which she described a lifelong passion for video games. Addressing "all the haters out there who claim I don't play" and "every illiterate racist douchebag on Youtube," she wrote:
I've been a gamer since I made friends with a girl in the 5th grade just to get at her Atari.
Since I missed the bus playing Galaga after school.
Since I missed the start of Return of the Jedi playing Tempest in the theater lobby.
Tyler's outburst was prompted by the online reaction to her appearance at last week's E3 gaming conference, where she hosted a major press event for Ubisoft.
"I get invited to E3 because real gamers know I'm a gamer," she wrote.
"Fuck fame. I do it because I love video games," she added, noting that she's voiced characters in two major video game franchises: Gears of War and Halo.
The four hundred Facebook users who have shared her rant so far seem to also share her passion. Female friends, especially, echoed Tyler's sentiment.
"holy shit woman, i love you," wrote Saraya May.
"I've been seeing a lot of vocal female gamers being attacked lately and I don't understand the trend. Like douches can scare us out of gaming?" added Rachael Whitaker.
"Hearing you in Halo: Reach was AWESOME! I literally yelled out, 'Holy shit! Lana is here!'" wrote Amanda LaFranco.
Tyler added a photo of herself holding a replica Lancer—combination rifle and chainsaw—from Gears of War.
"Do not wind her up," wrote Devin McGauley. "That is a big gun."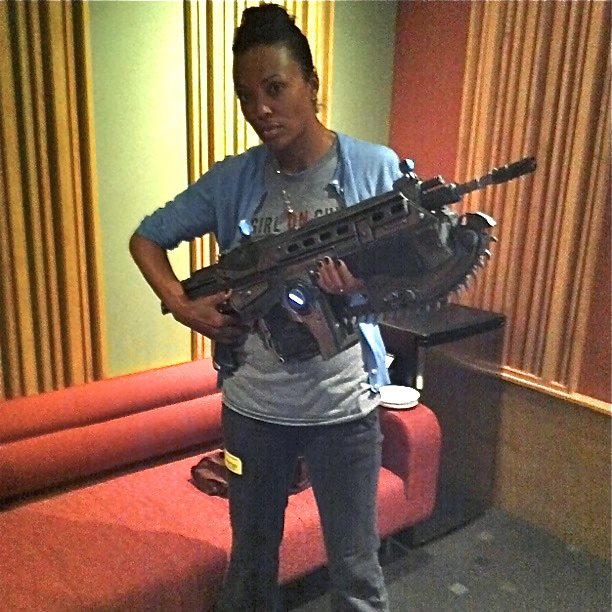 Photo via Facebook