Tech

Tech

The gadgets, platforms, and software that make your digital life possible. if it bleeps, clicks or blinks, you'll find it here.

Internet Culture

Internet Culture

There's a community for everyone online.

Bazaar

Bazaar

The Bazaar specializes in the stuff you don't actually need…but you really, really want.
365: Behind artist Jag Nagra's geometric portraiture
The 27-year-old Canadian illustrator talks about her ambitious Web project and the art of simplifying features. 
Artist Jag Nagra readily admits that you can count the number of distinct shapes used in her popular, illustrated profiles of celebrities, superheroes, and movie characters.
"It looks simple," she told the Daily Dot, "but getting their personality across in as few shapes as possible is harder than it looks."
There's another catch. Nagra completes one illustration per day—with no exceptions. And she will be doing so for each of the next 255 days or so.
Over the last three and half months, the 27-year-old Canadian artist has been been posting daily portraits in a project she's called "365." Using a half circle for lips, or an upside-down triangle for a goatee, Nagra uses Adobe InDesign to simply and beautifully illustrate the the likes of Charlie Chaplin, Adrien Brody, and Kanye West.
"The superheroes have proven to be a little easier than some of the celebrities I've illustrated," Nagra told the Daily Dot. "Since it's a side-project and I work full time, I can't spend hours obsessing over little details.  It's teaching me to know when an illustration is complete, and release it into the world wide web."
On Tuesday, Nagra released an illustration of Internet hero Jay "Tron Guy" Maynard, which she created using a photo from a Daily Dot story.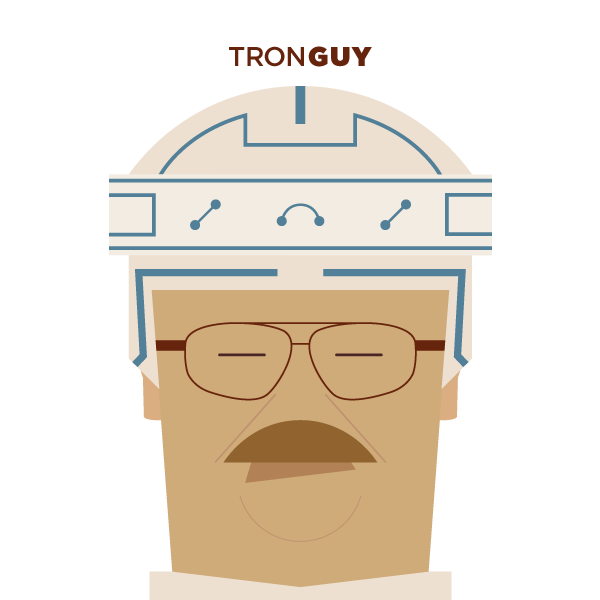 We followed up with questions about her inspiration, her favorite piece so far, and what happens on day 366.
Daily Dot:  How do you come up with each profile subject? Is it completely random?
"There's honestly no plan. I know when I started (and this is still the case), I found that it was easier for me to find geometric shapes in men's faces. I've had quite a few questions about why I've chosen men only.  And that's what it comes down to. I had very little illustration experience in the past, so this project is my way of improving my skills. I usually spend a bit of time on my lunch break Googling people (right now I'm on a superhero kick) and see what appeals to me that day. It's totally random. Which explains why Macho Man, Gandhi, Alexander Graham Bell and Coolio have all made their appearances."
DD: What's the inspiration behind the project?
"I work as an in-house designer for a company and after a full day-long meeting this past January, I came home thinking I needed to create something for myself. Something that wasn't being art directed by anyone else, and that didn't need to go through a million of rounds of revisions and approval. While I love my day job, I came home that day feeling an overwhelming sense that something was missing that would keep me growing and challenged outside of work.  And that's when the idea of a 365-day project stemmed from.  It was mine. Even if no one else ever saw it, it was something I could claim wholeheartedly as mine."
DD: What's your favorite illustration so far?
"My favourite is Andy Warhol. I remember I struggled with his illustration quite a bit. I just couldn't get his hair right and couldn't get his facial expression the way I wanted it. I think I had to step away from it on 2 separate days and left it for a few weeks.  When I came back to him, I started from the beginning and something clicked. He's been a hero of mine for many years, so I might be biased with my opinion here."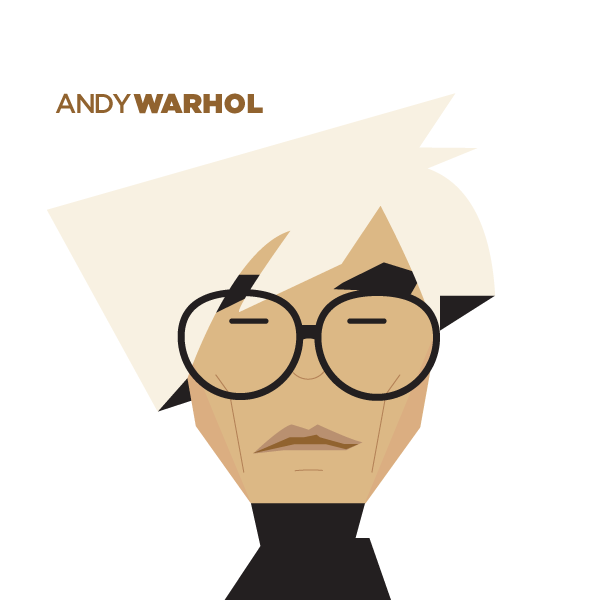 DD: Almost all the illustrations have slits for eyes. What is the story behind that?
"It's all about simplifying their features."
DD: What will happen on day 366?
"Day 366 seems too far away, still.  Will I even make it that far?!  Early on I wondering about changing the project name from '365'to '42.' Yeah, I've thought about a book. My long term plans are that I have no long term plans. Your guess is as good as mine. We'll see what happens with this."
Fernando Alfonso III served as an early Reddit and 4chan reporter and the Daily Dot's first art director until 2016. He's gone on to report at Lexington's Herald-Leader and at the Houston Chronicle.
© The Daily Dot, all rights reserved.
Represented by Complex Media, Inc. for advertising sales.