On the Internet, history is best remembered not by dates or important events but by memes and single-serving Tumblrs. With that in mind and to coincide with our one-year anniversary, the Daily Dot collected 12 of the best one-hit wonders from the past 12 months.
1) Ryan Gosling at Fun Fun Fun Fest // November 2011
Since the only interaction most fans get the dreamy Ryan Gosling is on their Tumblr dashboards, it's no surprise that the excitable people of Austin, Texas, lost their collective cool when they saw the Drive star at Fun Fun Fun Fest. Blog creator Austin Kleon told us it quickly racked up 500 followers and earned burning criticism from Gawker. Looks like somebody was jealous not to be warmly embraced by Gosling.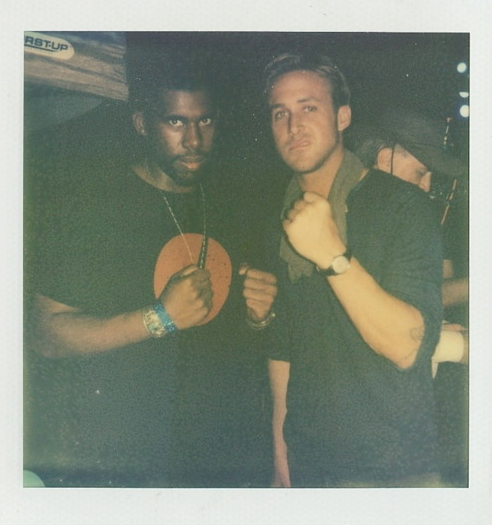 2) Park-Z and Kanye-ation // January 2012
From Etsy to Twitter, Kanye West's big personality influences everything online—particularly Tumblr. His brash lyrics became the basis of "Kanye'd by the Bell," a Tumblr that mashed-up scenes from Saved by the Bell and West's lyrics.
But we enjoy its advanced predecessor, Park-Z and Kanye-ation, even more because we can actually picture Tom Haverford rapping to West. The blog, created by David Diviney, highlights scenes from the NBC's Park and Recreation that would be in-tune with West's lyrics. Aziz Ansari, who plays West's superfan Haverford, gave the blog his endorsement by calling it "amazing." The blog matches well with cheesy flip flips and Kanye blood.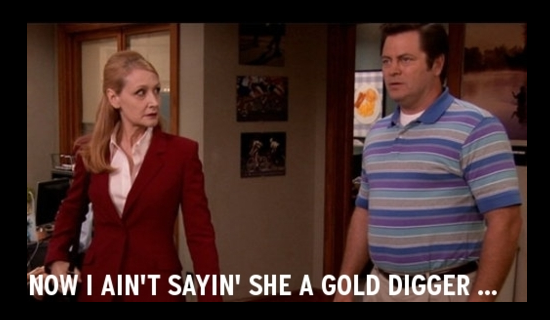 3) Texts from Hillary // April 2012
At a first glance, this picture of Secretary of State Hillary Clinton using her phone didn't seem out of the ordinary for a person of her statue—until Tumblr got its hands on it. Texts from Hillary paired up images of Clinton texting with politicians, celebrities, and the aforementioned Gosling.
The blog was created by Stacy Lambe and Adam Smith, who had people sharing it from inside of the Washington beltway. Clinton got wind of it and invited the guys to her office for one final text. Also, Clinton surprised us by using the word 'selfie' when she created her take on the meme and thereby granting some closure to the blog.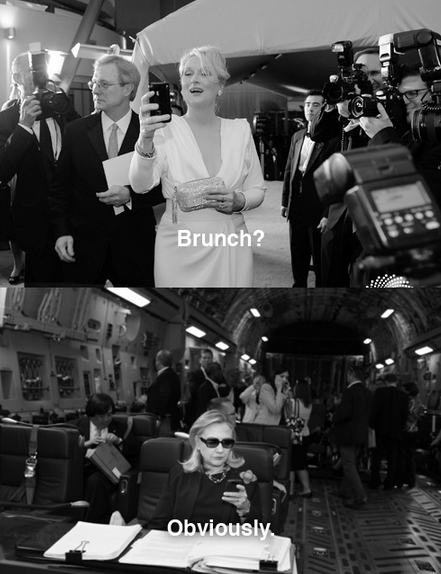 4) Texts from Dog // April 2012
The relationship between a man and his dog is a storied one. But it's not this one. In this Tumblr-turned-book, a rambunctious, bitchy bulldog chastises his owner, October Jones, via text messages. The dog, Cooper, is annoying his neighbors, chastising the postman, and threatening to pee all over the house. Although the dog can text, he still gets confused when his master teases him with a ball.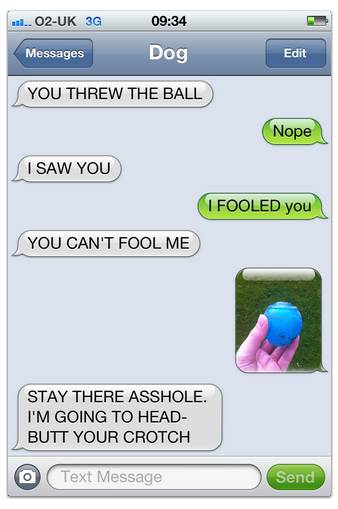 5) Corporate Twits and Old People Writing on a Restaurant's Facebook Page // April 2012
The brilliantly demented mind of Stefan (Twitter's @boring_as_heck) runs two of our favorite Tumblrs. Corporate Twits highlights the bizarre, often off-key, tweets from companies while Old People Writing on Restaurant's Facebook page shows the batty things people write on restaurants' Facebook walls.
Vancouver-based Stefan told us his high-level of trolling on Corporate Twits isn't to make fun of the companies but to test the limits of what an establishment would respond to.
"I think it took a little while, but major brands figured out that maybe responding to complaints from guys named @dogboner or @fart wasn't the best idea," he said.
As for Old People Writing on a Restaurant's Facebook Page, Stefan said the weirdness of people writing inane things compelled him to create it. "It's a really simple concept" he said, " but I think the best concepts are usually the simplest."

6) Brad Pitt Eating Things // May 2012
Even Brad Pitt has to eat on set. It's that simple. This blog showcases Pitt's peculiar diet with pictures, GIFs, and a mashup video.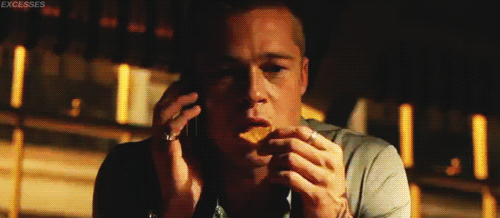 7) Amercia is with Mitt! // May 2012
There is no way to defend how embarrassing this gaffe was for Mitt Romney, so Tumblr took care of it for him. Team Romney released an iPhone application that let users snap a picture with the graphic "A Better America," except it misspelled it as "Amercia." Awkward!
Tumblr users submitted their take on to what a Romney-led "Amercia" would look like. There's a picture of spell check on the word "Amercia," a doozy of a comparison to George W. Bush, and another submission essentially calling Romney "slow." Tough crowd.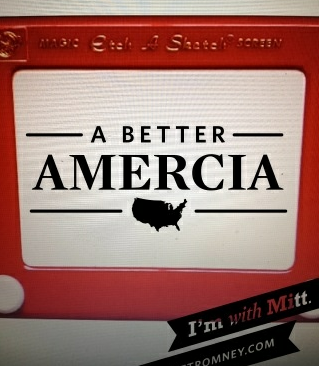 8) Food Network Confessions // June 2012
Food Network fans are the most boisterous, and might we say seasoned, fans on the Internet. Fans of the cable network share their deepest and darkest secrets about the channel's hosts, shows, and recipes on Food Network Confessions. Think of it as of a Postsecret for fans of Food Network.
It was created by Gracie Rutledge, a 19-year-old fan whose favorite post is comparing Sandra Lee to an inspirational figure. The blog has 2,000 followers and even has received acknowledgement from Food Network chefs. As for a confession of her own, she admits she doesn't like Healthy Living host Ellie Krieger. "I think she's the most annoying person on the network," she told us. That would make for a good submission.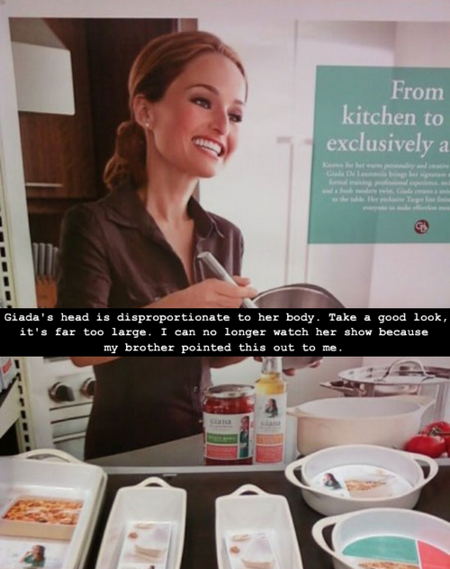 9) Rich Kids of Instagram // July 2012
The Lifestyles of the Rich and Famous ended its television run in the 1990s, but it still rages like a Jersey Shore bender— on Instagram. The gold-framed entries document all the spoiled, bratty fun rich kids are having while we're working. The blog's anonymous creator said he started the Tumblr after falling down the rabbit hole of searching Instagram tags and profiles of "Trump" and "Hilton."
The stream of pictures show kids relaxing on private jets, partying on roof-top pools, and generally living fabulously off their parents' money. Reaction to RKOI was mostly of disdain, but the blog's creator told us that maybe the kids are not having as much as fun as they want us to believe.
"Instagram is for everyone," they said. "Maybe the filters make it more sexy than it really is."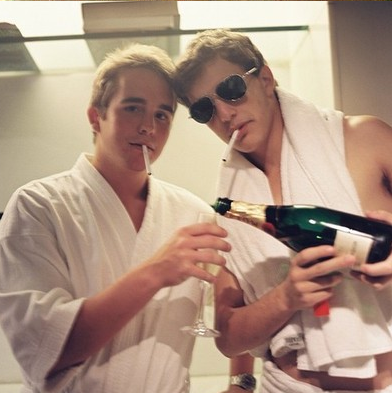 10) Calvin and Hobbes GIFs // August 2012
It's shocking that beloved comic Calvin and Hobbes was never turned into a television show, but we found the next best thing. Calvin and Hobbes GIFs lives up to its name and brings the boisterous pair to life, with more than 30 GIFs of the friends getting into their usual trouble, like Hobbes hiding in the dryer and Calvin being thrown out of the house. The anonymous Tumblr creator releases a fantastic, new GIF each weekday.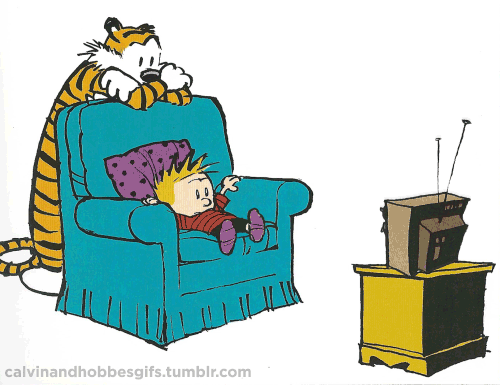 11) WTF Pinterest Commenters // August 2012
The comments on Pinterest take the crown for being some of the weirdest on the Internet. "WTF Pinterest Commenters" highlights the curious, the outlandish, and just plain strange things people write. The anonymous creator broke down some of the categories that make for an annoying commenter. The solution? "Think before you post," she said. "Or don't. I like good material."
12) McKayla is Not Impressed // August 2012
Good job, good effort, McKayla Maroney but you didn't snag that gold medal you were hoping for in the vault at the Summer Olympics. However, you did win a meme, along with the Internet's affection. Her scowling face made for Tumblr gold when a New York-based digital designer had the Photoshop know-how to place her face on pictures that would normally impress us non-medalers but not Maroney. The United States gymnast said she was mildly impressed with the blog, tweeting, "This tumblr is kinda funny, made me laugh." That's all you can ask for, really.