This Etsy seller crochets cute, cuddly creatures you can hang on your tree.
In a world where so much is now digital, Kalen McConnell wanted to craft something with substance. With soft, nubby textures and smooth beads for eyes, her plush crocheted foxes, squirrels, mice, chickens and bears appeal as much to the hands as to the eye.
"My day job requires me to stare at a computer screen every day and I was craving being able to make something tangible and REAL with my hands," she told the Daily Dot in an email.
This holiday season, McConnell has added Christmas tree ornaments shaped like woodland animals topped with Santa hats, to her Etsy store, Minibytes. Crocheted ornaments, pincushions and toys range in price from $17 to $24.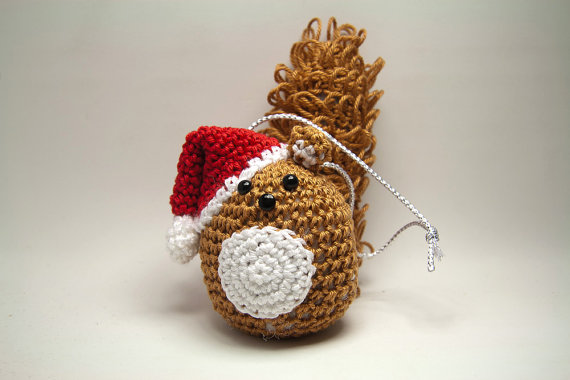 The 30-year-old web developer from Alberta, Canada, said she opened up shop in February, 2010, but didn't list anything until that June. At first, she found Etsy's enormous community "overwhelming."
"Sometimes it does feel like yelling into an abyss," she said. "But if you ask for help you will get it in spades, and there really is this sense of community associated with it."
It's not just other sellers that make up that sense of community for McConnell. She's discovered that her best customers are her day job co-workers. And some of the orders she's received have touched her deeply.
"The most heart-warming order I've ever received was from someone who was buying a teddy-bear for their friend's son, whose sister had just passed away in a house-fire. When I got the request I really felt like my teddy bear was going to be more then just a bear, he was going to be a confidante and a comfort to this little boy," she said.
For McConnell, crafting on Etsy has helped her to slow down her digital life. This holiday season, she wants to encourage others to do the same.
"I don't think Christmas should be high stress or tearing around trying to fit in every single party and get-together and find the 'perfect gift' in a shopping mall," she said. "I think it's important to slow down, reflect on the past year, to plan for the new year, and to appreciate your loved ones and spend time with them."
Pure, uncut internet. Straight to your inbox.