At Sam's Naturals, you can find that special something for the hard-to-please man on your list.
For many of us, the holiday season is made hectic by the one man in our life who insists he doesn't want anything. He might be a father, son, husband, or grandfather. Every year he insists he wants nothing but socks and underwear.
This year, you can indulge his practical side with a less boring gift: natural skincare products designed for a man's needs. At Sam's Naturals, husband and wife seller team Sam and Kristen Higginbottom pride themselves on holiday gifts for the no-nonsense man.
"We understand the difference between a woman's skin and a man's skin," Kristen told the Daily Dot in an email.
The Higginbottoms' Men's Stocking Stuffer Kit offers the perfect practical introduction to self care. The kit includes five types of natural skincare products since "gifts for men are hard to come by."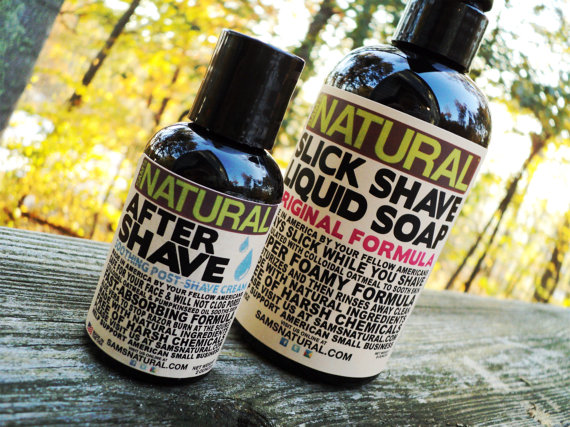 "We find that most people are so excited about the way the products function and that they are not perfumed like most items in the pharmacy," said Kristen.
The couple opened up shop this September, but Kristen said they've known about the importance of natural products for eight years—ever since Kristen's mother died of Leukemia.
While they cater primarily to the rugged, no-nonsense man, their products are also very effective for fighting the uncomfortable side-effects of the disease. Kristen said the chemicals in store-brand products can sometimes make the pain worse.
"It is called Host versus Graft disease. Most people have never heard of it, but it makes skin very itchy, hot, sweaty and scaly at times," she said.
Kristen said that recently the couple filled an order that warmed their hearts. A woman in South Carolina contacted the New Hampshire shop to order lotion for her husband, a current Leukemia patient.
"Sending her products that were made with such care was cathartic," she said. "It was a blessing to be able to help someone in discomfort."
Whether you're shopping for somebody to whom natural skincare is essential, or just somebody who thinks perfumed lotions are a waste of time, there's still time to order by Christmas. But act soon: the Higginbottoms stop shipping after Saturday.
Pure, uncut internet. Straight to your inbox.