On December 26, families who celebrate Christmas will be just wrapping up. But for Ashaki Yvette Herring and her husband Olatunji, the holiday season is just beginning.
The Herrings celebrate Kwanzaa, a week long celebration honoring African-American culture and heritage. In their Etsy shop, HeavenWood, the Herrings sell wooden kinaras– the Kwanzaa equivalent of a menorah—for the festivities.
"If I could recommend one it would be for the [Etsy] community to incorporate the kinara and Kwanzaa into their holiday season," Ashaki told the Daily Dot in an email. "Kwanzaa gives us a chance to sit down and communicate our values to our family and the community."
Since Kwanzaa begins after Christmas, there's still time to shop even after Christmas shipping deadlines. The week long celebration takes place between December 26 and January 1st each year. Maulana Karenga, a professor of Africana studies, first proposed the holiday in 1966. Since then, it has become a cornerstone of African American heritage.
The Herrings' handcrafted kinaras begin at $17.50. The Newark, Delaware couple also sells Ghanan home decor, inspired by their roots.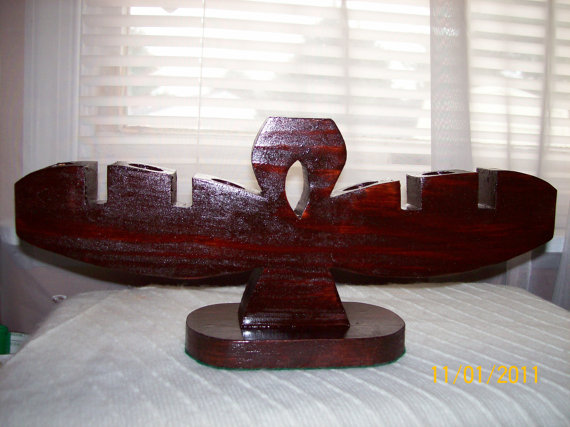 Ashaki manages the business side of things while Olatunji, whom she affectionately calls "my craftsman," does woodworking. After reading about Etsy in a magazine, Ashaki began posting her husband's handiwork for sale. Her experience with the Etsy community, she said, has been warm.
"The customers we have on Etsy have turned into friends," she said. "We had an order back in June, and my craftsman injured his arm in an accident, and he went through months of therapy. What was so wonderful is a customer we had wasn't worried about her order, she was just worried about his well being."
It's the Etsy community's attitude of compassion that encourages Ashaki to teach all her customers a little bit about the Kwanzaa spirit.
"Kwanzaa's 7 days and 7 principles are worth learning about," she said. "It is a wonderful thing to teach your family about Unity, Determination, Cooperative Economics, Collective Work and Responsibility, Purpose, Creativity and Faith."