Thanks to the Internet, we now have a host of new ways to offend, enrage, misinterpret, creep out, or alienate people. In the Tangled Web, we field your questions about how to be a decent human online. Have a question? Ask [email protected].
How do you handle an employer who expects you to use your Facebook account for work? Being an admin on the company page, for example, or interacting via FB with business colleagues and clients.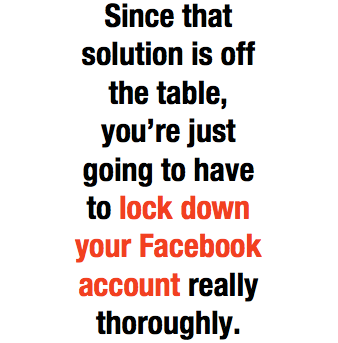 I'm definitely not going to advise you to open a second Facebook account—a clean one that you can use for work without having to worry about mixing your professional and private lives. That's against the Facebook terms of service, which state "You will not create more than one personal account." Sure, you could argue that the second one wouldn't really be a personal account, more of a professional account, but it's not clear that Zuckerberg and his elite army of monkeys would see it that way. It's too bad, because that would be a pretty simple solution—one that not only relieves you of the worry that an important client will object to the profile photo of you with a red plastic party cup, but that also makes it easier for you to step away from professional obligations while you're not on the clock. But I wouldn't tell you to do that. Nope.
Since that solution is off the table, you're just going to have to lock down your Facebook account really thoroughly (or risk disappointing your employer, but I am also NOT going to advise you to argue with your boss. You may feel free to say "I'd rather keep my Facebook and my work life separate" if you think that would go over OK, but I know nothing about your boss and how he/she might take a gentle bit of insubordination, and I don't want to get you fired). Enable subscriptions, so that clients and coworkers can follow and interact with your public updates without being considered "friends." (It's in your account settings, under "followers"—there's a box you can check that lets people follow you.) Go to your privacy settings, and enable "limit past posts" to make sure you haven't made anything inconvenient accidentally public. And be scrupulous about limiting all posts to "friends only" in the future—that is, anything you wouldn't post a picture of in the break room at work.
Jess Zimmerman has been making social blunders on the Internet since 1994. Most of her current interpersonal drama takes place on Twitter (@j_zimms).