It appears as though Google is set to unveil a paid subscription package for a number of YouTube channels, something that could go into effect as early as this spring.
The subscriptions, which are rumored to cost between $1 and $5 a month, will allow viewers to watch episodic content that's long been viewable for free from—again, this is speculation—media companies that have already found some success on the video sharing site.
"We have long maintained that different content requires different types of payment models," a YouTube spokesperson told the Daily Dot. "The important thing is that, regardless of the model, our creators succeed on the platform. There are a lot of our content creators that think they would benefit from subscriptions, so we're looking at that."
AdAge lists Machinima, Maker Studios, and Fullscreen as three networks that would likely take kindly to a subscription model. YouTube did not respond to the Daily Dot's request for comment on those three networks, which rank among YouTube's top 5 most-subscribed, but we are inclined to agree with the suspicion.
Talk of YouTube's paid subscription model first sprung about in Feb. 2012 when YouTube CEO Salar Kamanager floated the possibility of poaching second- and third-tier cable networks that were having trouble staying afloat on TV.
"If we have a subscription model, then that's absolutely something that becomes possible," Kamanger said at the time.
In truth, the paid-subscription conversation got started at Google just a few months earlier, in Dec. 2011, when Google first applied to put a patent on a Self-Service Channel Marketplace, a "content hosting system that allows content providers to create channels of video content and make them available to users in a marketplace."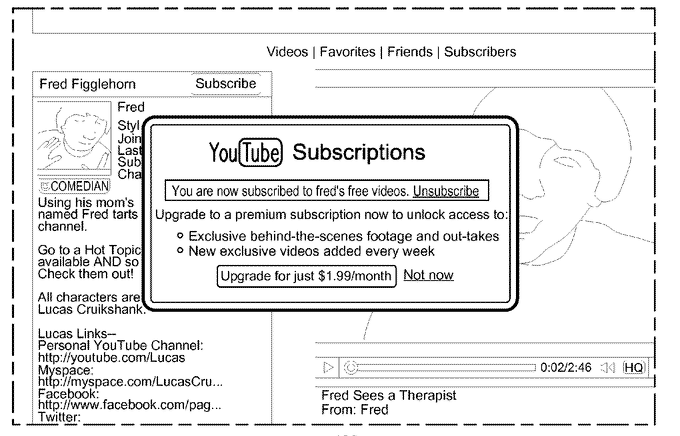 Photo via Faqs.org
"Users can also pay for the right to view premium videos in each channel," the patent's abstract continues. "The system ranks channels according to the value provided. Generally, users will seek out and subscribe to the highest ranked channels that provide the greatest value. The ranking function allows different providers to compete for subscriptions of users."
The patent suggests that Google plans to implement both automatic and manual renewal options, and that users can cancel subscriptions simply by changing that option from one to the other.
The detailed description also alludes to a bundled channel system "configured to allow the system operator to generate bundled subscription channels composing videos and channels from several different providers.
"Bundled channels may bundle together videos that providers have affirmatively allowed to be included in bundled channels. Alternatively, the bundled channel may bundle together entire channels which providers have allowed to be bundled in this manner."
That bundled system, the patent purports, "is bundled and priced such that if the user subscribes, they will spend more on the bundled subscription than they would have otherwise, and receive more video content than they watch on average."
Wait, what?!
Big stuff, but again, these patents were filed in Dec. 2011, and all speculation is unconfirmed by Google at the present time.
Photo via Lawton Chiles/Flickr