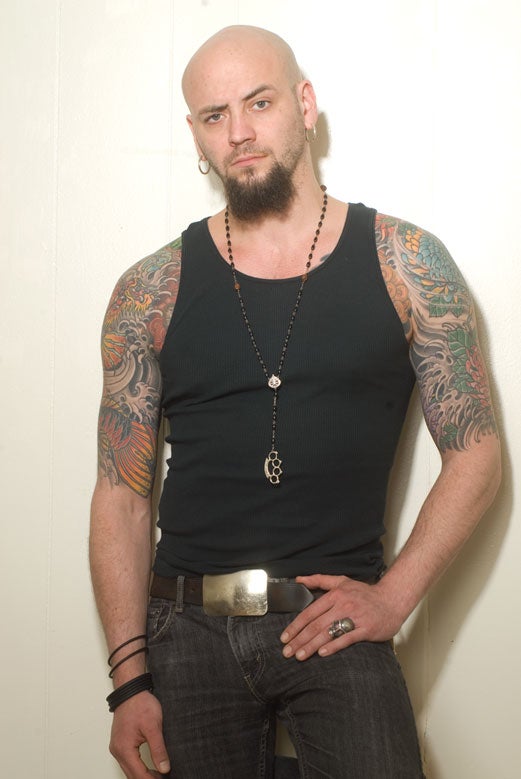 By BRIAN GROSZ
Instagram has done amazing things for plated meals and the wings of planes, but the photo-sharing app has had a very positive impact on one more unexpected profession: tattooing.
Whether you're a die-hard tattoo collector or just a casual fan of the art form, it can be hard to stay abreast of the work done by the best artists in the industry. Most tattooists' websites are notoriously out of date. Facebook has made it easier for artists to update their online portfolio without the help of a web developer, but it's not being used as a resource with any great consistency. The innately addictive nature of Instagram, however, has empowered and encouraged artists to share their work on a daily basis. This is very good for us, the enthusiasts.
What's even more interesting and impressive is the access to their process that some tattooists are using Instagram to grant. We can glimpse a tattoo's entire lifespan—from sketch to stencil to completion. It's no longer about the high-resolution photograph of the finished product. One becomes a virtual voyeur to a painful and indelible process. If you've ever been tattooed, this brings the sense-memory racing back to you: the small cups of ink, the smell of the disinfectant soap, the whir of the machine, the blood and sweat.
Below is a list, broken down by genre, of some of the best tattooists you should be following on Instagram. Of course there are many great other tattooists on Instagram in each of these styles, but I've focused on artists who primarily shoot their work and things related to the art of the tattoo. After all… do you really care what a tattooist is having for lunch?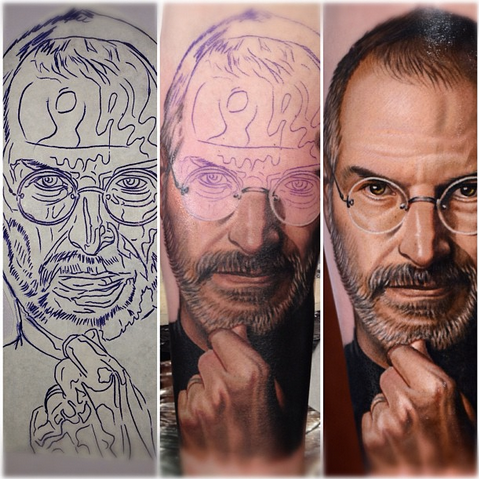 1. @nikkohurtado
Style: Realism/Portraiture
Whenever I share Hurtado's work with someone, the usual response is: "That's a painting, that's not a tattoo!" Wrong. It's definitely a tattoo; though his amazing use of a broad color palette, mastery of realistic shading, and control of the tattoo machine does make his work look like it belongs in a museum.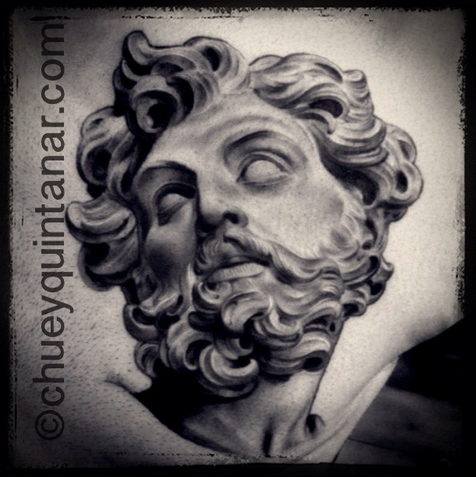 2. @chueyquintanar
Style: Black & Grey
Quintanar is doing some of the best—if not the best—black and grey tattoos in the United States. With his West Coast lettering style and his intricately shaded portraits, you won't mind overlooking the pictures of Travis Barker (whom he has tattooed extensively).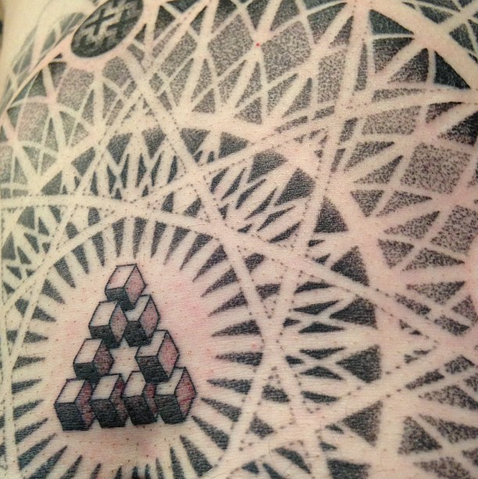 3. @thomashoopertattooing
Style: Blackwork/Dot-work
Hooper has taken mandalic patterns and sacred geometry to new heights with his refined ornamental work and intricate pointillism. His work is often large, sometimes dizzying, and always beautiful.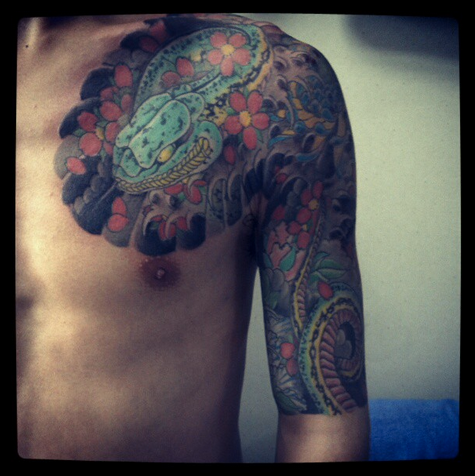 4. @horiyoshi3
Style: Japanese Traditional
If you don't know the name Horiyoshi III, you don't know anything about the Japanese tattoo. Horiyoshi III has been tattooing for over 40 years. In his feed you'll see not only the famous bodysuit work for which he's known, but a sense of the tradition he works in: fascinating antique photographs of Japanese tattooing, and Ukiyo-e woodblock prints from which the tattoos are derived.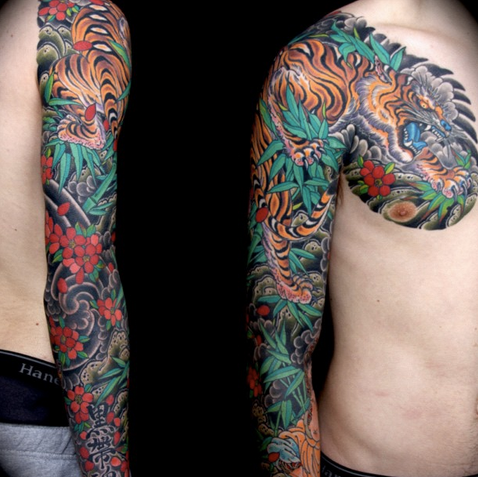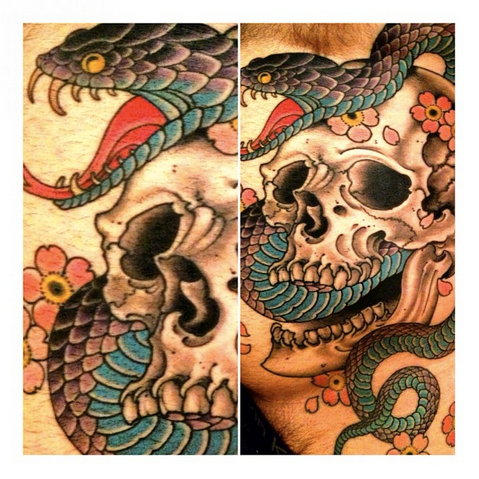 5. @mrubendall & 6. @codonnell_nyc
Style: Japanese Contemporary
Rubendall and O'Donnell have a long history of working together in NYC and both have a deep passion for the traditions of Japanese iconography. They have also added their own modernizations, and inevitably "Americanized," twists to the genre. Rubendall and O'Donnell's shading and gradation of color are complex without being overbearing; their choices are somehow rebellious yet respectful; and, most importantly, they both tattoo some really amazing skulls!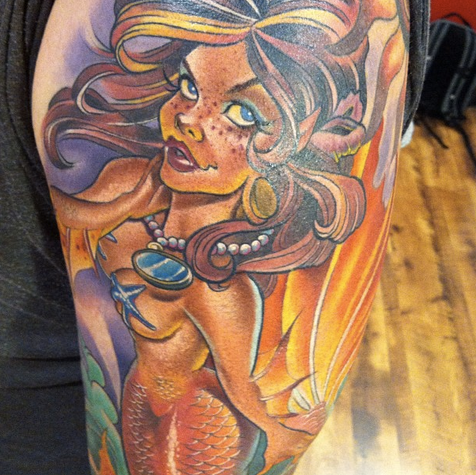 6. @whatsnottalike
Style: Pin up / New School
These ain't your average pin ups. If the size of Joe Capobianco's pompadour is a symbol of anything, it's that he's all about big curves. The hips and lips on these ladies are large and plump, and their chests are as robust as Capobianco's color palette. For pin ups that are cartoonish, more than a little naughty, and always beautifully executed, be sure to follow this account.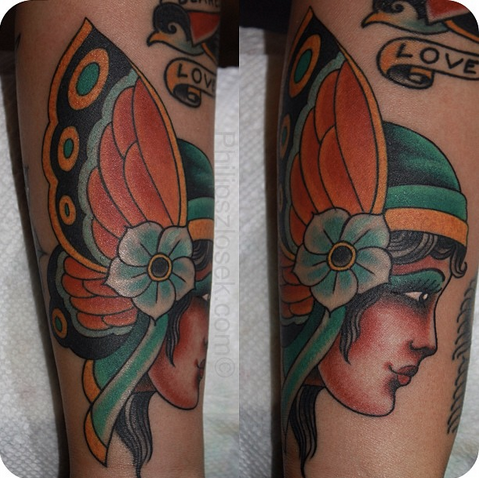 7. @philipszlosek_ka
Style: Americana
Skulls and anchors and daggers, oh my! If you pine for the "Good Ole Days" of tattooing, you need to tune into the work of Philip Szlosek. His lines are tight and crisp, he churns out flash sheets on a regular basis, and most of all, he breathes new life into the traditional tattoo iconography of panthers, gypsy girls and the like.
When I was 8 years old, my father bought a book called The Japanese Tattoo. It took me 20 more years to take the plunge to get one for myself and—after 100 hours beneath the needle—I haven't regretted any of my decisions. That's because I did my research and I did it the hard way: by walking into shops and flipping through hard-copy portfolios.
I'm envious of the next generation who can do their tattoo homework from an iPhone.
Brian Grosz is an actor, writer and musician living in Brooklyn, NY. Much to his mother's chagrin, he's spent spent the last six gears getting heavily tattooed, with over 50% his body adorned in ink. Follow him on Twitter and Instagram @doctorgrosz or read about his recent backpiece tattoo. He also writes for the tattoo blog needlesandsins.com.