In their restaurant reviews, some Yelp users focus on the quality of a restaurant's food; others, on its customer service.
Charley R., a Yelp reviewer from Bakersfield, Calif., doesn't really care about any of those things. He's more interested in the restaurant's overall ambience, as you can see from his review of Muertos Kitchen and Lounge in Bakersfield: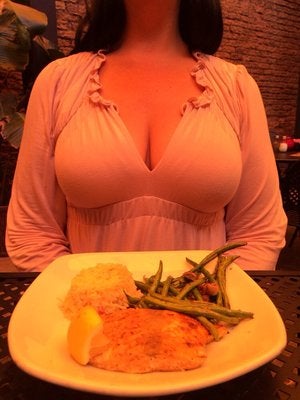 Or this review of the strawberry French toast at the Snooty Fox in Laguna Hills: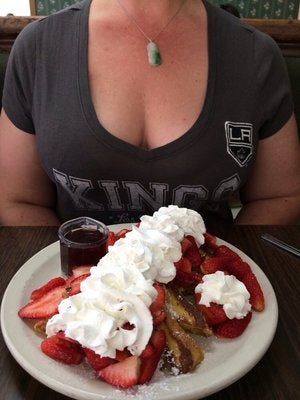 And what does he think of the ambience at the Venetian Palazzo in Vegas?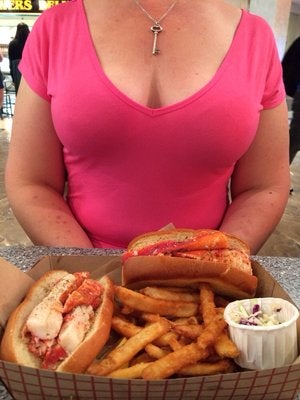 (The caption, by the way, is "DDD: Doubly Delicious Dinner," in case Charley's thoughts about the ambience were unclear).
All told, Charley has reviewed four restaurants on Yelp, offered 34 "tips," and posted about 50 photos—most of which feature an anonymous female's heaving breasts next to various plates of food. (Don't worry: Charley probably isn't snapping photos of random ladies' ta-tas at various West Coast dining locales. The woman appears to be his wife, if earlier photos on Yelp are any indication).
Giving new meaning to the term "food porn," the photos provide an overview of Charley's culinary adventures over the past year or so. It's kind of like flipping through a relative's Facebook album of his recent cross-country trip, except not boring as hell.
Our only complaint? As of now, Charley's Yelp reviews are appallingly female anatomy-centric. So Charley, in the interest of gender equality, your next Yelp review better feature you in Spandex bike shorts at a hot dog joint.
H/T Uproxx | Photo by Alpha/Flickr (CC BY-SA 2.0)