The WWE's first openly gay wrestler is actually all about the ladies on Twitter.
Darren Young came out in a TMZ interview Wednesday. Though he's not the first gay pro wrestler, he's the first to publicly acknowledge his homosexuality while under a WWE contract.
He is half of a tag team called the Prime Time Players. The duo's schtick is they're all about living large. According to Young's Twitter profile, that means his life revolves around three things: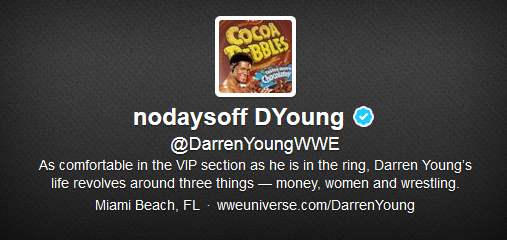 WWE released a statement in support of Young, real name Fred Rosser, while the company's top star, John Cena, said he was proud of his coworker. Company executives and Young's tag team partner Titus O'Neil also congratulated him on Twitter.
Congratulations to @DarrenYoungWWE for being the first openly gay WWE Superstar!

— Stephanie McMahon (@StephMcMahon) August 15, 2013
Congratulations, @DarrenYoungWWE for living YOUR life, YOUR way. #proud

— Triple H (@TripleH) August 15, 2013
I'm VERY PROUD of @DarrenYoungWWE He's been like Family 2Me&My Kids And that won't Change! #ImInFullSupportOfDarren pic.twitter.com/zaRJJOhyO0

— Titus O'Neil (@TitusONeilWWE) August 15, 2013
It's not clear if or how Rosser's character will change on screen. A number of (straight) WWE wrestlers have used gay traits to elicit boos from audiences. Such ploys seem to be a thing of the past, given the company's anti-bullying campaign (which Young is promoting this week, incidentally), and both Cena and Young believe his coming out won't change the locker room atmosphere.
In fact, there's a good chance the admission could benefit Young's career. He's talented but relatively low on the WWE's card, and the company's always looking for opportunities to get faces—and industry term for "good guys"—over with the crowd. There's already considerable support on Twitter and Tumblr.
But Young might need to change his Twitter bio first.
Screenshot via jvarsallone/YouTube