Sometimes what's been deemed "verified" on Wikipedia seems too strange to be true. In Wikipedia for the Weird, the Daily Dot tracks down the most bizarre and entertaining entries on the Web's crowdsourced encyclopedia, sending you down the rabbit hole even further.
Hats off to Wikipedia's truly awe-inspiring (and ongoing!) pizza coverage. The Pizza Portal allows users access to a wealth of 'za info—from "baking methods" to "health issues." Yikes. There's even a bit of a fight in the Talk section about stromboli rights and recognition: "Why isn't stromboli listed as a 'similar dishes' on the Pizza Portal bar on the right side of the screen (like Calzone is)?" Blasphemy!
For this week's Wikipedia weirdness, I'd like to focus on a particularly important facet of the pizza ecosystem: pizza delivery.
The "Pizza_delivery" wiki reveals the ins and outs of the world's favorite pastime. America, in particular, is noted to be a big fan of this practice, and one of the most beloved pizza chains, Domino's, comes up again and again as an innovator in the pizza delivery realm. For one, they popularized free pizza delivery along with "developing, but not patenting" the famous "modern corrugated flat square pizza box" in the early 1960s.
Maybe it's because I'm hungry, but pizza delivery is really quite exciting—and it's not really expressed in this article. "An Oldsmobile Alero used to deliver pizza," reads the caption under an image that shows just that. "This pizzeria bills itself as being open late," reads another, whose tone feels a bit undermining to me.
The Talk page reveals controversy about an image, "Aurelio deepdish 4.jpg," captioned "Pizza in a box, with a pizza saver (upper left corner)": "This is a bad photo for pizza," writes user Are you ready for IPv6?. "It isn't even real pizza. It's bread with brown soup on it, no other toppings. It's really nasty and disgusting!" He's right; it's pretty nasty looking. At least we know the editors have high standard for their pizza pie imagery.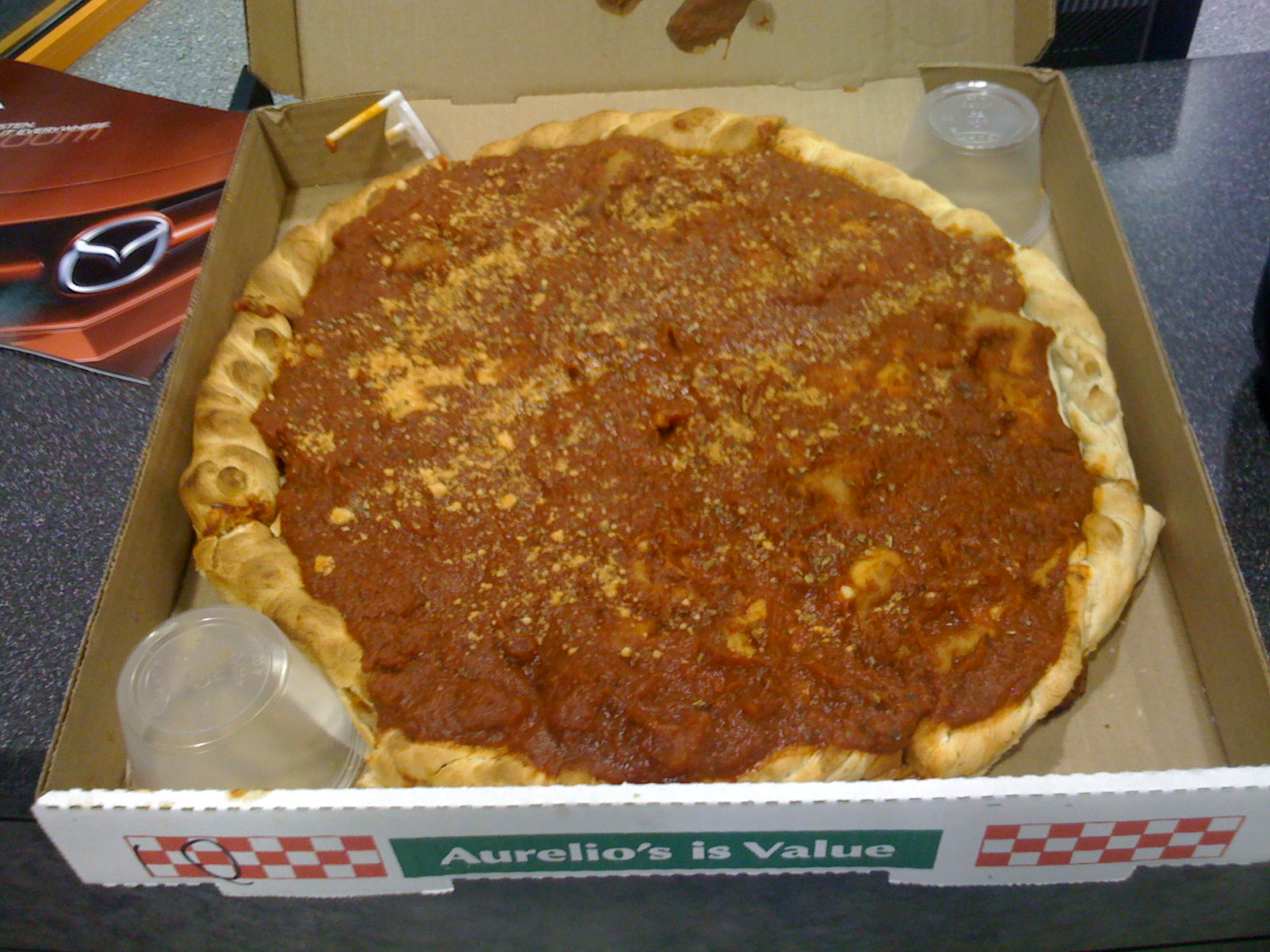 Pizza delivery has weaved its way into pop culture, as well, and Wikipedia makes sure to list the plethora of pornographic films that have used pizza delivery people as protagonists: "Pizza Girls, We Deliver (1978); The Pizza Boy: He Delivers (1986); California Pizza Girls (1992); Hawaiian Pizza Punani (1993), Pizza Sluts (1995); Big Sausage Pizza (2003); Big Sausage Pizza 2 (2004); Fresh Hot Pizza Boy (2004); DD Pizza Girls (2004), and Pepperoni Tits (2006)."
In that list, the only two words that link outward are "punani" and "pepperoni."
Photo via Wikipedia