The Duffer brothers are the most high-profile TV showrunners to halt production amid the writers' strike, pausing work on the final season of Stranger Things. As screenwriters campaign for fair compensation, it's an attention-grabbing blow against Netflix, which faces accusations of exploiting and underpaying writers.
Other scripted dramas, however, are forging ahead with production while their entire writing teams are on strike—a decision with potentially chaotic repercussions.
Disney and Warner Bros. are pressuring showrunners to continue performing their non-writing duties (i.e. acting as producers), leading to a grimly ironic scenario where Andor—a series praised for its leftist politics—will attempt to film through the strike. In response, the WGA has accused Disney of union-busting, citing the studio's demand that writer-producers continue to rewrite dialogue and stage directions. During the strike, this kind of work is prohibited by the WGA.
House of the Dragon (HBO) and The Rings of Power (Amazon) are among the shows that will keep filming with scripts that were already finished before the strike began. Since these shows are mostly filmed overseas, they're less likely to be interrupted by physical pickets; something that's already happened with Apple TV+'s Severance, CBS's Evil, and Marvel's Daredevil, where other unionized workers refused to cross the WGA picket line.
But as we pointed out in connection to House of the Dragon last week, it's misleading to suggest that production can continue as normal just because "the scripts are finished." Even after months or years of redrafting the original scripts, writers are involved throughout the filming process and into post-production. Hence why the Stranger Things showrunners said "it is not possible" to film their show during the strike:
Long after the original scripts have been submitted, screenwriters offer on-the-fly rewrites and collaborate with other members of the creative team, from directors to propmasters. After filming is over, they write additional dialogue to be recorded in-studio. If studios choose to keep filming without any input from writers, we're likely to see some very incoherent television in a few months' time.
Why TV shows need writers on set
Over the past few days, several TV writers have published Twitter threads explaining the complexity of their role once filming is underway. Sera Gamble (The Magicians; You; Supernatural) discussed the kind of problems a writer might solve on set, including fixing continuity errors that could ruin a storyline or cost hundreds of thousands of dollars in reshoots.
Meanwhile, John Rogers (showrunner of Leverage and The Librarians) went deep into the logistics of rewriting dialogue to solve problems that only became apparent during filming. For instance, an actor not being able to deliver the original line as written, or a scene making more sense if it happens in a different location.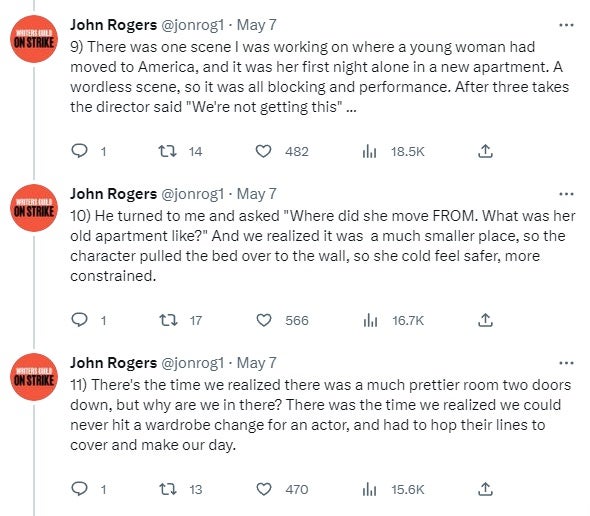 Albert Kim (showrunner of Sleepy Hollow and Netflix's live-action Avatar: The Last Airbender) envisioned a scenario where a script calls for a car crash. The director wants to film a big explosion, unaware that the writer meant for the driver to survive and reappear in later episodes. Without input from the writer, this storyline now includes a plot hole that viewers will instantly notice.
Jill Weinberger (a writer on Leverage: Redemption; Chicago Fire) explained the necessity of having a writer on call when actors improvise or change a scripted line. Her example involved a phone call scene where each actor is filming on different days. If one character's line gets changed, then the other side of that conversation needs to change as well.
Weinberger was also one of several writers who pointed out that their job includes answering logistical questions about props or locations. According to WGA guidelines, strikers aren't allowed to participate in this part of the creative process.
Some shows don't habitually have writers on set, but even then, the directors and actors have access to the showrunner or their assistants. They can pick up the phone and ask for clarification. But if TV networks try to keep filming through the strike, these production crews will be flying blind.
So if you hear a reassuring press statement about your favorite show powering through because "the scripts are already finished," that isn't actually a good sign. There's a good chance that the show's own creators don't want this to happen. Some writers may literally be picketing outside the set.
These decisions are being made by executives higher up the financial food chain, creating a direct illustration of how little they value the role of screenwriters in the first place. By continuing to film Andor or House of the Dragon, Disney and HBO imply that writers aren't necessary to the quality of these shows. We'll see how that pans out when the strike-era episodes arrive onscreen.


We crawl the web so you don't have to.
Sign up for the Daily Dot newsletter to get the best and worst of the internet in your inbox every day.