By LIZ SHANNON MILLER
Here's how the story starts: I hadn't signed into my AOL Instant Messenger account in a while. Maybe close to years, thanks to how Adium (a program I love irrationally because of how the duck icon flaps its wings when you get a new message) would crash my home Internet.
In a new phase of unemployment, I'd decided to fire up Adium again in case something, anything, might happen. And then this did.
A TOTAL STRANGER:  Hey there im [REDACTED].
ME: hi [REDACTED].
A TOTAL STRANGER:  Hi, im sorry to bother you and I know this might seem random but im a recruiter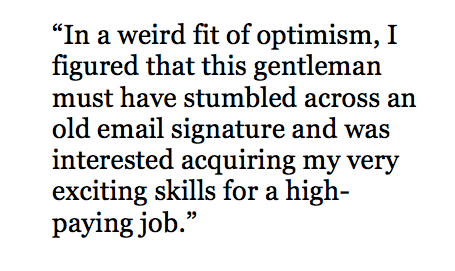 This person, needless to say, was A TOTAL STRANGER. In a weird fit of optimism, I figured that this gentleman must have stumbled across an old email signature (which contained my AIM screenname) and was interested acquiring my very exciting skills for a high-paying job. So I replied:
ME: sure
ME: recruiter for what?
A TOTAL STRANGER:  im helping my friend who is starting a new photography studio
A TOTAL STRANGER:  They are starting from the ground up and I have modeled on and off for years so I offered to help them
A TOTAL STRANGER:  Have you ever been interested in modeling at all?
Now, I won't say I'm an unattractive person, but I am also not a person that any professional would want to point their camera at without being paid money first. This was what raised the first red flag. The first "this might be porn" red flag, and one I wasn't super-interested in following up on.  
ME: no, as I am not a model or have model-like qualities
ME: but I appreciate the suggestion
A TOTAL STRANGER:  why do you say that? what exactly are model like qualities…did you know anyone can model?
Really? Anyone? The same way anyone can "write" English?
A TOTAL STRANGER:  This is for a photography studio not a modeling agency
ME: I'm just not particularly photogenic. I have many embarrassing Facebook posts to back me up on this.
This seemed like a good time to ask the obvious.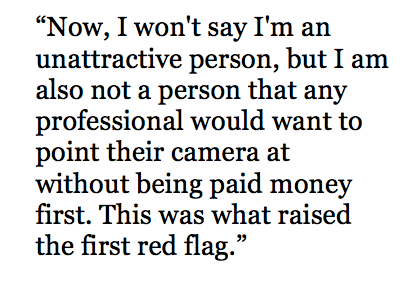 ME: just out of curiosity, how did you get my IM?
A TOTAL STRANGER:  aol lifestream, just searching anyway I can….ok well this is a paid opportunity and we arent looking for perfect 10s we are looking for normal people that want an opportunity
ME: well, cool, appreciate you reaching out. if I felt at all up to the task, I'd take you up on it. Good luck with it!
I thought that was a polite enough blow-off. But he persisted:
A TOTAL STRANGER:  you can make up to $10K
ME: yeah, but I can make more doing things I'm actually good at
ME: thanks again!
A TOTAL STRANGER:  you can make more than $10K per hour…thats impressive…best of luck to you
Okay, I was now curious. $10K an hour pays for an awful lot of matinee movie tickets and happy hour cocktails. I could maybe even get a new pair of pajamas! Time for obvious question number two:
ME: how much am I wearing in this scenario
A TOTAL STRANGER:  im sorry?
ME: I'm making 10k/hr?
ME: in this scenario where people are taking my picture?
ME: Obviously I'm gonna ask how much clothing I'm wearing
A TOTAL STRANGER:  Ahhh, well we only choose photoshoots for people based on their preference and never push anyone into something they dont want
A TOTAL STRANGER:  but yes there is a scale based on the type of modeling
This is when I started laughing and IMing friends, asking what I should ask this guy next.  
A TOTAL STRANGER:  The less you wear the more you get paid just because it is harder to find people to model nude, even just artistically
OH, OKAY, IT'S FOR ART. All right then. God forbid I deny the world my cellulite.
A TOTAL STRANGER:  lets say you would be interested in swimsuit…you could get $7000
ME: is this a two-piece or a one-piece?
ME: swimsuit, that is
A TOTAL STRANGER:  could be either
ME: heels or flats?
A TOTAL STRANGER:  honestly it is all negotiable so its kinda hard to say
A TOTAL STRANGER:  well that depends on the type of shoot, if we are looking for sexy then heels
Man, I thought we were talking about art here. LET'S THINK OUTSIDE THE BOX! What about Converse high-tops? Men's sweat socks? Bunny slippers? American Apparel, you know what I'm talking about!
ME: do you have any samples handy? just so I know what kind of shoot we're talking about
A TOTAL STRANGER:  well I have some handy but like I said each shoot is different
A TOTAL STRANGER:  it would depend on what you want and what we can work out artistically
Time to figure out the logistics.
ME: talk me through how this works
A TOTAL STRANGER:  So I gather your information and sample photos for the photographers, they meet look over your information and photos and find a photoshoot that fits what you are interested in…if something is available they contact you and set up some time to talk and meet. Then at that meeting you setup a time to do the shoot if everything sounds good still, then you get paid cash at the shoot.
Sample photos. Aha. Things are starting to make sense.  
ME: what kind of sample photos do you need?
A TOTAL STRANGER:  they really need to see your whole body so mostly just photos that you can see from your head to your toes…not nude…i just mean so that they can see your whole body
A TOTAL STRANGER:  but if you want to do nude, then they need nude, if you want to do swimsuit then you should send at least a couple swimsuit
ME: so if I want to pose nude I need to send you nude photos?
A TOTAL STRANGER:  well yes, how can the photographers tell if you will fit what they need for the nude photo shoots if you send photos of you in a sweatshirt?
ME: sure, I'm just trying to clarify
ME: what kind of poses are they looking for? sitting, standing, that sort of thing?
A TOTAL STRANGER:  yeah a little bit of both…whatever you think shows off what you have
ME: and they're not looking for model-y model types, is what you're saying
A TOTAL STRANGER:  yup
A TOTAL STRANGER:  exactly what im saying
Still, I was really hung up on the question of "why me?"—there had to be more to the situation than a guy randomly finding a woman's AIM handle and cold-IMing her to see if she'd slip him a nip pic:
ME: so, seriously, I'm just curious — have you seen any photo of me before you IMed me?
ME: I just want to know what the expectations might be
A TOTAL STRANGER:  No because, there are no expectations, they need to finish their company portfolio before they can open their website and get the company moving, they need about 10 more photoshoots to make that all happen.
Okay, then. I guess this guy did randomly cold-IM a woman for nip pics.
A TOTAL STRANGER:  It's not about looks its about art
Sure, of course. It's about art. I'm sure they're Man Ray over there.
A TOTAL STRANGER:  Honestly when i started modeling I had wished there were opportunities like this….even if I didnt make an amateur career out of it…it would have been nice to be paid to have fun
Oh, God. Is this like when the stripper asks if you want to see the champagne room?
ME: what kind of fun?
A TOTAL STRANGER:  photo shoots, modeling
A TOTAL STRANGER:  what did you think i was talking about?
ME: well, I've never modeled before
ME: so I don't know what parts are fun and what parts aren't
A TOTAL STRANGER:  haha oh ok, I thought you were talking about something else
What a charming gentleman. A courtship right out of Jane Austen, happening right before my eyes.  But after some further back-and-forth over who got to keep the rights to the photos, I was about ready to sign off. This was getting boring.
A TOTAL STRANGER:  What type of modeling would you be interested in?
ME: As someone who's never modeled, I'm not really sure
ME: but honestly? I need some time to think about it
ME: thank you for asking
A TOTAL STRANGER:  Seriously it doesnt hurt to submit everything while you are thinking about it…because that process can take a little while
A TOTAL STRANGER:  Or at least get something in, so that you dont miss out on the opportunity
How generous of him. Of course, I should submit my samples immediately, obviously. I asked for his email address, so that I could reach out later (once I'd "decided").
ME: thank you for reaching out
A TOTAL STRANGER:  Its ok I know you wont end up doing it…nobody thinks about this if they are really interested
A TOTAL STRANGER:  It was nice chatting with you either way
I almost felt bad for this guy who was trying to get me to send him nude photos of myself. Almost.
A TOTAL STRANGER:  seriously, if you send 2 photos and give me some information to file with them you will get yourself started
A TOTAL STRANGER:  If not…you may miss out
The pity evaporated. I got annoyed.  
ME: look, it's a monday and I'm tired—I just want to think about it before I send photos of me in a swimsuit to someone I just met on the Internet.
A TOTAL STRANGER:  you're not sending it to me you're sending it to artists who will want to work with you…its not like you are sending it to a random guy…look ive modeled for a long time ive seen all kinds of women its not like im judging or looking at these in anyway other than business
How reassuring.  
And then I signed off, an hour and a half after he'd first IMed me this exciting opportunity. He was just lucky that I'd gotten bored of rewatching old X-Files episodes, and that I knew it'd make for a good story.   
I'll say this for my new friend—who has pinged me at least once since this conversation—he made me realize that unemployment is bad. But some things are worse. I'm not talking about nude modeling. I'm talking about being the guy who has to talk people into it.  
Liz Shannon Miller is a writer for stage, screen and the Web, most recently for G4's ATTACK OF THE SHOW. She has published by the New York Times, Comedy Central, Variety, GigaOM, Nerve and Thought Catalog, tells her friend Frank about stuff at Liz Tells Frank What Happened In… and lives a full and active internet life at http://lizshannonmiller.com.
Photo by epiclectic/Flickr