A TikTok user ordered a chicken sandwich with extra mayo from Wendy's and got way more than she bargained for.
Crysten Chyvonn, known as @chrystenchyvonn on TikTok, posted a video showing off a mayo-soaked chicken sandwich from the fast-food joint. The meal was also missing the lettuce and tomato included in the sandwich. Chyvonn says the drive-thru attendant kept getting her order wrong, and she later found her request taken too literally.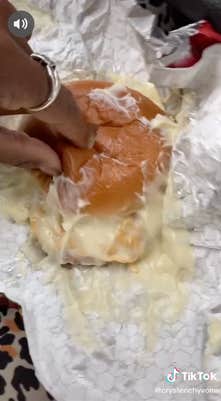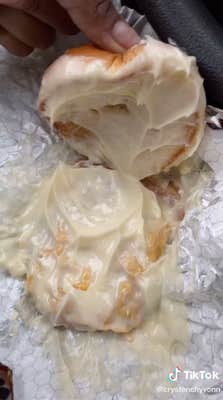 "Look at this sh*t," she says. "Now I'm finna drive right back up there and go off on her."
Since being posted on Monday, Chyvonn's video has been viewed over 3.1 million times, liked more than 400,000 times, and sparked a debate about how fast-food workers are treated. She received criticism from viewers in the comments saying that she was given "what she asked for" and speculating that she was rude to the Wendy's employee.
"A LESSON: Don't be rude to people that handle your food," one commenter said.
"I hope you realize she took your order, not made your food," another TikTok user, @ibelinedelgado, said. "Refrain from giving the poor lady attitude."
Chyvonn responded to @ibelinedelgado's comment in a video defending herself and describing the interaction she had with a Wendy's employee. She alleges the worker kept mishearing her order, prompting another person to take over the intercom. After repeating her order again, Chyvonn says she received a "mayonnaise sundae with bread on top and a hidden piece of chicken."
"I go there all the time and ask for extra mayo on my sandwich," she says in the video. "It never looks like that. That's unacceptable. When I pulled up to the window, they even said, 'Woah this is uncalled for. This is not right.'"
Some people in the comments came to Chyvonn's defense, arguing that the Wendy's employees were being petty.
"Y'all need to cut it out if I'm paying I expect for it to be right and we all know that is wayyy too much mayo," one user remarked.
"Guys she asked for extra mayo not a mayo sandwich," another person said.
Other commenters who claimed to previously work at Wendy's and other fast-food restaurants say that the real problem was the drive-thru headsets.
"I work at a Wendy's," TikTok user @heatherwinchell1 said. "And all I can say is they need new head sets. Cause at my location I can never hear the people."
Chyvonn posted a final video returning to the drive-thru to get a refund.
"Clearly nothing happened but y'all wanted to know how it ended," Chyvonn wrote in the comments. "I just got my money back [and] took it back that's it. I didn't scream [and] fight. Just my [money]."
The Daily Dot reached out to Chyvonn and representatives for Wendy's.