Sign up to receive the best of the internet straight to your inbox.
A video showed protesters "berating" a senior citizen Florida couple. Then, a photo emerged of "why they were targeted." Here's what else caught our attention this weekend:
No, Amy Coney Barrett and 'The Handmaid's Tale' are not connected
Girl responds to concerns after video of boyfriend pushing her into 'shark tank' goes viral
Kids are testing positive for coronavirus, and their parents are sending them to school anyway
---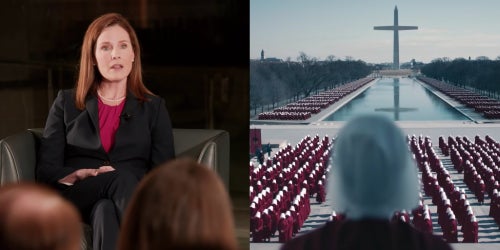 BREAK THE INTERNET
No, Amy Coney Barrett and 'The Handmaid's Tale' are not connected
President Donald Trump nominated Amy Coney Barrett to fill the Supreme Court seat left vacant by late Justice Ruth Bader Ginsburg on Saturday afternoon, and with that, the religious group Barrett is part of has come under more intense scrutiny.
People online began claiming the group, People of Praise, inspired The Handmaid's Tale, with some even going as far as to claim Barrett herself inspired Aunt Lydia.
While there isn't a connection, there are multiple coincidences that led people to believe there is. (Read more on that here.)
Barrett's religion is now at the center of a debate on whether it will affect her judicial obligations should the Republican-led Senate controversially confirm her before Election Day or during the lame-duck session after the election.
Conservatives, who are decrying the criticism as anti-Catholic bias, are attempting to brand Barrett as "Notorious ACB." Just a few minutes after Trump's announcement, the National Republican Senatorial Committee (NRSC) released T-shirts plastered with Barrett donning a crown and the words: "NOTORIOUS A.C.B."
Ginsburg organically adopted the moniker "Notorious RBG" after a then-New York University law student by the name of Shana Knizhnik created a "Notorious R.B.G." Tumblr account in 2013, playing on rapper Biggie Smalls' Notorious B.I.G. nickname. After memes, merch, and an especially fiery dissent, Ginsburg's moniker eventually stuck.
While some conservatives are hopping on the "Notorious ACB" bandwagon, many online are calling it "classless." Barrett said at her nomination announcement that "should I be confirmed, I will be mindful of who came before me," and now people are attempting to hold her to that sentiment by urging her to denounce the "tacky" T-shirts.
And while conservatives were busy making T-shirts, liberals were apparently busy buying the domain name for Barrett and redirecting it to an anti-Amy Coney Barrett website (gotta appreciate the art of modern-day politics).
Catch up on more below.
—Eilish O'Sullivan, news wire editor
---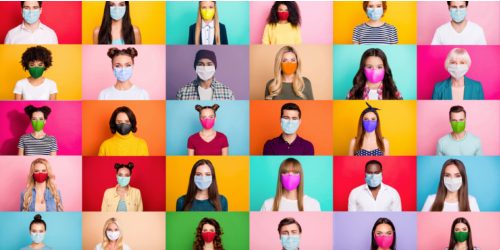 SPONSORED
From cloth to surgical, masks are everywhere now. But not all masks provide the same levels of protection. If you'd like to understand each type of mask and how well it protects you, our guide can help––but the TL;DR is that surgical masks are the safest option you can buy. If you'd like to purchase them from a reliable source (and that's not Amazon), Armbrust USA makes an excellent one. They are an American manufacturer of FDA-registered, ASTM Level 2-rated, disposable surgical masks made in Austin, Texas. Armbrust supplies millions of masks a week to hospitals and state governments. But they also sell directly to the consumer. So if you want to be as safe as possible, this is the mask to buy.
---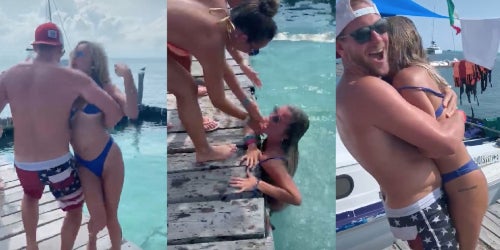 DUMP HIM ON LAND
Girl responds to concerns after video of boyfriend pushing her into 'shark tank' goes viral
A TikTok user is getting put on blast by viewers for pushing his girlfriend into shark-infested waters and posting a video of it online. The video did not go over well with viewers, especially considering the TikToker also noted his "gf is terrified of sharks" in the caption. "Pushing her in and then comforting her after is the most manipulative thing I've ever seen," @thesavberrios wrote. Every video on the TikToker's account is now getting swarmed with demands for the girlfriend to break up with him. He and his girlfriend responded to the concerns in a follow-up video.
Read the full report here.
—Rachel Kiley, contributing writer
---
RECOMMENDED
Sam Pollard's searing documentary zooms in on the FBI's contentious attempt to destroy Dr. Martin Luther King Jr.'s life and reputation amid the civil rights movement. While the FBI now sees its actions back then as shameful, MLK/FBI is a stark reminder of how the U.S. government often views its own citizens who push for change against grave injustices.

If you want the safest option on the market when it comes to a face mask, pick an FDA-registered surgical mask. However, authentic ones are difficult to find. We can tell you exactly what goes into making one, why it's the best choice, and where to buy it.*
*Sponsored
---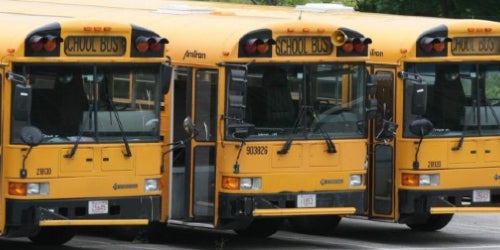 FROM OUR FRIENDS AT NAUTILUS
Kids are testing positive for coronavirus, and their parents are sending them to school anyway
As school districts nationwide continue to return to in-person learning, health officials have begun to see cases where parents intentionally send their sick children to school after they've tested positive for COVID-19. In Wisconsin, the Washington Ozaukee Public Health Department discovered at least three cases where students showed up for class despite knowing they had COVID-19.
Read the full report here.
—Tess Cagle, contributing writer
---
BTW
Now playing: Spillage Village — "Ea'alah"