Is there a one-percenter on your Christmas list who would revel in a political movement being co-opted for profit, framed, and delivered to their door via next-day shipping?
Occupy Wall Street and its satellite movements have now been around for two years. In that time, it's been co-opted and recontextualized, but Walmart apparently thinks enough time has passed. It's selling Occupy Wall Street posters in its online store.
For between $42.75- $52.25, a panoramic shot of a protester at Zuccotti Park, where the movement started as a stand against corporate greed in 2011, can be yours. According to the item description, "This print is ready for hanging or framing and would make a great addition to your home or office." The one customer review states, "This is a great photograph of people not working in New York City."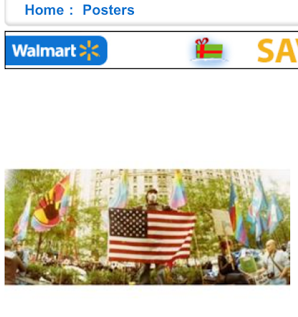 Occupy has become a marketable pop-culture brand, even in the face of their Black Friday protests of the big box chain just last month. NPR interviewed Ed Needham, a member of Occupy's press team:
"You can buy Occupy music. You can buy Occupy artwork. You can buy many different books about Occupy. You know, Occupy philosophy by folks like Noam Chomsky. I mean, if it's out there, chances are, you know, Wal-Mart might be selling it."
Walmart wouldn't say how many posters they'd sold, but earlier this week, they were actually sold out of another Occupy poster in their third-party Marketplace. The photographer, Tom Sheckels, apparently didn't know it was on the site. According to the Village Voice, Sheckels will likely be the last person to see any money from this. Mmmm, yes, the plan is coming together nicely, Walmart!
The irony is not lost on the chain. Earlier this month, they caught flak for selling counterfeit Banksy "Destroy Capitalism" prints. Then there was that food drive Walmart held for its own employees, instead of paying them livable wages.
Image via drtongs/Flickr