In a series of images that quickly became, for online observers, a viral and stirring manifestation of peaceful protest, 20-year-old Italian student Nina de Chiffre gets facially intimate with police officer Salvatore Piccione while demonstrating against a proposed high-speed rail link in Northern Italy. But neither de Chiffre nor Piccone saw the encounter as an act of loving, feel-good dissent. 
In fact, Italian police union COISP has filed a sexual assault complaint with a Turin court, according to La Repubblica. For her part, De Chiffre agrees that the gesture was inflammatory. On a Facebook profile that may be hers, a photo of the incident was posted with a caption noting that "politicians are pigs," but users commended her moral standing: "What a beautiful picture of NON-VIOLENT PROTEST!!!" wrote one supporter. "You are amazing Nina!!!"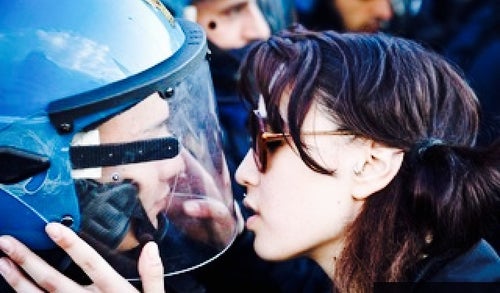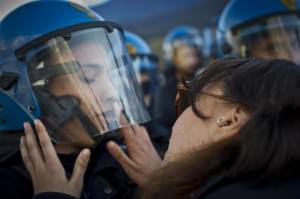 Aside from kissing and tonguing the visor of Piccione's helmet, De Chiffre licked her fingers and tried to press them to his lips but was pushed back. Piccone, who looks somewhat nonplussed in the photos, remarked to The Local that when wearing his uniform, he has "an obligation not to react to provocation." Speaking via social and local media, De Chiffre confirmed that this was "no peace message," but an act of indignation over officers beating another protester. "I would hang all these disgusting pigs upside down," she said on Facebook. 
Problematic as law enforcement may be, they're probably no more disgusting than non-consensual advances (or putting your mouth on a dirty riot headgear, for that matter). COISP general secretary Franco Maccari went ahead and pointed out a double standard that was not actually in evidence, given the potential charges. If Piccione had kissed her, Maccari said, "world war three would have broken out. Or what if I had patted her on the behind? She would have been outraged." 
"Would have" been outraged? Guess he missed the part about how she already was.
H/T RT | Photo via c9tra/Tumblr