One might assume that this is the worst case of autocorrect fail in history. Sadly, it is not. The U.S. Army, charged with protecting the United States and all of its citizens from threats foreign and domestic, accidentally approved the word "Negro" as a legitimate description for its African-American troops.
Just so we're clear: Yes, the actual U.S. Army, not a troupe of Civil War reenactors.
CNN reports that an Army manual published on Oct. 22 states that black soldiers may now be referred to as "Negro" by their fellow servicemen and officers. The language has been confirmed by the Army, but officials were unable, or unwilling, to say how the word came to be in the "Army Command Policy."
A rather disappointing explanation offered by one unnamed military source told reporters that it was possible the word had been added "so when forms are filled out, a black or African-American person could 'self report' and choose to identify themselves as a Negro."
A military officer specializing in personnel issues for the Pentagon reportedly, and accurately, referred to the regulation addition as "the dumbest thing I have ever heard." The officer noted that the word does not appear anywhere in the Defense Department's extensive demographic material.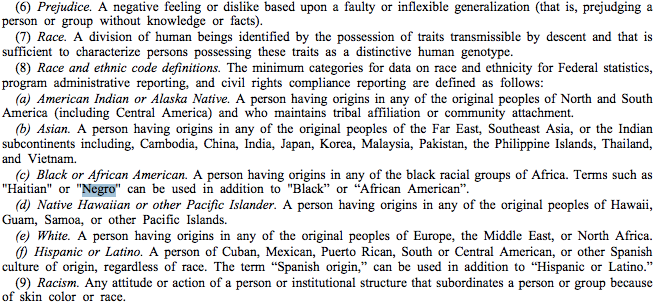 Screengrab via Army Command Policy
Ironically, the term "Negro" falls in the newly released Army manual, fittingly, between two other definitions: "Prejudice" and "Racism." The latter is aptly defined as an attitude or action of a person or institutional structure that subordinates a person or group because of skin color or race. The list also sloppily defines several other ethnic groups, such as Asian, American Indian (sigh), Native Hawaiian, White, and Hispanic.
Incidentally, the term "white people," adopted as a "racial category" by an often incognizant American government—you may have seen this box on a standard tax form—is likewise the byproduct of our unfortunate legacy of human slavery. The etymology of "whiteness," which actually encompasses a wide variety of ethnically diverse peoples, derived from a multitude of ancestries, has its roots in the scientific racism once used justify the brutal enslavement of entire cultures.
As Tom Brokaw would say, "the more you know."
An Army spokesperson described the racial definitions in the updated regulations to CNN as "outdated," said they were currently under review and would be updated (again) shortly.
"The Army takes pride in sustaining a culture where all personnel are treated with dignity and respect and not discriminated against based on race, color, religion, gender, and national origin," the officer said.
H/T CNN | Photo via The U.S. Army/Flickr (CC BY 2.0)