If you're on Instagram a lot, you might have noticed that people are starting to use it to post screenshots of tweets they, or occasionally another user, have posted to Twitter.
Some people find this to be annoying, or even lazy, but if you have a particularly clever or thought-provoking tweet, why not get it in front of as many eyeballs as possible? Or so the thinking goes.
Well, one woman seemed to think Instagram needed to be called out for this behavior. On Aug. 9, user @Miagrassia28 tweeted, "instagram is literally just screenshots of tweets and i think @Twitter should call them out."
https://twitter.com/Miagrassia28/status/1159701621842022400
Twitter apparently agreed because it responded on Aug. 30, asking @Miagrassia28 to follow it, so the platform could message her. Clearly something was afoot.
Follow us so we can DM you!

— Twitter Notify (@TwitterNotify) August 30, 2019
Early Wednesday, those plans came to fruition when Twitter used six Instagram posts to create a collage of @Miagrassia28's tweets. Twitter's Instagram account is not new, but it is the first time–in a while–that the account has been active.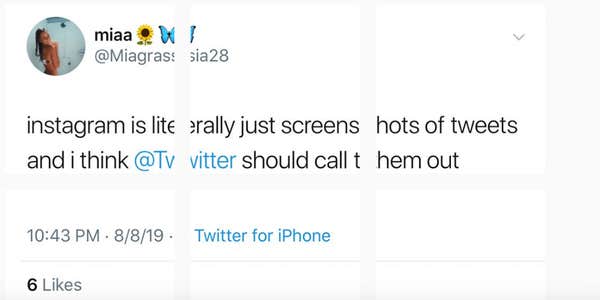 Twitter followed that up with three more screenshots of tweets from different users. Thus far, everything posted to the account has been from non-verified, i.e. non-celebrity users.
The account's bio is as brief as it is accurate, simply reading, "Screenshots of Tweets."
Twitter seems to be accomplishing a lot here: It's becoming one of Instagram's newest tweet-sharing meme accounts while simultaneously trolling Instagram on, well, Instagram.
At some point in time, Instagram surpassed Twitter in total number of users. According to a report by Statista, Instagram has roughly 1 billion active users, while Twitter has around 330 million. Instagram is also owned by the number one social media site, Facebook, which has almost 2.4 billion, easily making Instagram the Goliath in this David and Goliath situation. It's also interesting–and possibly surprising–that neither Instagram nor Twitter are part of the top five social media sites. YouTube, WhatsApp, WeChat, and Facebook Messenger all have them beat (although including Facebook Messenger seems a bit like cheating).
The Daily Dot reached out to Twitter for comment, but was told it has "nothing to share on the record." Journalist Taylor Lorenz tweeted that a Twitter spokesperson told her the people featured on the platform's Instagram account were not compensated but gave their permission to have their tweet's featured.
https://twitter.com/TaylorLorenz/status/1169235433143902210
It appears we'll just have to wait and see what happens next. Who knows, maybe Instagram will start posting screenshots of Twitter's Instagram posts to its official Twitter account and the internet will simply spiral into itself, creating a single white-hot point that gives birth to the digital equivalent of the big bang.
Or maybe we'll just get more SpongeBob memes.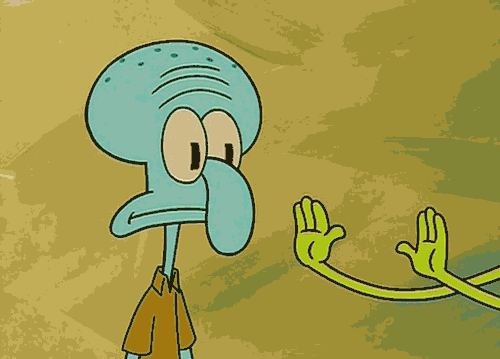 READ MORE: