Twitter's new plan for ads in the community might mean you have more interesting promoted posts in your feed, but you'll have to give up a chunk of your privacy first. Thankfully for privacy advocates, Twitter's made it really easy to stop it from probing your Web browsing activity.
"Users won't see more ads on Twitter, but they may see better ones," Kevin Weil, senior director of product and revenue for Twitter, wrote in a blog post announcing the move.
In the experiment, which will first take place with U.S. users and maybe later in other territories, Twitter will display ads from brands and companies you've shown an interest in outside of Twitter itself, collecting data in two ways.
Prospective advertisers will, through Twitter's ad partners, be able to share scrambled email addresses (from, say, mailing lists) or browser cookies (data used to track your Web browsing activity on a given site) with Twitter. The company will then match that information to accounts to show promoted tweets and accounts from relevant businesses to the users in question. 
However, such activity, particularly in the case of sharing cookies, has caused some to be concerned about Twitter privacy. "[W]hen a person visits the flower shop's website," Weil said in his example, "the shop may share with us browser-related information (a browser cookie ID) that we can then match to an account that may receive the Valentine's Day offer."
There is a way to opt out of having your browsing activity shared with Twitter. 
"Simply uncheck the box next to 'Promoted content' in your account settings, and Twitter will not match your account to information shared by our ad partners for tailoring ads," Weil said. "This is the only place you'll need to disable this feature on Twitter."
Twitter has for some time kept an eye on the sites you browse which have integrated Twitter buttons or widgets as well. That lets it provide you with suggestions of people to follow "who are frequently followed by other Twitter users that visit the same websites." However, you can disable that function too by turning off the Personalisation option in your settings.
The Electronic Frontier Foundation, which has a detailed look at how the ad targeting works, praised Twitter for its commitment to not track the browsing activity of people who want to keep their Web habits a little more private. The company supports the Do Not Track protocol, which stops every website you visit, ad networks, anlaytics services, and social networks from tracking your browsing activity.
Anyone who has enabled Do Not Track will not have their browser activity tracked by Twitter. If you have enabled it (the Do Not Track site explains how to do it in your browser), this is how your Twitter settings page will look.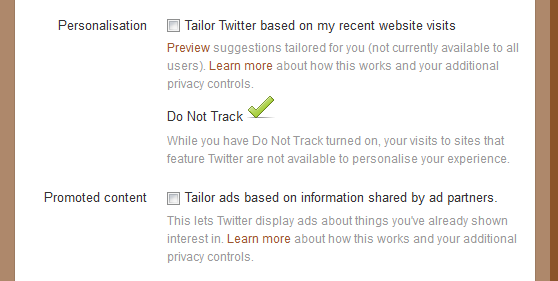 Facebook, Google, Amazon, and others all use your Web browsing activity to figure out what you're interested in and plop more relevant ads in front of your eyeballs, so Twitter isn't doing much different from its competitors here. 
On the surface, showing ads more relevant to your interests is beneficial for everyone. You'll only see ads you might care about, and Twitter and advertisers have a chance to make a little more revenue than they might otherwise. However, privacy concerns over tracking browsing activity means the practice is not quite as rosy-scented as the advertisers might hope. 
Photo by the4mahers