Twerking has come a long way from the New Orleans bounce music clubs. 
The dance move, first popularized by southern rappers, has since become so prevalent that even grandmothers are doing it. In fact, "twerking" has been searched for 14 times more on Yahoo than the previous six months.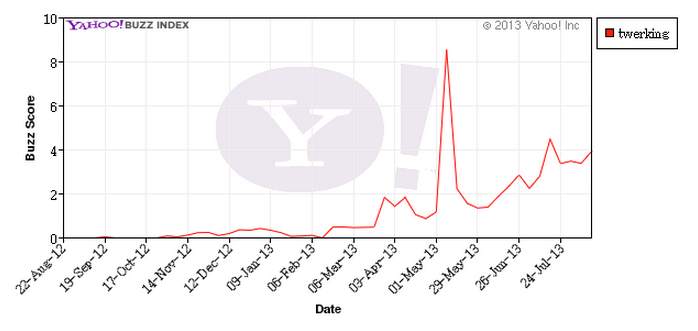 The same holds to be true on Google.
The reason for this relatively recently ubiquity? Celebrity twerkers. 
Here's a list of famous people who have played a major role in bringing twerking to Middle America:
1) Miley Cyrus
The artist formerly known as Hannah Montana became the Elvis of twerking—she took something largely attributed to black culture and made it safe for white kids—in March 2013 after uploading a Facebook video of herself in a unicorn onesie and dancing to J Dash's "WOP."
The starlet's dance moves even earned her Jay Z's seal of approval, who not only gave her a shoutout in his latest album, but also declared her "an old world's worst nightmare" on Twitter.
2) Harry Styles
The One Direction heartthrob pushed twerking to booty pop its way over the shark last Sunday at the Teen's Choice Awards. After being egged on by host Darren Criss, Styles placed his hands on his knees and shook his moneymaker to everyone's delight.
3) Nicki Minaj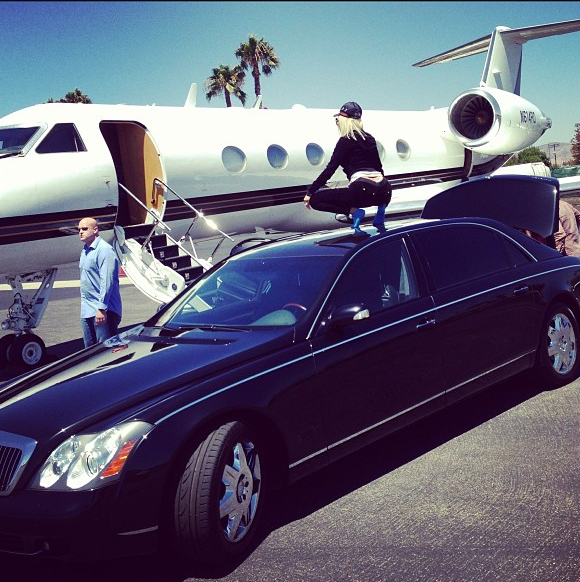 Photo via Nicki Minaj/Instagram
The Harajuku Barbie made herself a top celebrity twerker thanks to Busta Rhymes, who featured her in his latest single "#Twerkit" (yes, the song actually does have a hashtag in the title).
No one makes the twerk life look more glamorous than Nicki Minaj. Case in point: this Instagram photo uploaded last week that shows her shaking it on top of a Maybach moments before she boards a private G4 plane.
4) Anastasia Ashley
Despite being an accomplished professional surfer, Anastasia Ashley wasn't really a household name. That all changed on Aug. 6, when someone uploaded a YouTube video of her twerking as part of her warmup for the SuperGirl Pro tournament.
The candid video has since been viewed more than 4.3 million times, making the Ashley the latest athlete to become a viral sensation after Michelle Jenneke.
5) Vanessa Hudgens
Thanks to the Disney Channel starlet, now even Jay Leno knows what twerking is. Back in March—around the same time that Miley Cyrus unveiled her unicorn video to the world— Hudgens appeared on The Tonight Show to promote Spring Breakers. At some point in the interview, Leno somehow manages to get the actress to show off her moves that won her a dance-off against Madonna's dancers.
Screengrab via Miley Cyrus/YouTube