Tumblr has long hosted a lively academic subculture, with pupils and professors around the world using the platform to share ideas and, more often, commiserate about the myriad pains of devoting one's life to a particular field of study. There's #WhatShouldWeCallGradSchool, which compiles appropriate GIF reactions to such indignities. Shit My Students Write is a place for decontextualized (and hilariously misguided) attempts at intellectual insight.
Nothing, however, could prepare us for the elegant, almost frightening simplicity of Lol My Thesis, a submission-based blog that compresses years of research and higher education into sentences even a layman would find a tad reductive. Because college theses do often hinge on some niche, technical matter overlooked by other scholars, or demonstrate a fact we usually take for granted, this has the effect of making projects sound trivial, boring, or beside the point.
Each entry describes what we might consider the work's statement of purpose in a world where inflated word count and syntactic flourishes are not essential to college essay-writing, along with a line specifying one's major and institution. A young lady of the history and gender studies departments at Smith, for example, delivered hard proof of this claim: "Basically, Beyoncé can do anything." A cognitive scientist at Boston University, meanwhile, discovered that people "don't like electrodes stuck to their head while you flash epilepsy-inducing lights at them."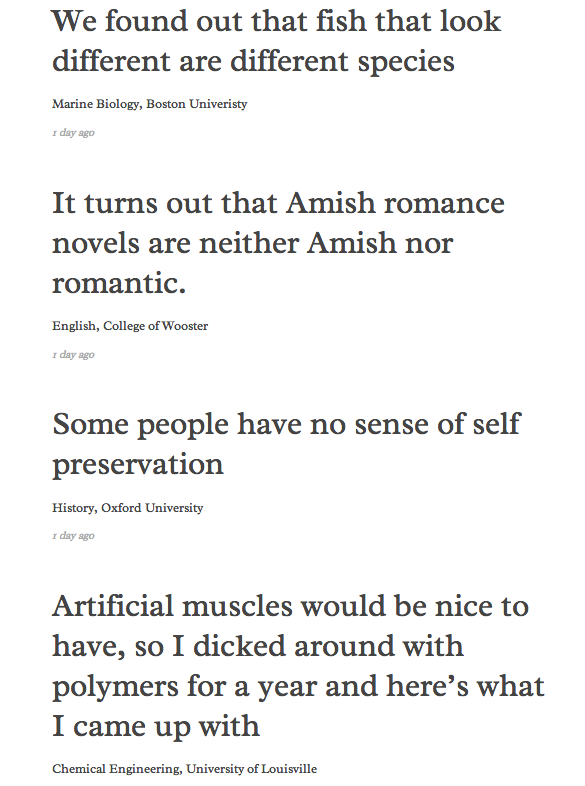 As banal and depressing as these synopses seem, there are also plenty of profound statements to mull over. An student of English at the University of Victoria summed up an immersive literary experience in a fairly incredulous tone: "You can write a 120 page thesis on a 119 page book." A Whitman College philosopher made the intriguing argument that it's "not selfish to be selfish." Even the tautological claim that mammoths "stopped eating things after they went extinct" has the ring of hard-won wisdom to it, if not the sparkle of a Nobel-worthy theory. 
Thankfully, for the doggedly curious among us, some posts now include a link to the actual thesis. We just wish that were the case for one brave individual's treatise on dinosaur poop.
Photo by Canadian Pacific/Flickr