Tsuchinoko is a snake-like creature from Japanese mythology, with a fanged mouth at one end, a tail at the other, and a bulge in the middle. According to the Cryptid Wiki, it's a pretty fearsome little creature. Although it's only two-and-a-half feet long, it's venomous and can jump a meter. But is Tsuchinoko real? According to a popular new Tumblr meme, heck yes.
Tsuchinoko seems to have entered popular culture via video games. It appears in multiple Metal Gear Solid games and is the basis for a Pokémon, and it's also a character in the anime and video game series Yokai Watch. According to Cryptid Wiki, the legend of the Tsuchinoko is much more ancient than that, though: it's mentioned in the kojiki, Japan's oldest history book.
In 2017, "Tsuchinoko real" became a catchphrase for joking that Tsuchinoko currently walks (crawls?) the Earth. So, why the sudden interest in this ancient cryptid? Tumblr's best meme blog, Meme Documentation, traces the origin of "Tsuchinoko real" to a July post by  Tumblr user Moonlandingwasfaked.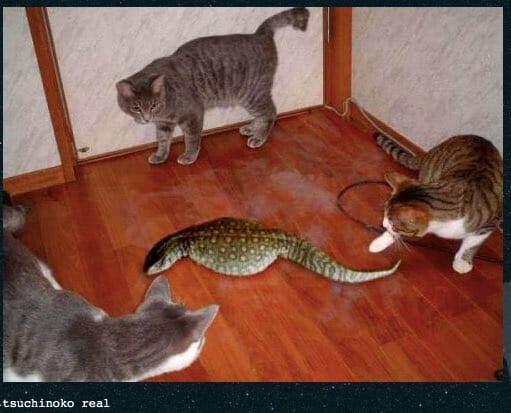 These three cats and a Tsuchinoko-like snake got more than 18,000 Tumblr notes, but they were something of a one-off phenomenon. The meme really got started in earnest with the December launch of a Tumblr called Picsthatmakeyougotsuchinokoreal.
It's got a lot of snakes bloated with undigested food, sure, but it's also got some genuine memes. Shaq knows Tsuchinoko real: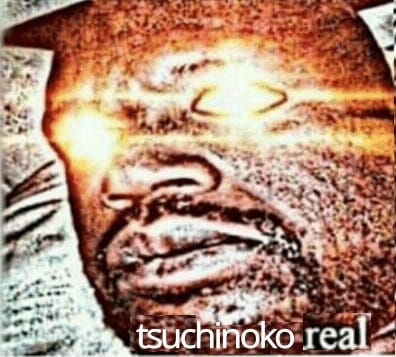 And there's Tsuchinoko fan art: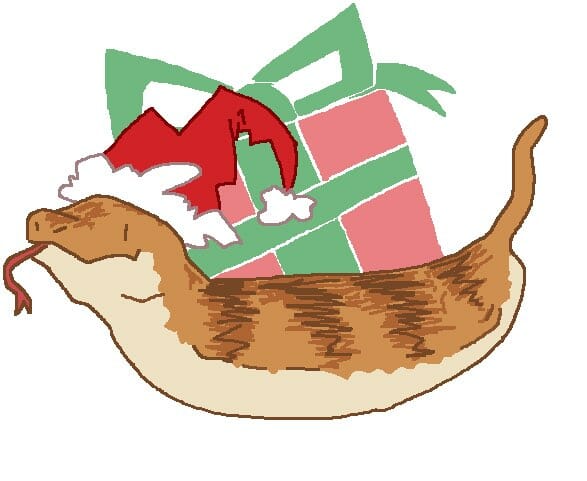 And Tsuchinoko emojis: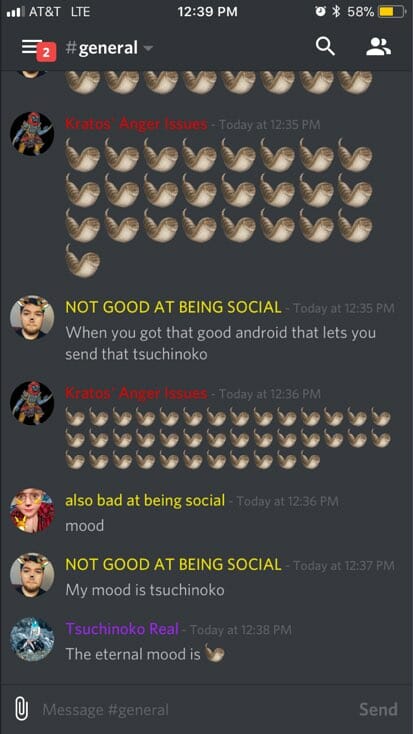 This meme follows a familiar pattern for Tumblr: one good joke becomes a dedicated Tumblr, which then inspires a meme. Jokes about grain entrapment—the term for getting stuck in a quicksand-like pile of grain—emerged in the same way earlier in 2017.
Since the Tsuchinoko Tumblr launched, references to the snake have been everywhere. Meme Documentation has collected around a dozen good examples:
http://hajime-no-ippo.tumblr.com/post/168792184028
http://hideokojimaspissfetish.tumblr.com/post/163782262809/tsuchinoko-real
So, is Tsuchinoko real after all? Biology and herpetology would say no, but memetics would say: Tsuchinoko real if you believe.