This week, President Donald Trump held a rally for Sen. Ted Cruz in Houston, Texas, which saw people lined up in the streets 24 hours in advance.
And while photos from that night show a raucous crowd and a packed arena, people were not filling the streets to the brim while wearing wine-colored red jerseys.
That's because those people, in viral photos making waves online, were at the Cleveland Cavaliers' victory parade in 2016.
#Trump #Trumpsupporters This is a photo Cruz toadies are sharing. That's one hell of a crowd!

However, "those guys" are not Trump and Cruz.

This is actually downtown Cleveland after the Cavaliers won the NBA championship two years ago.

As your orange daddy might tweet, SAD! pic.twitter.com/VpLitzUag6

— Mark Ira Kaufman (@MarkIraKaufman) October 24, 2018
The photo was originally first pushed in August 2017 after a Trump rally in Phoenix by an account, @Ten_GOP, which was later revealed to be an outlet for Russian trolls.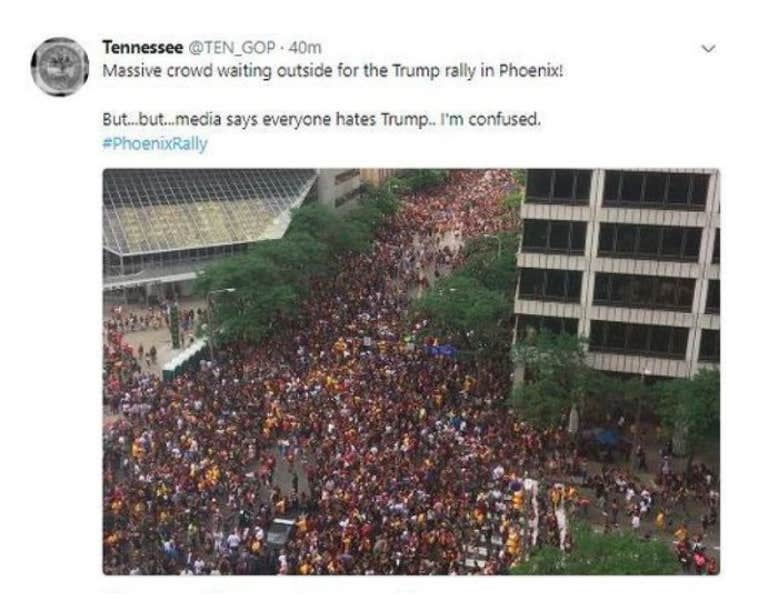 That was swiftly debunked. Now, after Trump's Texas rally, it's become another meme, one that was again swiftly debunked.
BUSTED! Trumpers brag about the crowds overflowin' into the streets at the Trump/Cruz rally in Houston, except this "rally" was in Cleveland two years ago. pic.twitter.com/HvF5msZC5j

— Tea Pain (@TeaPainUSA) October 24, 2018
Even the Chronicle-Telegram in Cleveland, which originally took the photo, got involved in debunking this week.
It's not clear where the meme originated. We will update this story if that changes.
READ MORE: