A conservative redditor dressed in a full brick wall suit was invited up onstage before cheering crowds by President Donald Trump on Monday at a 2020 campaign rally in Pennsylvania.
Trump noticed the man's suit as he spoke about the long-promised border wall, leading chants of "build the wall."
"Can we get him up here?" the president said. "Get him up here! Look at this guy!"
The man then climbed up onstage where he stood beside Trump for a photo, video of which went viral online.
Users on the pro-Trump Reddit r/The_Donald quickly identified the suited memester as Reddit user u/MagaRuler, one of its own, and celebrated the recognition he'd received in multiple posts throughout the subreddit.
"Give that patriot another brick for his coat," wrote one. "Brick Wall Pede made it!"
"HIGHEST HONOR ACHIEVED!!!" another exclaimed. "Congrats!"
Indeed, just hours earlier, u/MagaRuler had posted an image of himself wearing his now famous suit waiting third in line outside of the rally.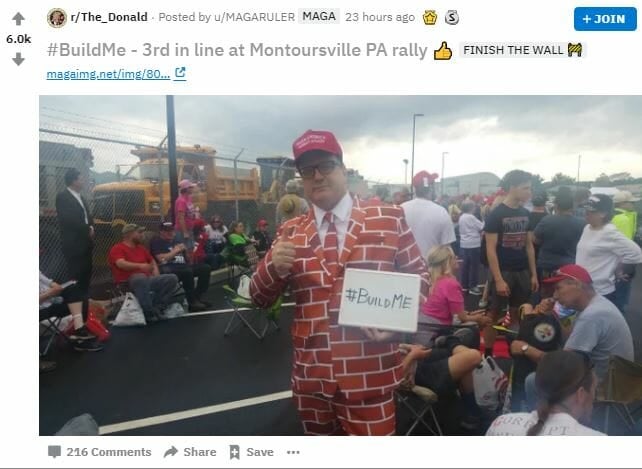 A quick scroll through u/MagaRuler's profile reveals that he is a fairly active member of The_Donald—the biggest community of pro-Trump supporters on the internet.
The Daily Dot has discovered that several online sellers of the so-called "off the wall" suits have since sold out. So, you can expect to see the brick wall suit at many more Trump rallies. 
READ MORE: