A New England Patriots fan living in Baltimore, Md., is Charm City's public enemy No. 1 after allegedly posting two misguided and insensitive tweets that made light of the recent death of a football player's brother.
Katie Moody, a Baltimore resident who touts herself a "lover of all things New England, Tom Brady… and DMB [Dave Matthews Band]" is the individual behind the alarming tweets targeting Baltimore Ravens' Torrey Smith. The wide receiver scored two touchdowns in the Ravens' win over the Patriots Sunday night, despite the fact that he was still visibly shaken after the loss of his 19-year-old brother, Tevin Jones, who died Saturday night in a motorcycle accident in northeast Virginia.
Though the tweets have been deleted and Moody has made her account private, screengrabs show that the administrative coordinator at Johns Hopkins University School of Medicine wrote at 12:18am Monday morning: "Hey, Smith, how about you call your bro and tell him all about your wi—ohhh. Wait. #TooSoon?"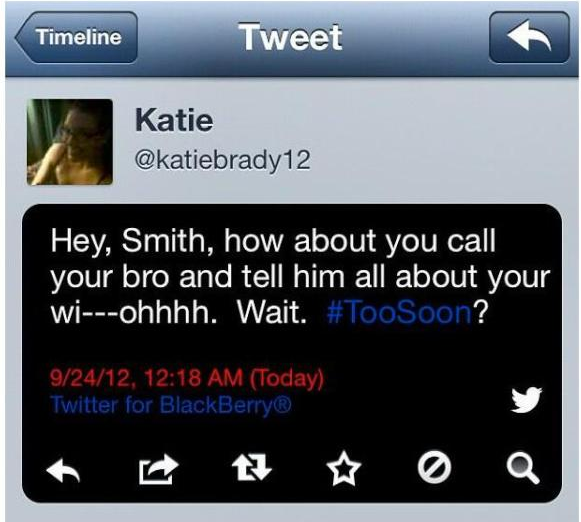 In another tweet, Moody allegedly wrote, "The Pats may have lost but at least none of them lost a family member. I'd say that's a win."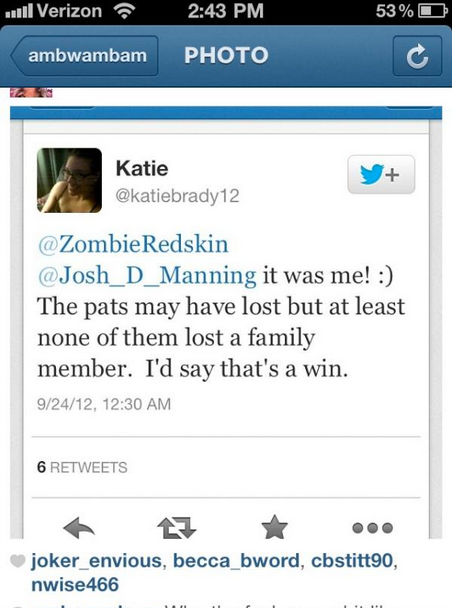 The tweets have caused a firestorm around Baltimore and among Smith's supporters, many of whom have been quick to chastise Moody for her errant decision. Some have called her "a disgusting individual." Others have told her to "Burn in hell."
Many, like Ravens fan and Twitter user @w33zybabymama, have encouraged others to write to Moody's boss, Johns Hopkins University's vice provost for institutional equity Caroline Laguerre-Brown, and lobby for her firing.
When asked, the school declined to comment on Moody's current status of employment, but executive director of media relations Dennis O'Shea wrote: "Our deepest sympathies are with Torrey Smith and his family. The social media comment that made light of the Smith family's loss represented the thoughts of one individual. It did not in any way represent the Johns Hopkins community."
Smith, who maintains a Twitter account with the handle @TorreySmithWR, has made no effort to reference Moody's tweet, instead choosing to fill the top of his timeline with photos of he and his brother.
"We appreciate all of the support and love thank you…" he tweeted. "Everyone is making this process a lot easier."
Photo via Torrey Smith/Instagram