A TikToker known for her dating advice videos is sparking debate over what an acceptable date is.
Kornelija Slunjski, known as @kokobeaute online, posted a video to her TikTok page explaining why she doesn't accept coffee or walk dates, saying that she prefers to be taken out for dinner. A dinner date, she says, is good to "study" a person because you can see their table manners and ordering habits. The caption of the video reads: "NO to zero effort men." The video has racked up over 2.5 million views since being posted on April 27.
People in the comments were divided over the advice from Slunjski, who has over 60,000 followers on the platform. Some called her high maintenance and difficult.
"Tell me you're high maintenance and have ridiculous standards without telling me," a critic stated.
"That's not studying," one person said. "That's judging. You don't want a relationship. You want a box checked."
Others said that she's encouraging young women to have better standards.
"Girls will realize she's right when they're older," a supporter wrote.
"I'm so embarrassed for our generation for thinking this is too much," another said.
Several people in the comments said that a coffee date is the perfect primer for a dinner date because it allows people to test a potential connection in a lower-stakes setting.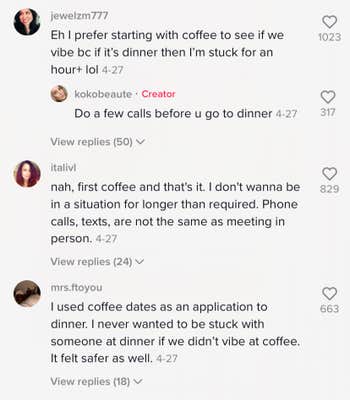 "Nah, first coffee and that's it," a comment read. "I don't wanna be in a situation for longer than required."
"I used coffee dates as an application to dinner," one user said. "I never wanted to be stuck with someone at dinner if we didn't vibe at coffee."
Slunjski responded to a number of comments in the week following the initial TikTok video. She expressed confusion and amusement for being called "narcissistic and materialistic" because she prefers dinner dates. Some commenters defended her, saying that she was just trying to state her own dating preferences.
She said in another TikTok video that if a guy tells her she's high maintenance, it shows that they aren't a match. She also encouraged girls not to "lower your standards for a man who cannot rise up to them."
Update 3:41pm CT, May 28: In a statement to the Daily Dot, Slunjski said she was shocked that people had such a negative response to her video. She said that the backlash from her video "shows how many people settle for less."
"In my opinion, dating has become very surface level," she wrote in an email to the Daily Dot. "It's likely tied to people using dating apps, to meet as many people as they can. I recognize dinner is more of a time commitment, but it's my goal to be selective."
She added that dinner dates show that a prospective partner is willing to give their time and attention to another person. This kind of date can also serve as a "preview" of the kind of future two people might have together.
Slunjski thinks that part of the criticism she's received is due to viewers thinking she was trying to undermine their idea of a good first date.
"I understand coffee & walks might be easy, quick and non committal," she said. "But that's not what I am looking for in a partner."
---
Today's top stories