Jason Clark is an influencer who has large followings on TikTok and Instagram, where he goes by @jasontodolist. He amassed those followings by filming himself perform extreme stunts in exotic places.
His latest stunt, however, turned near-fatal after Clark tried to film himself swimming under a frozen-over lake. Clark became trapped under the ice, unable to find the exit hole he pre-made for himself. He later shared the nail-biting TikTok on Instagram in a post detailing the incident.
"I have never been this close to dying," he wrote. "I didn't think my eyeballs would freeze so quick."
Under the water, Clark became disoriented.
"The surface of the water where the hole was didn't look any different than the bottom of the ice," he explained. "When I flipped around and felt solid ice I thought I was at the hole."
He then tried to follow his "dust" trail back to the entrance hole, but "the dust I kicked up had drifted and led me further away." Using his back, he then tried to break the ice, to no avail.
"I was so short on breath I couldn't really see anymore. I had accepted that was it and I wasn't going to make it," he wrote. But then, just when he was about to give up, he found the entrance hole.
The person filming Clark thought he was joking, he explained, which is why she didn't try to rescue him.
"When there are scary moments I joke a lot. She genuinely thought it was another one of my jokes and didn't recognize the severity of the situation," he wrote.
Even though Clark almost died, he attempted the stunt a second time. This time, he wore goggles and made the hole "almost comically big."
He successfully made it to the exit hole in under 10 seconds.
"Second attempt went a little better," he wrote in another Instagram post, sharing a video of the second attempt. "You have to try it twice!"
Many Instagram commenters are criticizing Clark for risking his life over social media clout.
"Please don't die trying to get followers!" one user wrote.
Others ragged on him for promoting such a dangerous stunt to possibly impressionable followers.
"I sincerely hope no one attempts this same thing after seeing your videos," another commented. "What an irresponsible way to use your platform."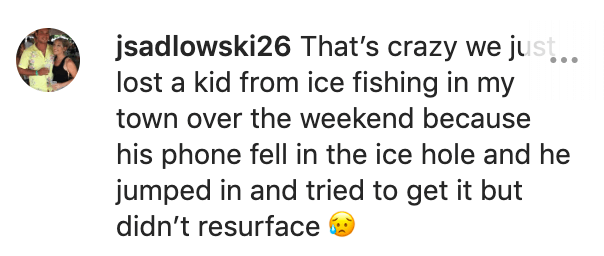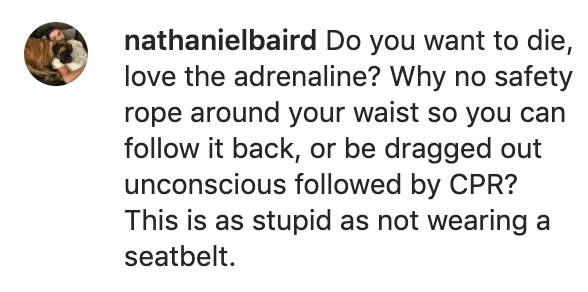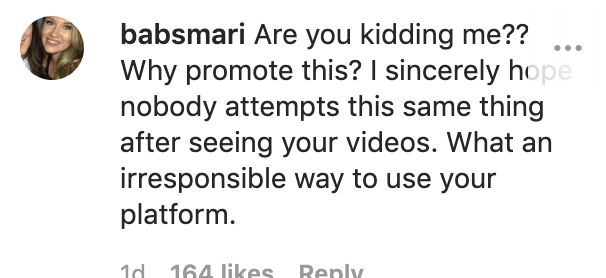 The Daily Dot has reached out to Clark for comment.
READ MORE:
H/T People
---
NOW HEAR THIS:
How the Teens of TikTok Are Finding Empowerment
Introducing 2 GIRLS 1 PODCAST, a weekly comedy show where Alli Goldberg and Jen Jamula (two actors who perform bizarre internet content on stage) have hilarious and humanizing conversations with Bronies, top Reddit mods, professional ticklers, video game archaeologists, dating app engineers, adult babies, cuddling specialists, vampires, Jedi, living dolls, and more.
Subscribe to 2 GIRLS 1 PODCAST in your favorite podcast app.
---