In the three days since The Mandalorian's latest episode, "The Heiress," dropped on Disney+ on Friday, no fewer than three people sought to mention a singular element of the episode in which I came to mind. It wasn't the introduction of a live-action Bo-Katan Kryze, nor was it the eventual promise of Ahsoka Tano, one of Star Wars' most beloved characters whose origins are also in the animated series. It wasn't even to highlight the fact that "The Heiress" is now the second Bryce Dallas Howard-directed episode of The Mandalorian to include a memorable scene involving Baby Yoda and soup. (The other is season 1's "Sanctuary.")
The reason was far more inconsequential to the plot but just as important. And it involved a fisherman sweater—a very good sweater worn by a nameless Mon Calamari dock worker. And it is glorious.
Even before he uttered a single word, the Mon Calamari dock worker gave off the attitude of simply not putting up with shit. With his hands on his hips, the dock worker—wearing a bright blue cable-knit fisherman sweater and overalls prime for a wetter working environment—watched the Razor Crest attempt to land on the docks before it fell into the water instead. Shaking his head, he turned around and walked away.
After the title card, we returned to this Mon Calamari dock worker, who Din Djarin is paying to repair the ship. He's a no-nonsense kind of creature, noting that while he can't fix the Razor Crest, he "can make it fly."
"I'll fuel it up," he added as Din Djarin walked away. "If it still holds fuel."
This Mon Calamari dock worker is as good as his word—sort of. He does patch up the Razor Crest enough so that it can fly, even if chunks of it fall off upon liftoff and the cockpit is full of wires and tentacled creatures that doubled as lunch for Baby Yoda. But at least the dock worker didn't try to kill Din and Baby Yoda outright like the Quarren ship crew earlier in the episode!
Chances are, we won't see this dock worker, who didn't even get a simple descriptive name like Frog Lady from the past two episodes, again. But, like many a Star Wars character before him, he's become people's new favorite character in his own right for purely aesthetic reasons.
You see, we really love cinematic knitwear. You only have to look at peak Knives Out sweater mania from last year, in which the holed and worn-out Aran sweater Chris Evans wore became famous in its own right that only partially had to do with the person wearing it, to see the kind of effect that a great cable-knit sweater can have on us. Mashable highlighted over the weekend that more than a few people have already made a connection to the most famous Knives Out sweater and the knitwear in Star Wars. And as io9 pointed out, there is something about a distinctly human piece of clothing that really sticks out in a galaxy that is often so alien.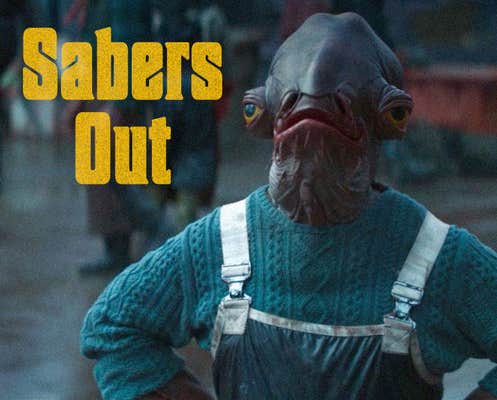 What's surprising about the sudden appearance of knitwear in The Mandalorian is how much it stands out. Unlike other fantasy and sci-fi franchises like Harry Potter, Lord of the Rings, and Outlander, knitwear—or even knitting itself—isn't as much of a thing in Star Wars. For the most part, Star Wars knitwear (both knitting and crochet) tends to involve miniature figures, Star Wars-themed clothing items like a double-knitted scarf, or hats with Yoda's ears or Leia's hair buns that are usually geared toward babies versus items that show up in the movies and TV shows. (Ben Solo's sweater in The Rise of Skywalker is a recent exception.) And if we're talking fashion in Star Wars, something like Padmé Amidala's extravagant—and often weaponized—outfits tend to garner more attention.
Knitting first appeared in Delilah S. Dawson's 2017 Star Wars tie-in novel Phasma. The knitting needles that Vi Moradi—one of the book's protagonists who fans will also recognize as one of the main characters in Galaxy's Edge—used to knit her brother a sweater "look more like primitive weapons than elegant tools." But it seems to be an uncommon practice, kind of like how rare physical books are in an entire galaxy stocked with datapads. When another character questioned Vi for knitting a hat in Galaxy's Edge: Black Spire (another Star Wars novel by Dawson) on circular needles, she acknowledged that while it would be easier to just buy a hat, there's a greater joy in having made the item herself. (Speaking from my own knitting experiences, it's often more hassle to hand-knit, but it's much more rewarding.)
"But there's something to be said for making things with your own hands, the old-fashioned way," Vi explained. "Having physical evidence of your effort to admire at the end of the day."
Another Star Wars knitter? Maz Kanata, who was born more than 1,000 years before the events of the Star Wars sequel trilogy (and who is even older than Master Yoda himself). In The Force Awakens Visual Dictionary, Maz Kanata's page includes the footnote "Socks knitted by Maz herself." And her ship, the Enoch Swift, potentially includes a more obscure reference to an item used to wind up hanks of yarn.
There is also something extremely fitting about seeing this type of cable-knit sweater for its originally intended use. Well before they became a trendy commodity, fisherman sweaters like Guernseys and Aran were knitted by fishermen's wives to keep their husbands warm while they worked at sea. The Mon Calamari fisherman sweater aligns more closely with the complex Aran design, although The Mandalorian went for a brighter blue rather than the more traditional creamy white color of Aran sweaters.
Fans of the Mon Calamari fisherman sweater might be happy to know that it's not the only great piece of knitwear in the episode. You really don't want to sleep on the cabled scarf and sweater combo that Frog Man is wearing when he reunites with his wife on the docks.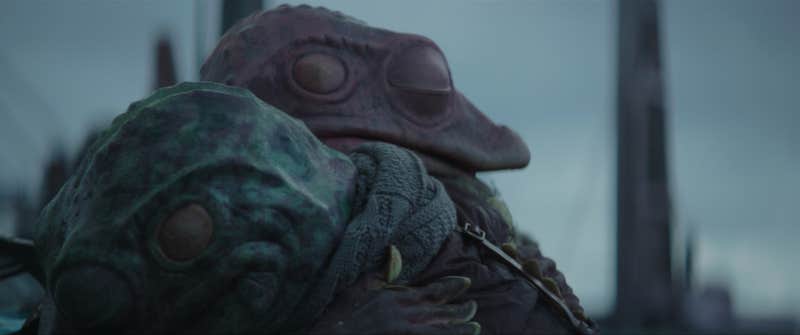 It's unclear if the costumed cable-knit sweater was hand-knit or purchased, but regardless, it's now a star in its own right. Hopefully, it's far from the only knitting inspiration that awaits us in season 2.
---
More essential culture reads
---