Warning: This article contains sexually explicit material that may be NSFW.  
Traffic was brought to a halt in Los Angeles Tuesday after a man jumped on top of his Tesla car naked.
In a video captured by Teddy Bliss, the man is seen going in and out of his sunroof and flailing his arms while first responders tried to get him down. It's incredibly bizarre, like he's at a one-man afternoon rave. We're hoping he received the medical attention that he appears to need, and that it's not all just some dumb Jimmy Kimmel stunt.  
This was only just a small portion of traffic-stopping scenario, Bliss told the New York Daily News. He noted that the man stopped the car in the middle of Pacific Coast Highway and ran around with his shirt before taking his clothes off.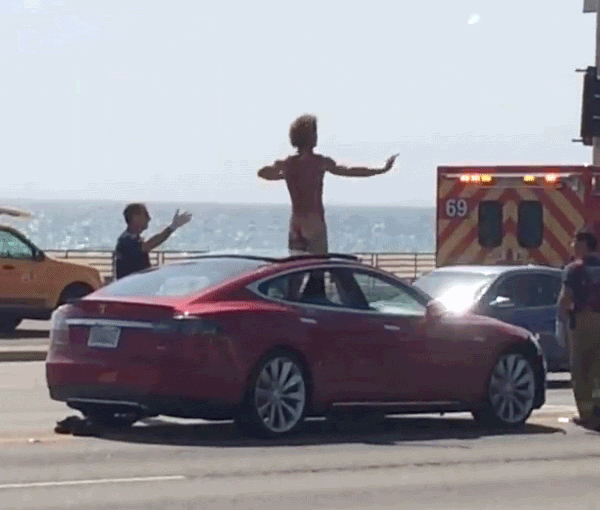 Eventually, police managed to put the man in a restriction jacket and put him on a stretcher.
Capt. Scott of Pacific Palisades Fire Station 69 told the Palisadian-Post that it's possible the man may have had a "meltdown or psychiatric episode or was on a controlled substance."
Photo via NRMA New Cars/Flickr | Remix by Jason Reed (CC BY SA 2.0)