This story contains sexually explicit material and may be NSFW.
Frosted Flakes has Tony the Tiger. Quaker Oats has the Quaker Man. Now, the U.K.-based supermarket chain Tesco is proud to introduce the new mascot for its line of branded buttermilk: a giant, wiggling penis.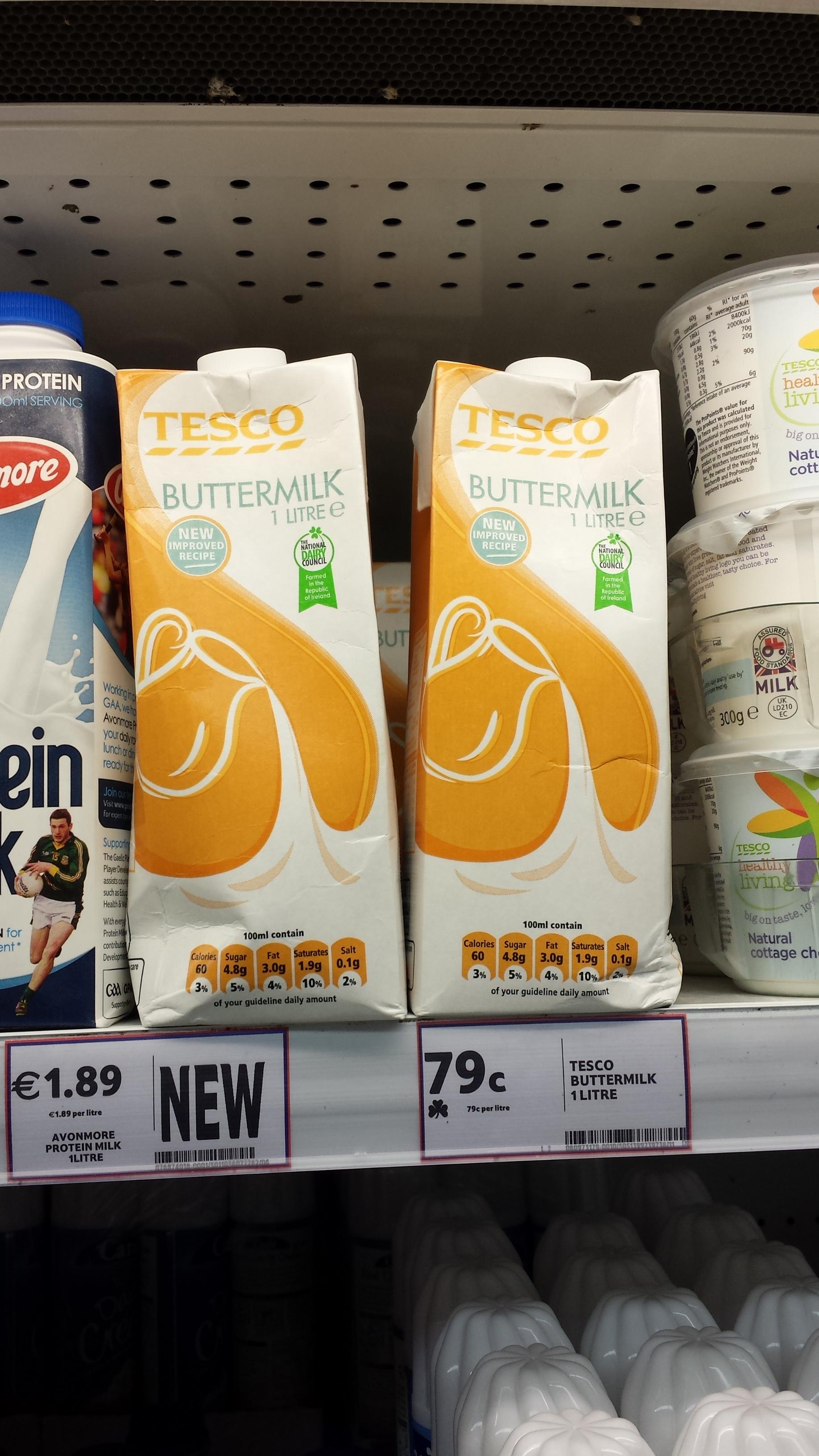 Photo via Reddit
Initially spotted by an eagle-eyed redditor on the shelves of an Irish supermarket last weekend, the image is on a carton of branded Tesco buttermilk, which is currently being sold on the grocery chain's website. It's unclear what, exactly, the design on the carton is actually intended to be—an arm? A cow's udder? A sideways drawing of a python after eating a Williams-Sonoma pitcher?—but ultimately it doesn't matter, because any way you look at it, you're staring at a flaccid, bulbous Muppet dong.
Unsurprisingly, Twitter is having a ball (or two) with Tesco's design snafu, not to mention the unlimited opportunities it posed for (ugh) "milking" puns:
Who signed off on this artwork for This Tesco Buttermilk?! pic.twitter.com/jWQUXkckXi

— Brian Gallwey (@BrianGallwey) October 26, 2014
There's no guessing where Tesco Buttermilk comes from… pic.twitter.com/ngJNGeuDwA

— Parody Wanker (@ParodyWankers) October 25, 2014
Bit of a dodgy design on the new @Tesco Buttermilk collection 🙈 pic.twitter.com/gKKQ05UgI1

— Graham Paterson (@GPater1) October 28, 2014
@garwboy ♫ My tesco milkshake brings all the gals to the… ♬ Er, no, perhaps not. pic.twitter.com/0kmRC4toUl

— Del Patrick (@WolfieSmiffed) October 28, 2014
Great work @tesco I'd like some cock n balls buttermilk pic.twitter.com/wTOfy7GXfR

— steve (@stevetigersix) October 26, 2014
Hey, Tesco: In the interest of gender equality, maybe next time hire Airbnb's logo designer.
H/T The Guardian | Photo by Liz West/Flickr (CC BY 2.0)