Over the last two weeks, TikTok has seen a shift from dances and challenges to videos documenting police brutality and protests. There are tutorials for how to safely protest, lists of resources, and demonstrations of racial inequality. (Coincidentally, Michael Jackson's "They Don't Care About Us" is also trending.) 
The countrywide protests, propelled by the murder of George Floyd in Minneapolis on May 25, shifted TikTok's lens in other ways: Charli D'Amelio, one of its most popular creators, addressed Floyd's murder and stated she would be an "ally" and amplify voices. Elsewhere, TikTok stars documented their presence at protests, and donated to bail funds and Black-centered causes.
The company has been accused of suppressing Black creators in favor of more popular white creators, which means racist challenges are also given more time. As protests started in Minneapolis last week, TikTok was accused of hiding Black Lives Matter and George Floyd hashtags. The company said it was a "technical glitch," and on Monday apologized for that and took responsibility for how it's treated Black creators, stating that it's trying to "foster an inclusive environment."
But TikTok's algorithm, which populates the For You page with personalized content, is still serving you what it thinks you want to see, instead of viewpoints outside your own. BuzzFeed took a look at the "bubble effect" on TikTok, and interviewed Kathleen Hall Jamieson of the Annenberg Public Policy Center, who's studied the effect on other platforms. She said people have to actively escape that bubble and "deliberately go and find content that signals that you're interested in that kind of content."
A Reuters article painted the recent shift as TikTok's "Arab Spring moment," referencing the series of uprisings across the Middle East in 2011, which were aided by Twitter. TikTok has the chance to use short-form storytelling to document what's happening beyond teens' bedrooms, and as a platform to organize. Is it up to the challenge?
TikTok's been mocked as a void of dopey dances and inane challenges, but it's also revealed a very clear generational line, especially as millennials and Gen X downloaded the app during lockdown. Teens use TikTok to communicate and express themselves; a lot of them aren't on Twitter or Facebook. They create new slang and experiment with creative ways of delivering important info, but are often written off as uninformed narcissists.
They're also often just starting to recognize their politics and identity, away from whatever cable-news bubble or political ideology their parents might occupy. On June 1, writer Safy-Hallan Farah posted a tweet about a TikTok in which a teenage girl cries over her family's response to the Floyd murder. "I do not want to live here," the girl says through tears. "I hate living in Louisiana, I hate living around these racist fucks."
"There's a whole genre of white gen z kids processing in real-time what's new information to them (but not us)," Farah wrote of the video.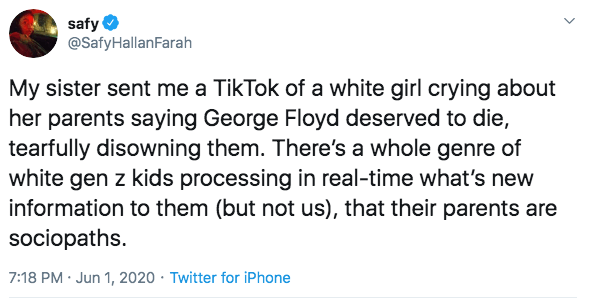 The emotional video is from 15-year-old Izabella Miletello. She followed up with a response thanking people for support and clarifying that she didn't intend to offend, but on Wednesday tweeted that "Due to people at my school bullying me and threatening to send my parents the video," she'd have to take it off TikTok. (Her account is now private. We reached out for comment.)
This isn't an isolated event. Other teens have posted similar videos where they push back against their parents' objections about protesting, or process the realization that their family members see racism and police brutality differently.
Grace, 18, posted a video about wanting to protest that includes a mashup of two audio samples—one about wanting to "be on the front line," from a song by Zella Day, and another replying "I'll whoop your ass," ostensibly from the POV of a parent. The audio from her TikTok has been used in more than 1,000 others to convey a similar sentiment about wanting to do something but not being allowed, or being unsure of how to help.
She tells the Daily Dot she wanted to go to a protest 45 minutes away in Chicago but her parents were worried. "There are certain things my parents and I disagree about when it comes to politics but ultimately they have always supported me and taught me to speak up for what's right," she says. "This is something that I am grateful to have learned from them and will continue to do in order to use my privilege and speak up for those whose voices are not heard."
Grace thinks TikTok can be a beneficial platform for organizing and activism, but she "did think it was wrong of them to suppress content from Black creators. Whether or not they wanted to just stay neutral on the situation, at this point staying neutral is choosing the side of the oppressor." She adds that in an effort to protest without worrying her parents, "some of my friends and I are actually organizing our own peaceful, student-led protest for our community to help with the Black Lives Matter movement and it's definitely one of the most important things I've ever done." 
Hayley, 18, posted a TikTok using Grace's audio, and insinuated her parents were prohibiting her from offering support, too.
"They want me safe," she says. "But at the same time they were telling me, 'You're not going to make a change, Black people never asked for you to be there, you're just going to be seen as some dumb white girl.'"
Her parents are conservative and Hayley says they often shrug off the "hurtful" things Trump says about marginalized communities, but she sees a responsibility to stand up for her friends—"fighting for their rights to feel safe in our country is important to me. If I have to use my white privilege to fight for them then I will."
Of course, there hasn't been a total shift: There are still plenty of misguided and tone-deaf performances, narcissism or privilege disguised as activism or allyship. The craven "challenges" are creeping in. But the front lines are being redefined.

READ MORE: