The impostor behind a Twitter account posing as Hailie Mathers has finally stood up and revealed herself to be a "fat, ugly, loser."
In a rambling note posted Sunday to Tumblr, a 15-year-old girl named Lucy confessed to running @hailiejade_x, a Twitter account pretending to be Eminem's daughter.
The account received global attention and duped the media when it posted harsh words directed at Taylor Swift's relationship with One Direction singer Harry Styles.
Lucy says she created a Facebook and Instagram profiles with pictures posing as Hailie, but her cover was blown when a representative from Eminem's camp debunked claims that Hailie used Twitter.
With her hoax exposed, Lucy finally came clean. She blamed her self-esteem issues from being bullied in school for her obsession with following celebrities on Twitter, which started with Paris Jackson, Michael Jackson's daughter. The two began direct messaging each other and Lucy thought the pair was developing a relationship.
"I was so shocked when I realized Paris followed me back on twitter. I felt so special because she was so pretty and she was the daughter of the King himself !," wrote Lucy. "Me and Paris began to DM each other and she was such a kind person, I felt so special to be speaking with her and I smiled every time she sent me a MSG."
However, someone tweeted at Lucy saying the Paris Jackson account she was interacting with was a hoax and that teenaged girl wasn't on Twitter.
"I was so upset and felt I had just lost a friend. I began to research more about Paris and I almost was obsessed with her. I missed speaking with her and I wanted to speak with her so badly," wrote Lucy. The account was deleted.
So Lucy, looking for attention, created her own Twitter account pretending to be Paris Jackson. She admitted that she knew it was "wrong" but the attention she received from it gave her the validation she was desperately seeking.
"I got 100 followers in a day and I felt so popular and I got so many compliments ! I had never had this feeling before [because] i was used to girls at school hating me and bullying me," wrote Lucy. "After a few days I was addicted to Paris and I felt so happy when people said nice things to me , even though they weren't [complementing] the real me it made me feel pretty and special."
Thanks to the positive attention the account was receiving, her addiction to being Jackson grew. But the jig was up when Paris Jackson herself joined Twitter, and received a verified checkmark from Twitter.
"I had lived her life for many months and I couldn't stop being her," wrote Lucy.
Feeling invigorated by the attention, she targeted the Twitter account to Hailie Mathers, an unassuming, blonde teenaged girl from Michigan. She researched her life, crawled the Internet for pictures of Hailie, and concocted a fake, digital persona of the rapper's daughter.
The real Hailie doesn't keep much of an online presence, which proved to be a problem for Lucy. She ran out of pictures to use on the Facebook, Twitter, and Instagram accounts she created for her project. So Lucy found a random girl on Twitter named Becky and befriended her.
"I looked through her tweets and her pics and it was strange because I thought she looked so much like Hailie!," wrote Lucy. She conferred with Eminem fans who agreed that Becky looked very similar to Hailie.
So Lucy friended Becky on Facebook and siphoned pictures from her account.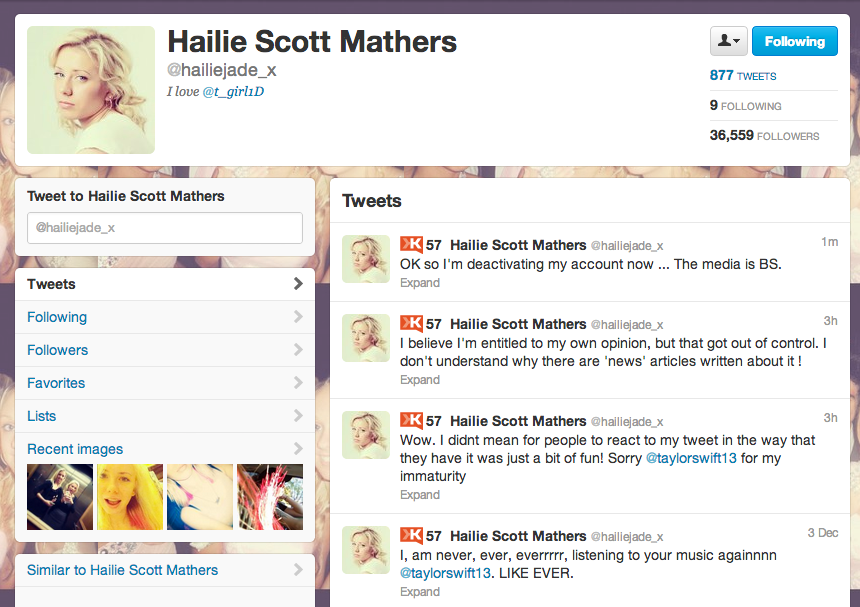 "I added Becky and her friends on facebook and got all the pics of her I could find. Then I made accounts under the name Hailie on many different websites and used Beckys pics," admitted Lucy.
A friend of Becky told her that Lucy was using her pictures, which made her feel guilty. She lambasted Lucy on Twitter for stealing her pictures but the public shaming wasn't enough to make Lucy stop.
"I felt guilty when I saw her write this but then another person would compliment me on my Hailie account and I stopped feeling bad," wrote Lucy. "My twitter account of Hailie made it to the news and it made me feel so special ! I got so many more followers and I forgot all about my real life and the bullies."
Lucy immediately noticed when Becky deleted her Facebook and Twitter accounts, as she aggressively stalked them so she could post new photos. Lucy then began looking at Becky's friends' Twitter and Facebook profiles to see if she could steal pictures that Becky was tagged in to use.
Lucy then found Becky's new Twitter account and began the vicious cycle of stalking, trolling, and stealing photos all over again.
"I know this is sick and twisted but I thought it was funny when she would say something like this," confessed Lucy. Realizing that she was hurting Hailie and Becky, she tried stopping, but found she couldn't.
That brings the saga to Dec. 4 when Lucy sent out a tweet telling Swift to quit "whoring around." (Lucy said she was "mad and jealous" of Swift's relationship with the One Direction singer.)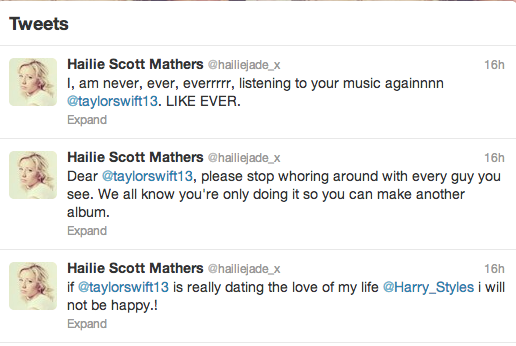 "My account was all other the news and I though i felt so popular that I had done this. Many people were tweeting me and I loved all this attention," wrote Lucy.
Eminem's rep soon denied the account, and Lucy was afraid of getting in trouble.
"I was so upset but I knew I had to delete the account."
After a few weeks of social media silence, Lucy said she was going to restart the accounts and troll for more attention. But one problem prevented her from doing that: Becky's Twitter account had been deleted.
"Then it hit me that she has deleted her account because of me. I was so angry and upset when I had to delete my FAKE account so imagine what she felt," she wrote, admitting she had damaged the reputations of two innocent girls.
Today I felt so guilty and I was crying. My mom heard me crying and asked what was wrong with me. I told her the truth and it felt so good to tell some one [sic]. After more than 3 years of making fake accounts on the internet I had told some one [sic] the truth. My mom is dissapointed [sic] in me and told me I must face the concequences [sic]. My mom advised me to apologize to the girls i faked but I thought I would do this publicly because I have not just hurt them, but I have lied to many people as well."
Lucy said her mom took away her electronics and she is now seeking help from a psychiatrist. She vows never to repeat what she did.
"So once again I want to apologize to Paris for what I did a few years ago, to Hailie for stealing her identity and damaging her reputation and to Becky for stealing her pics. I now realize that I began this because I was being bullied and I now realize I have turned into a bully myself and for that I am truly, truly sorry."
Photo via hailie_mathers/Instagram