Seth Samuelson claims his main goal in life is to get billionaire businessman T. Boone Pickens to pay for his college tuition. And after months of tweeting at Pickens, Samuelson is a little closer to his goal.
Sports media and sports management major Samuelson is keen to graduate from Oklahoma State University (OSU), but can't afford the tuition.
When another tweeter suggested Samuelson pay his own way, he noted that he has "$5,000 in loans per semester. Still payed $2,350 out of pocket. Won't have that much this next semester."
He added that if he doesn't get help, he will "end up back home at a [Division II] school that doesn't have my major."
Not only is OSU Pickens's alma mater, but the tycoon has a long history of giving back to his school. He's donated over $500 million to OSU, along with a $100 million pledge towards scholarship endowment for merit scholarships and those struggling to pay their way. However, OSU won't receive that money until after Pickens has passed away.
Samuelson is hoping for just a small percentage of that sum to help pay his way through college. Over the last few months, he's sent a number tweets to Pickens asking him to help pay for tuition. Here are just a few: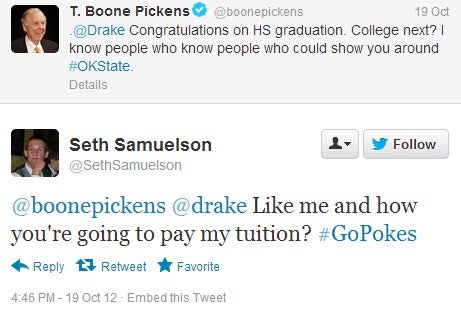 After living in hope for such a long time, Pickens finally responded to Samuelson's pleas.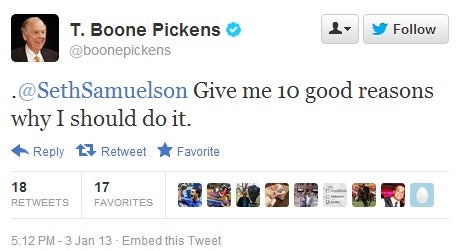 Rather than tweeting his reasons to Pickens, Samuelson said he'd rather state his case in a meeting to "avoid making a show of it." That said, supporters leapt in to help.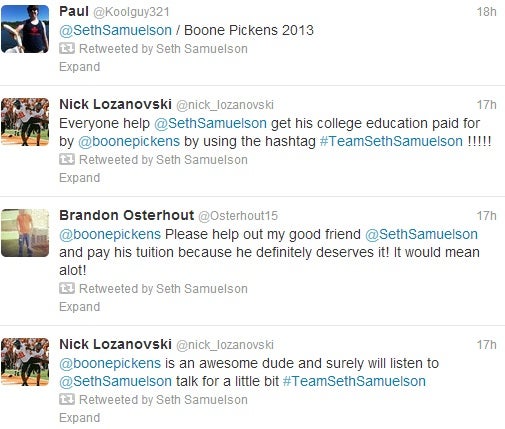 However, all might be for naught. Pickens told Samuelson not to bother sending his reasons if his grade point average was under 3.0. Samuelson responded that he struggled last semester and would need all As to get up to a 3.0. He suggested that Pickens pay his tuition if he can get to that threshold and maintain it.
There's no word from Pickens as yet on the idea, but he admires Samuelson's guts, so this story may not be over quite yet.
Photo via @SethSamuelson/Twitter