Variety Twitch streamer Sweet Anita told her followers that she has received numerous death threats and that the police are not helping her.
In a series of tweets over the last week, she recounted how a stalker has been harassing her for over a year now. The stalker even allegedly moved to her town to be closer to her.
Last year, she reported that the stalker came to her town, found out where she lived, and slept outside of her house. The stalker was arrested after assaulting her while wielding a knife. But the police eventually released the man despite statements from her and her friend.
Anita tweeted a comment that he left on one of her live streams this week, in which he said, "I'll kill you soon. Not with the cheap kitchen knife I had last time."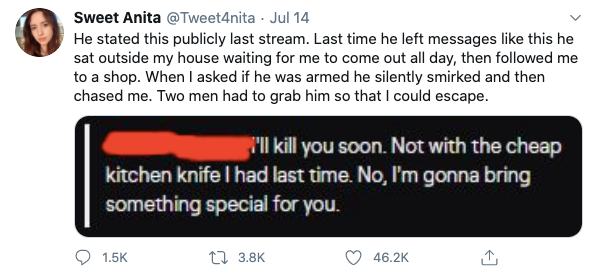 She said she's tried to go to the police, but they have not been much help.
"The police came, advised me to lock my doors and call 999 if he shows up again. Neither knew what Doxing is, that it is a crime, or what live streaming is," she tweeted. "It would appear that no further action is being taken, I have to wait for him to harm me again before they will take action."

She continued saying that she feels helpless.
"No matter how extreme the situation, the response has always been the same," she wrote. "They log it and do nothing."
Anita said the police suggested she give up her career as a live streamer.
"The problem is not content creators, it's stalkers," she wrote. "I was thinking SURE I'll just quit and take up telesales or work in a nursery. That'll work with my Tourettes."
To end, Anita tweeted that if anything happens to her, she hopes that it will prompt change.
"No job should have such a high risk of rape, assault or death, especially not live streaming."
READ MORE:
H/T Video Gamer