A Twitter account which is used to share photos of female college students' breasts has caused a ruckus in the State University of New York school system.
Over the past month, @SUNYBOOBS has shared photos submitted by students, garnering more than 4,700 followers in the process, as part of a contest to see which school in the system can share the most such images.  
SUNY Brockport paper The Stylus first brought the account to students' attention, noting that college accounted for the largest number of submitted photos as of Monday evening with 29, ahead of SUNY Oneonta's 12 photos.
Most of the images appear to be submitted by women themselves, or at least someone they've allowed to do so.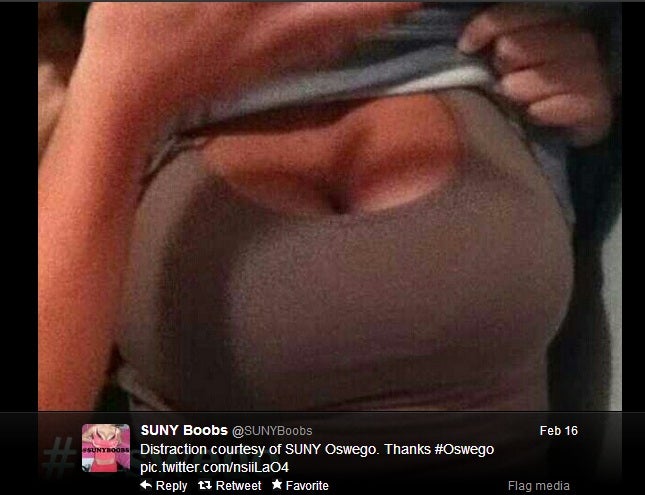 The account does not promote nudity, according to its Twitter bio, and some believe it's casting a poor reflection on both Brockport and the SUNY system.
"I'm personally offended because it's directly associated with the women from this school," Brockport student Cara Smith told The Stylus. Others the paper spoke with, including the chair of the school's women and gender department, said the account reinforces gender stereotypes and objectifies women.
Twitter users expressed their disgust at the account and those sharing boob selfies, while others were a little more supportive of the photos.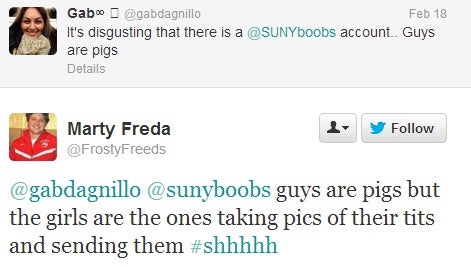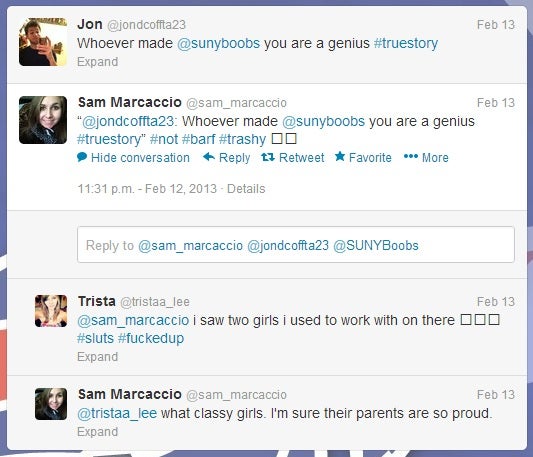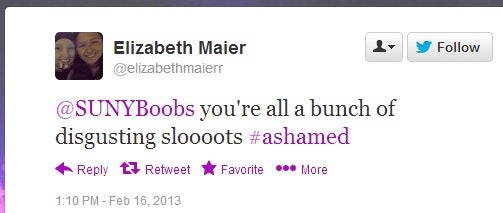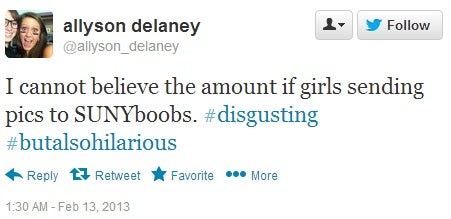 Meanwhile, David Mihalyov, SUNY Brockport chief communications officer, warned that while the college does not condone the tweets, it respects freedom of speech. He also told The Stylus that students should be aware that posting such photos can come back to haunt them in later months and years.
@SUNYBOOBS does not appear to have posted any images without the permission of those depicted in them, unlike University of Arkansas student account @HPERprobsUARK, the owner of which faces possible felony charges. It follows in the footsteps of accounts like @KUBOOBS and @NHLBoobs, which depict women showing their support for sports teams with an emphasis on their chests.
Meanwhile, an account called @SUNYDicks (NSFW, obviously) was created Monday and has been retweeting photos of penises apparently tweeted by SUNY students. It appears to be run by someone who's not too happy with @SUNYBOOBS, as the submission email address begins "Revenge911."
Photos via @SUNYBOOBS